It all began with a 5k.
I was immediately hooked on running after doing my first 5k race in 2005. 5ks are pretty much a gateway drug like that. Over the years, 5k, 10k, half, marathon — you name it, I did it! Somewhere along the way, I learned about the citywide party that is the New York City Marathon, and it became a mild obsession to learn everything about it. I read loads of stories about it in Runner's World magazine; rented the documentary Run For Your Life about the NYC Marathon and its founder; read A Race Like No Other, a collection of personal stories about the event; and I watched it live on TV year after year. I pictured how cool it'd be to run the five boroughs in the same footsteps as legends like Bill Rodgers, Alberto Salazar, Grete Waitz, and Rosie Ruiz. It'd be the chance of a lifetime.
Fast forward to January 2015, and I decide to enter the NYC Marathon lottery. Unlike most races where just anyone with a pulse can sign up, you get into NYC one of several ways: run a qualifying time (no chance in hell for a slowpoke like me, lolz); fundraise for an official charity partner; or enter the lottery and hope you're randomly selected. Random number selection seemed to be my best shot.
When the lottery results were released, alas, I wasn't picked — but my runner buddy and training partner, Chris, was one of the lucky ones! I felt genuinely excited for him…but as the days went on, I started to experience serious FOMO, so I looked into the charity requirements more closely.
Is This Real Life?!
From the list of charities, I zeroed in on Team for Kids. I'd like to say that I was drawn to their noble mission of helping fight childhood obesity, and while that's true…I was mostly interested that they had the lowest minimum fundraising amount of all the official charity partners. I submitted the TFK signup form on a whim; there was no turning back now. The worst case scenario would see my credit card getting charged the full $2,620 (AAAAH!), so I'd better get my ass in gear and raise some money!
What happened next was surreal.
Aside from a couple Facebook/Twitter posts asking for donations, I sent an email to my coworkers. Some donations immediately started to trickle in — my fundraising journey was on its way! Later that same day, when I returned to my desk, a coworker rushed over and said "Go check your email!" with a huge smile on his face. My coworkers and my company's founders had pledged enough money so that I could have a spot at the starting line of the world's biggest marathon! I couldn't believe it! I felt so moved and so grateful, and I kept expecting to wake up from that dream. It was a double win: kids receive the generous donations, and I get to run my dream race with my training buddy. SO. MANY. FEELS.
The next few months were a crazy mix of "I still can't believe that happened!" and "Holy shit, I need to train for another marathon!" Knocking off the 4 runs each week with Chris felt really good, though the hot summer heat and epic humidity sometimes made me question my life decisions. In early October, I did my longest training run, a 20-miler and felt really good. I was ready. NYC, here we come!
Touristy Travels
Chris and I were rolling deep with a supporting crew of four: my boyfriend, my bestie Cara and her beau Keith, and Chris's wife. We stayed at a spacious Airbnb in Hell's Kitchen, which was within walking distance of all the cool things and close to the subway to get to even more cool things.
We did all sorts of fun touristy sightseeing during our 6-day stay. Central Park! The Statue of Liberty and Ellis Island! The Flatiron Building! Times Square! Madison Square Garden for a Rangers game! Museums! Bagel shops! We even did an epic 8-mile walk across the Manhattan Bridge into Brooklyn for lunch and then came back across the Brooklyn Bridge. These seemed to be the only bridges in the city that we weren't going to cross on race day, so we might as well do it now.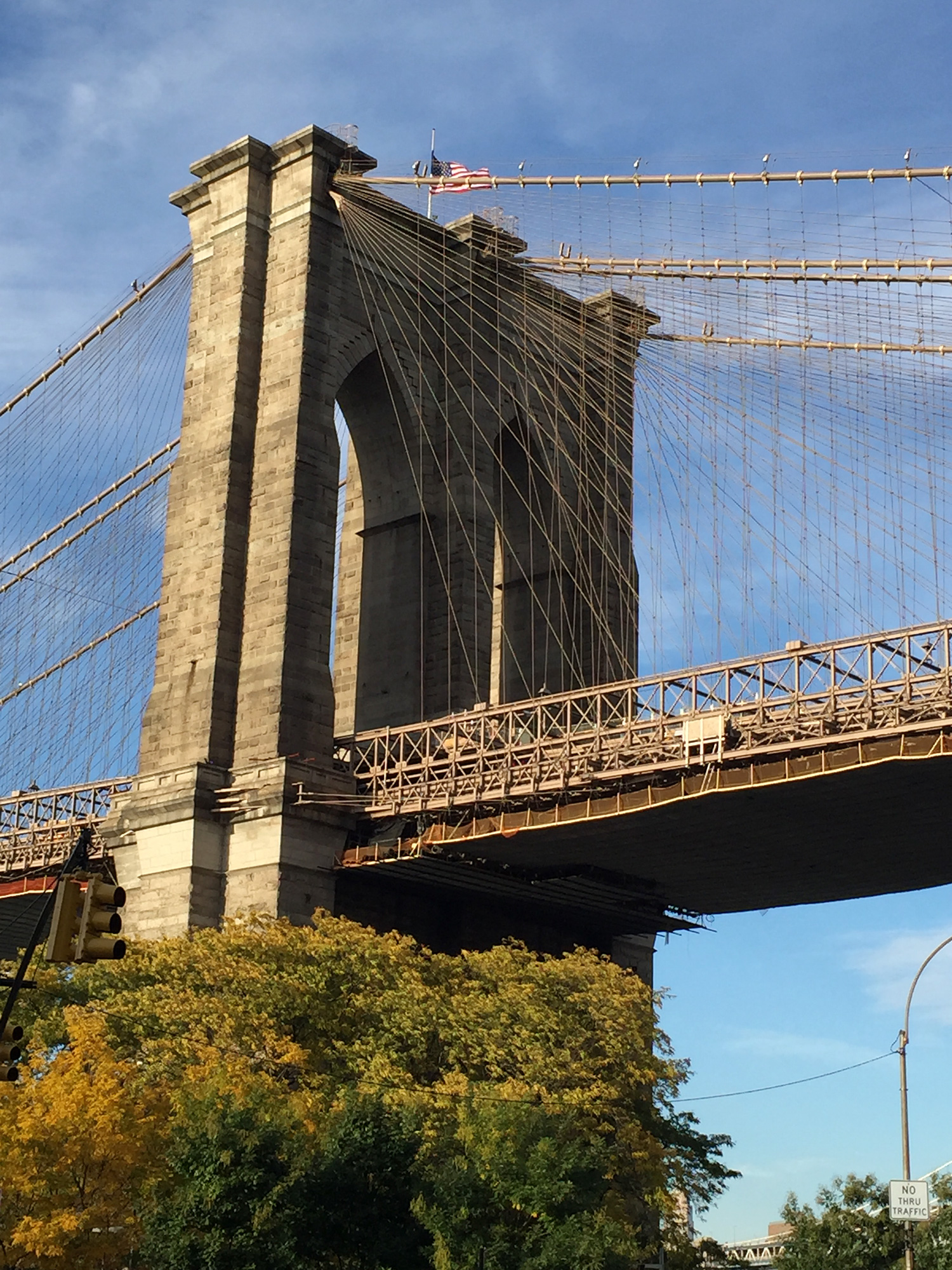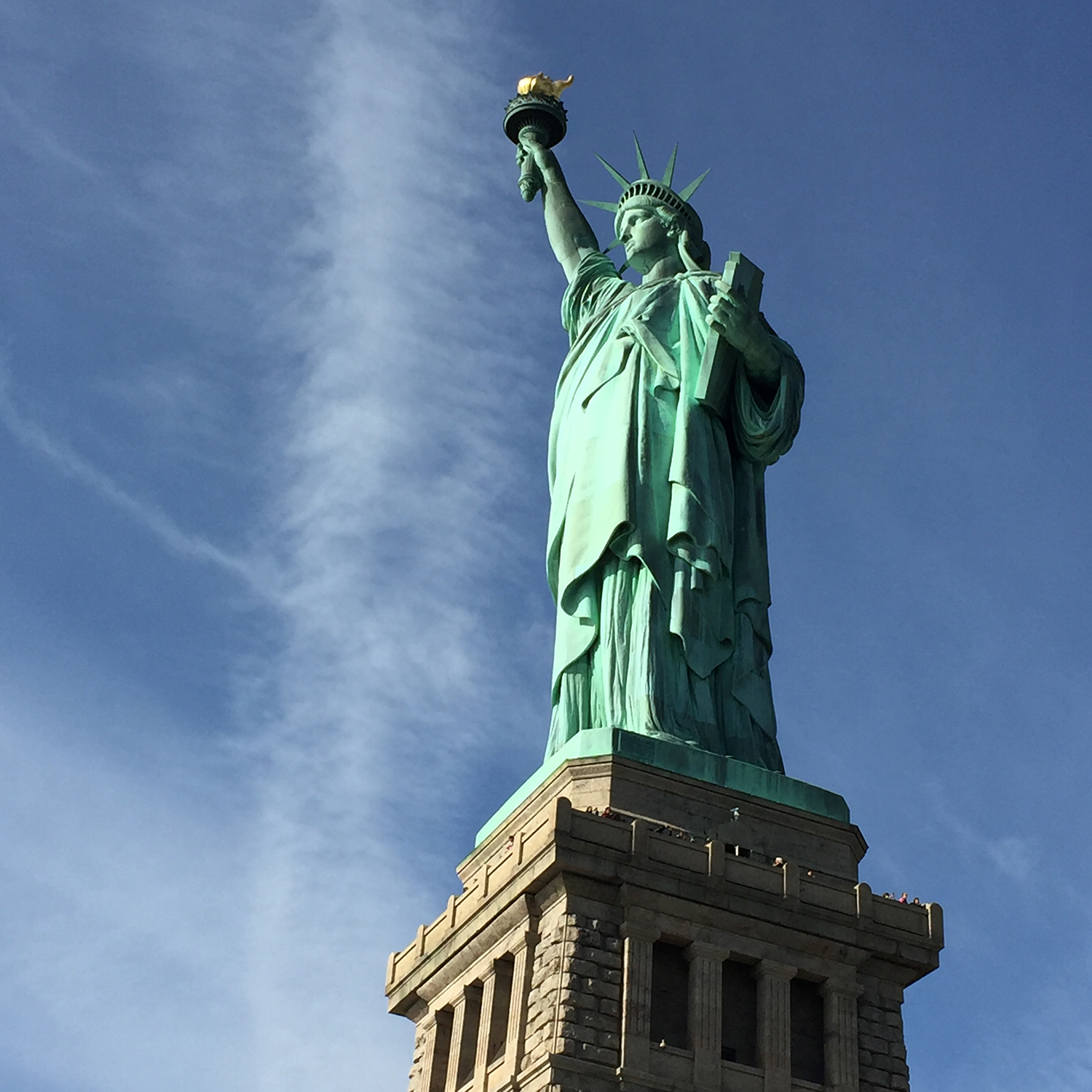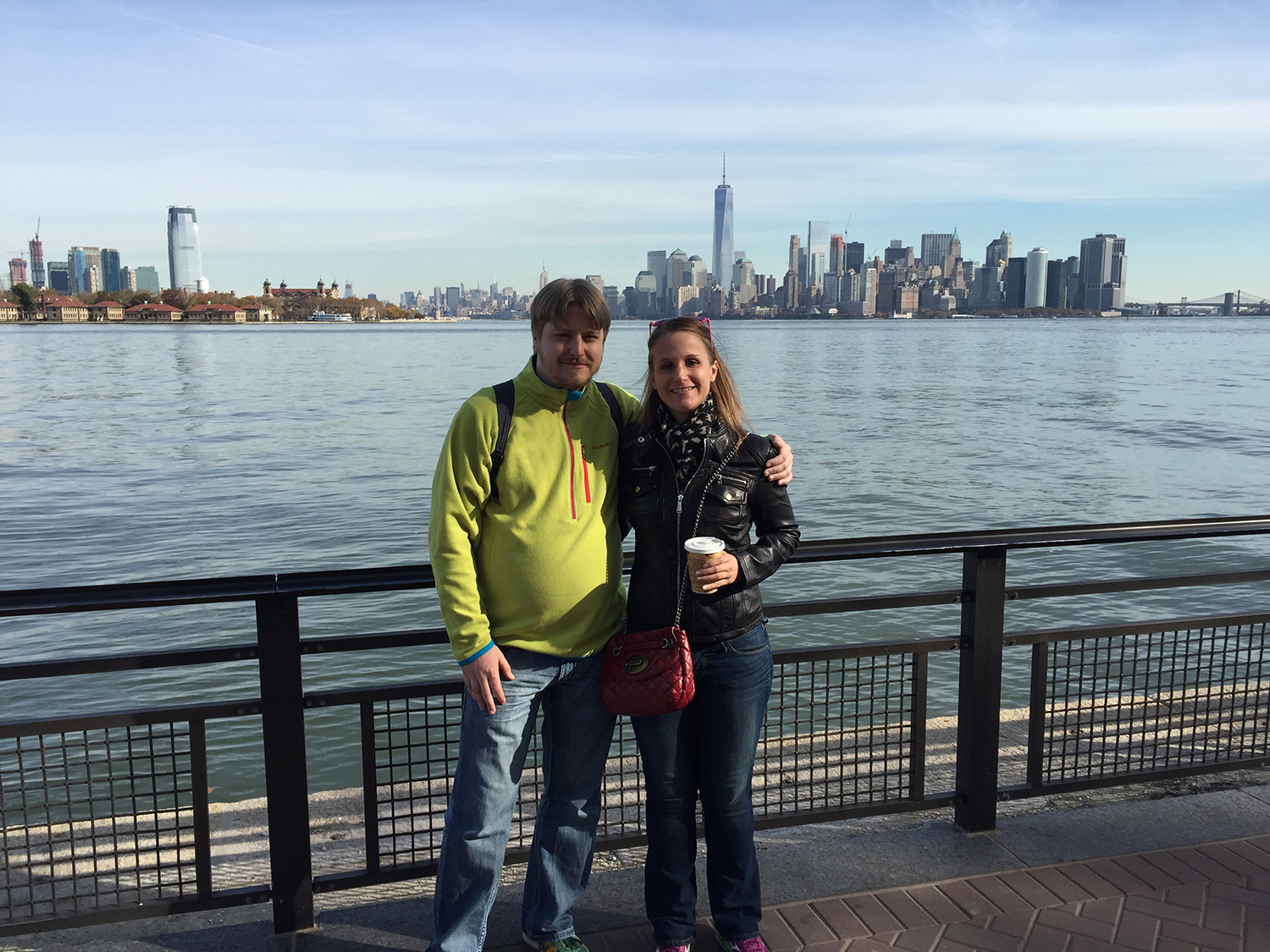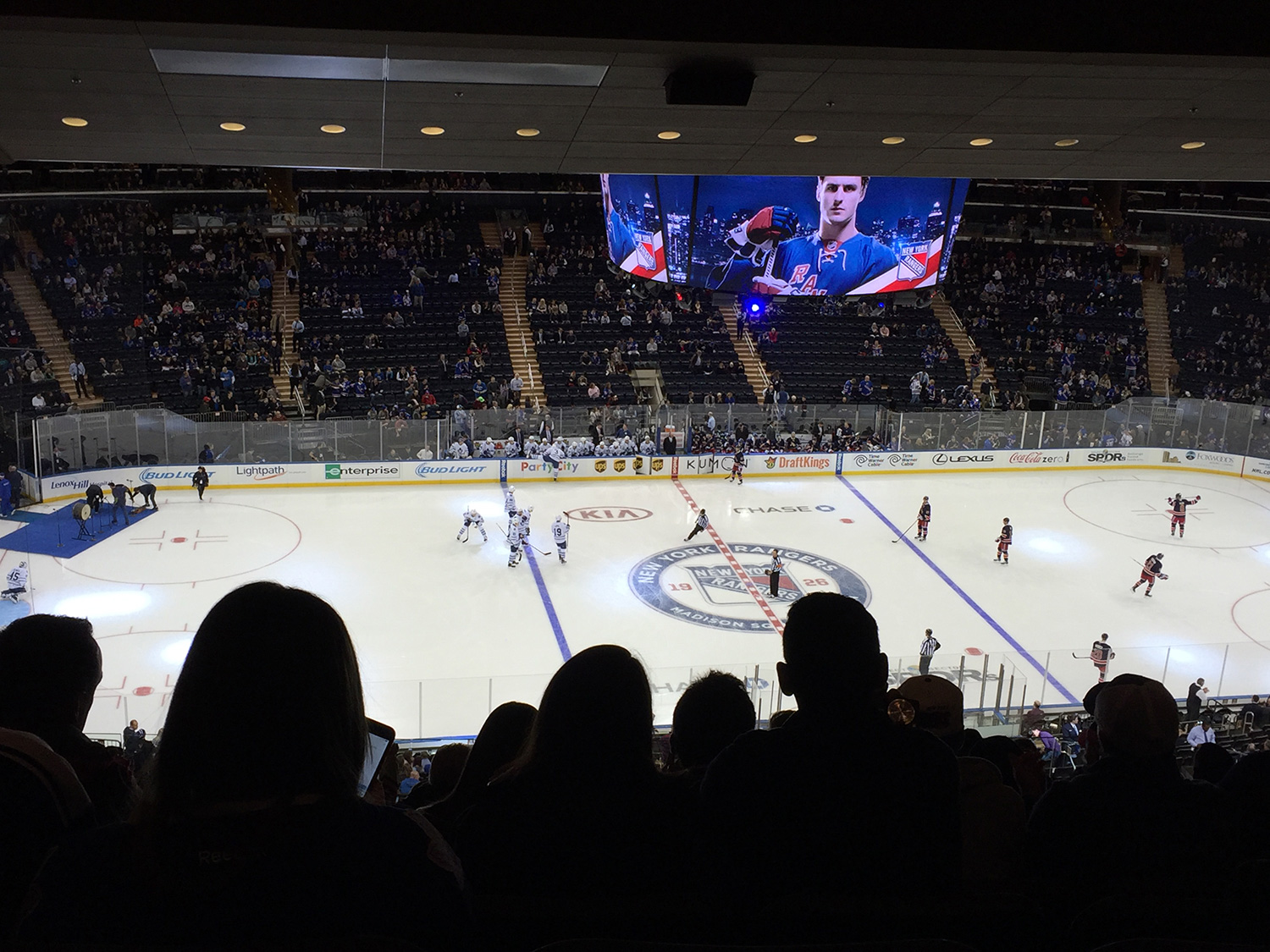 I want to take a moment to record my appreciation for two special, yet unrelated things in the city: cat cafes and donuts.
We went to Meow Parlour, NYC's first cat cafe, and the $5 fee for 30-minutes of kitty playtime was the best damn $5 I've ever spent. Friendly, free-roaming (and napping) adoptable kitties are everywhere in this cute space. My two ginger kitty boys would be jealous of such a fun playland! And their bakery has adorable kitty-shaped treats!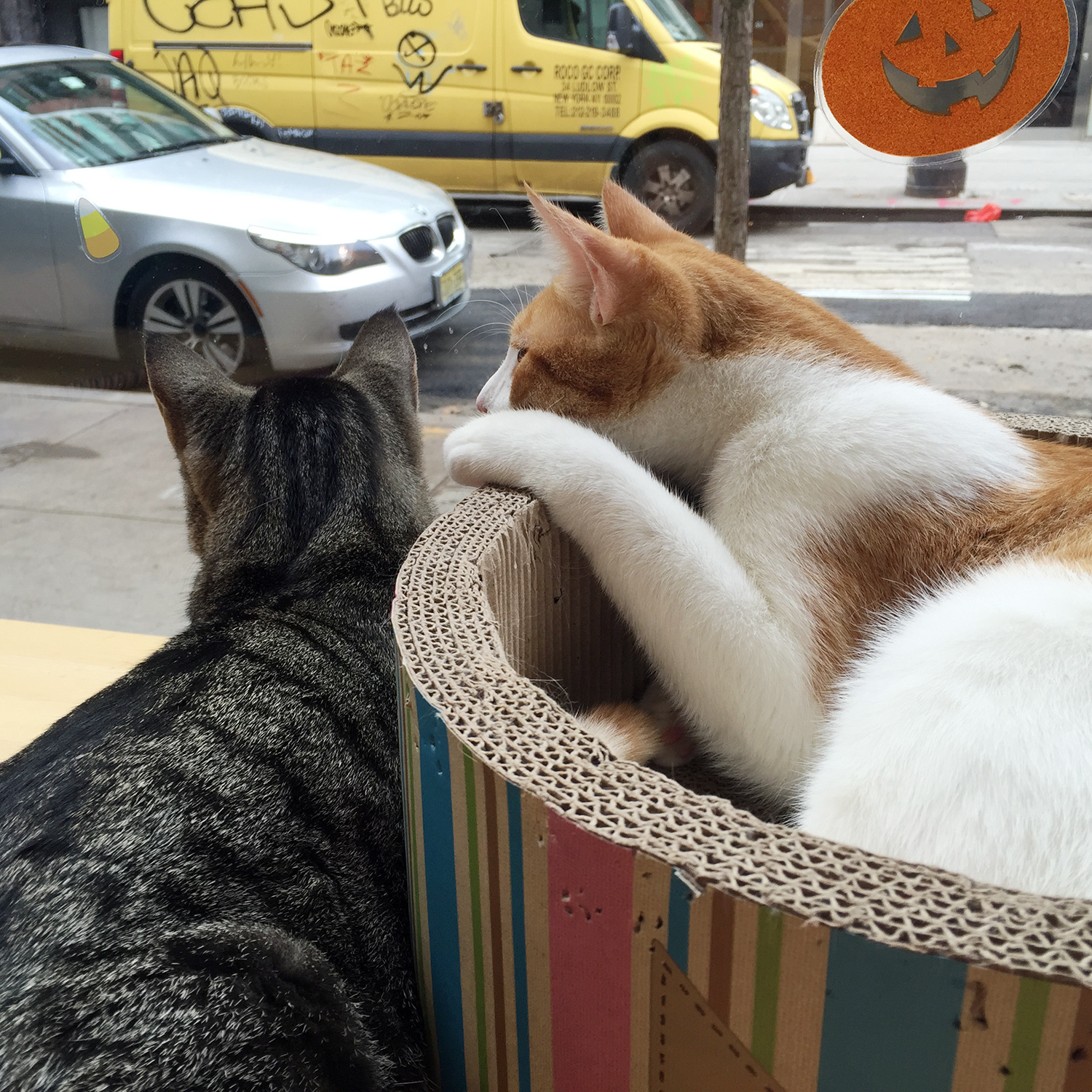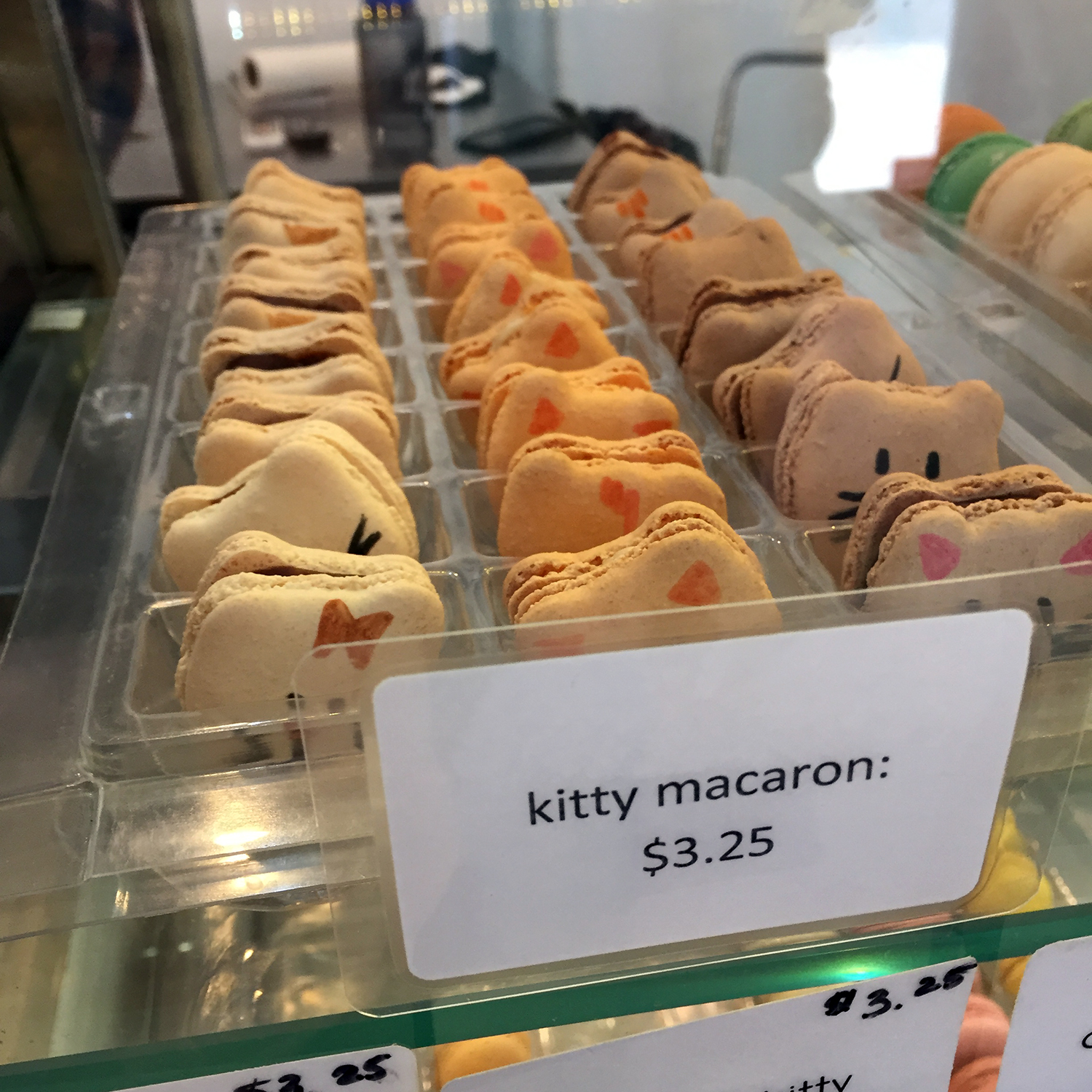 Next, an ode to dairy-free donuts. You don't understand — these don't exist in Michigan! People here love to milk and cheese and butter everything up, which sends me and my food allergies cowering into a corner. Through the magic of the Google computer machine, I learned that there was a place in Brooklyn that had nothing but vegan donuts, so Chris and I made the trek one morning for these sweet treats. The hipster employees seemed less than interested to help us, but OMG the donuts. Warm, pillowy, sugary goodness, and SO MANY FLAVORS. Excuse me while I wipe away the drool that just collected on my chin while typing this.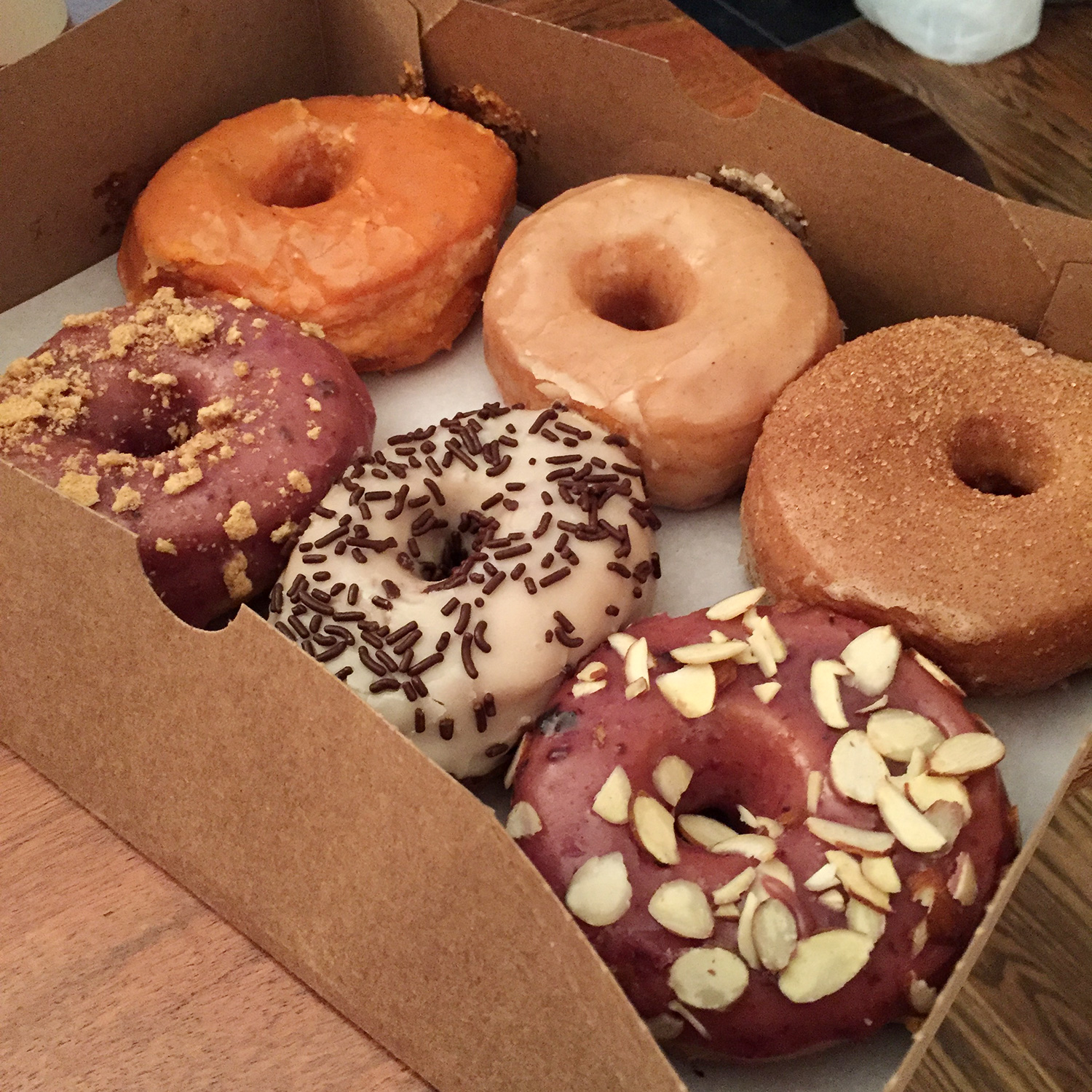 It was tough to get to sleep the night before the marathon. Epic nerves and excitement aside, it was Halloween night, so all the loud monsters were out and were extra loud. By "monsters," I mean the obnoxious adults and not the kids. Another resident in our building was having a party, so for much of the night, our door buzzer kept going off thanks to intoxicated dum-dums calling the wrong apartment. Thankfully, it was Daylight Savings Time, so we'd get an extra hour of sleep, yay! (Or an extra hour to be awoken periodically by the ear-piercing door buzzer, but I digress…)
The Marathon Before the Marathon
I thought that allotting 4 hours to get from Hell's Kitchen to Staten Island would be sufficient on race morning, but…oops.
Chris and I headed out just before 7 a.m. I was very excited to put on my neon green official Team for Kids singlet. And the rainbow tutu…gotta have the tutu. Our ferry ride to get to the Staten Island start line was scheduled for 8:45, and our wave was due to start running at 11 a.m. After a brief subway delay, we got to the ferry stop and saw how absurdly backed up it was — out the door and nearly into the street. Pre-race anxiety started to kick in, and my helpful brain made up ridiculous scenarios (this is fine, this is fine, omg no, we're going to be miss the race and not be able to run and everything is wrong and terrible). We (finally) boarded the ferry just before the doors closed. On Staten Island, after waiting for the shuttle and taking the longer-than-expected bus ride, we arrived at the Starting Village. We hit the gear check with just one freakin' minute to spare before it closed for our wave, the last wave of the day. But we made it!
IT'S HAPPENING!
As our wave was approaching the start line, giant speakers played Taylor Swift's "Welcome to New York," which was an appropriately peppy start line song. With moments to go, the signature NYC Marathon anthem, Frank Sinatra's "New York, New York" started to play, and I got goosebumps. You hear about and read about this race for so long, and then you're actually going to do it! It's all happening!
The thunderous cannon went off, and we were starting up the Verrazanno-Narrows bridge! This climb led us to the steepest point on the course, but on fresh and excited legs, Chris and I wondered "pfft, what incline?!" I'm glad I was in the lucky corral that got to run on the top level of the bridge and see the sweet skyline views. Sorry bottom-dwellers, you missed out. By the second mile we were off the bridge and entering Brooklyn. 1 borough down, 4 to go!
A cardboard sign with a charming, hand-written "Yo! Welcome to Brooklyn" message greeted us upon entry. This was in contrast to the expensive-looking, professionally-printed "Foot Locker Welcomes You to [borough name]" that we'd see throughout the course. But I like your style better, cardboard sign. We spent the next 11 or so miles in Brooklyn, and it was one big ol' block party! The crowd was packed at least 3 deep the whole way, and they made sure every mile was super loud and welcoming. Music was blaring, rows of eager kids were giving out high-fives, and you couldn't help but feed off everyone's amazing energy.
We reached the halfway marker on the Pulaski Bridge, which took us to Queens. After all the flat miles through Brooklyn, this felt like a crazy steep incline. I walked a bit, a precursor to more walkies later in the race.
Queens was also a rockin' good time. Their poor Mets had just lost the World Series the night before, so we thought we would have to be the ones cheering up the spectators. We ran in Queens for maybe a couple miles, sadly not long enough for me to get a real feel for this borough.
Next up was the ominous Queensborough Bridge around mile 15. Everything I had heard or read about it mentioned that it's eerily quiet and weird since spectators aren't allowed on the bridge. Yep, I can now verify. It's so very spookily quiet and a sharp contrast from the rest of the course. Nothing but the sounds of heavy breathing and thousands of footfalls. One runner tried valiantly to get everyone amped up, but the only response he got was more silence. It was another tough incline and a seemingly unending bridge, so I let the lovely views of Manhattan and the Hudson River distract me.
But oh, the magnificence that awaits when you exit the bridge! The roar of the First Avenue crowd in Manhattan is like nothing I've never experienced. We could start to hear the roar of the crowds from what seemed like a half mile away. And OMG OMG I SEE OUR FRIENDS! We had no idea they'd be here on First Avenue! Seeing them all was a huge boost in addition to the pick-me-up we got from the wild Manhattan crowds. Wearing a tutu and a TFK singlet got me some extra cheers, too, which kept me going.
Not long after, I noticed a guy run up along side me. He was also wearing a TFK singlet, and he introduced himself as TFK coach Simon. He kept telling me that I looked great for being 17 miles into a marathon. (LIES!) He encouraged me to start counting off the blocks: 80th, 90th, etc. and that "before you know it, you'll be in the Bronx." Well, it was a little longer than that, but the little Jedi mind trick helped.
My body was getting uncomfortably stiff and crampy. Walk breaks were getting more frequent, and I'm sure I resembled The Tin Man with my stiff legs. I wanted to run strong, but my body just wasn't having it that day. Chris was running strong as ever, and he had just done the Detroit marathon two weeks prior! He stuck by my side the whole way and was full of positive words to keep me going.
We crossed over the Willis Ave. Bridge into the Bronx. Okay, by this point, I felt so done with bridges. We passed the 20-mile marker — eee 10k to go! We were in the last quarter or so of the race, but all I really wanted was to curl up into a ball next to a dirty curb and rest. The crowds weren't as thick as Manhattan or Brooklyn here, but the spectators were still equally supportive.
The Bronx lasted only a hot minute, and then it was time to cross the final bridge back into Manhattan. Thankfully, this bridge was so short and flat, it almost didn't count. The best part of this was the potty-mouthed lady holding a "LAST DAMN BRIDGE" sign and telling us to "Get the f— outta the Bronx!" Hi, lady, you're amazing.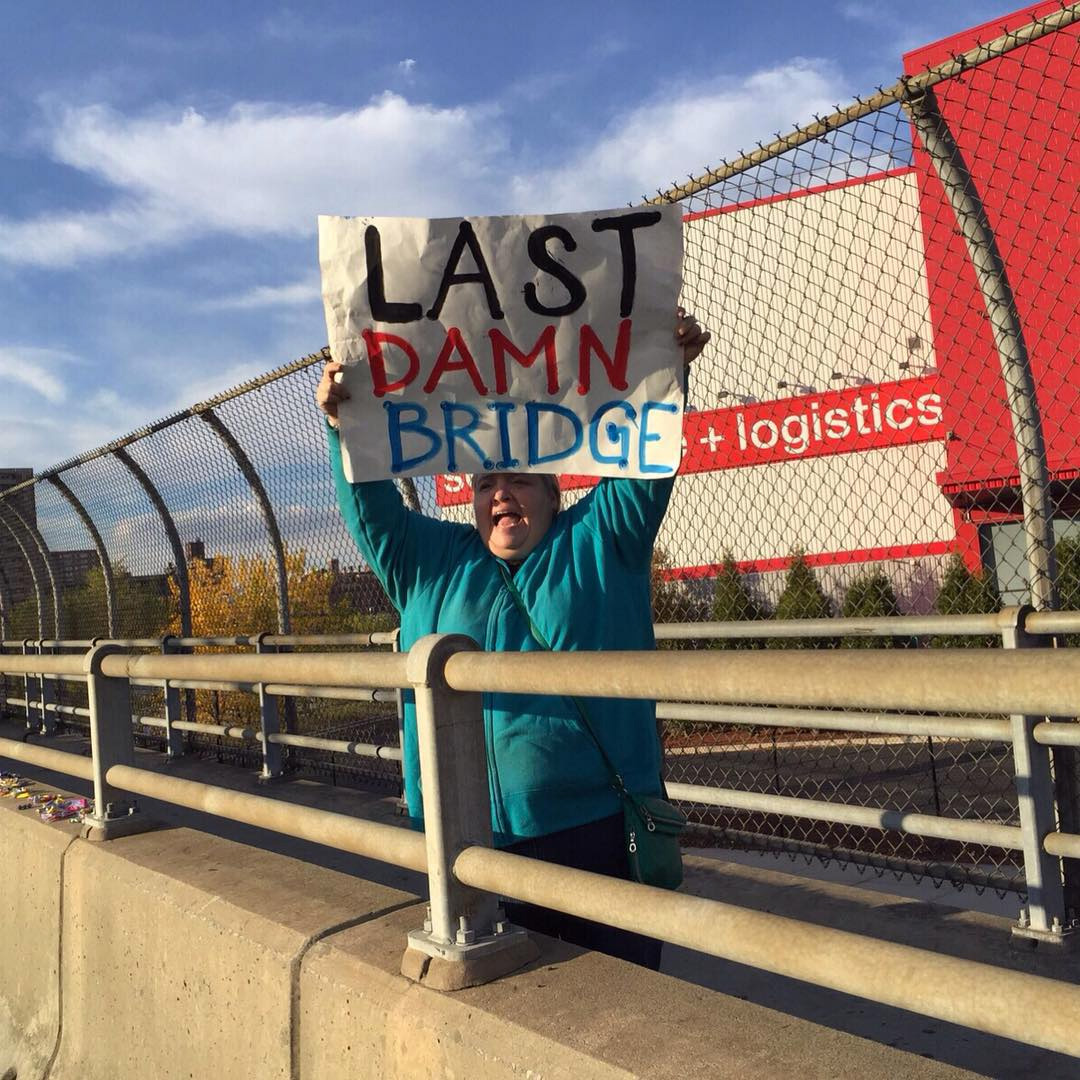 photo credit: https://www.instagram.com/p/9l9VWOIjZz/
Woo! Back in Manhattan and along Fifth Ave. I was mad at myself for walking so much, but Chris kept encouraging me to keep going. I mean, it's not like I wasn't going to finish this race, but the thought of 4 more miles seemed like an eternity. We saw a sign that said "Do Epic Shit!" and Chris mentioned "That's what I'm gonna do when this race is over!"
Home stretch!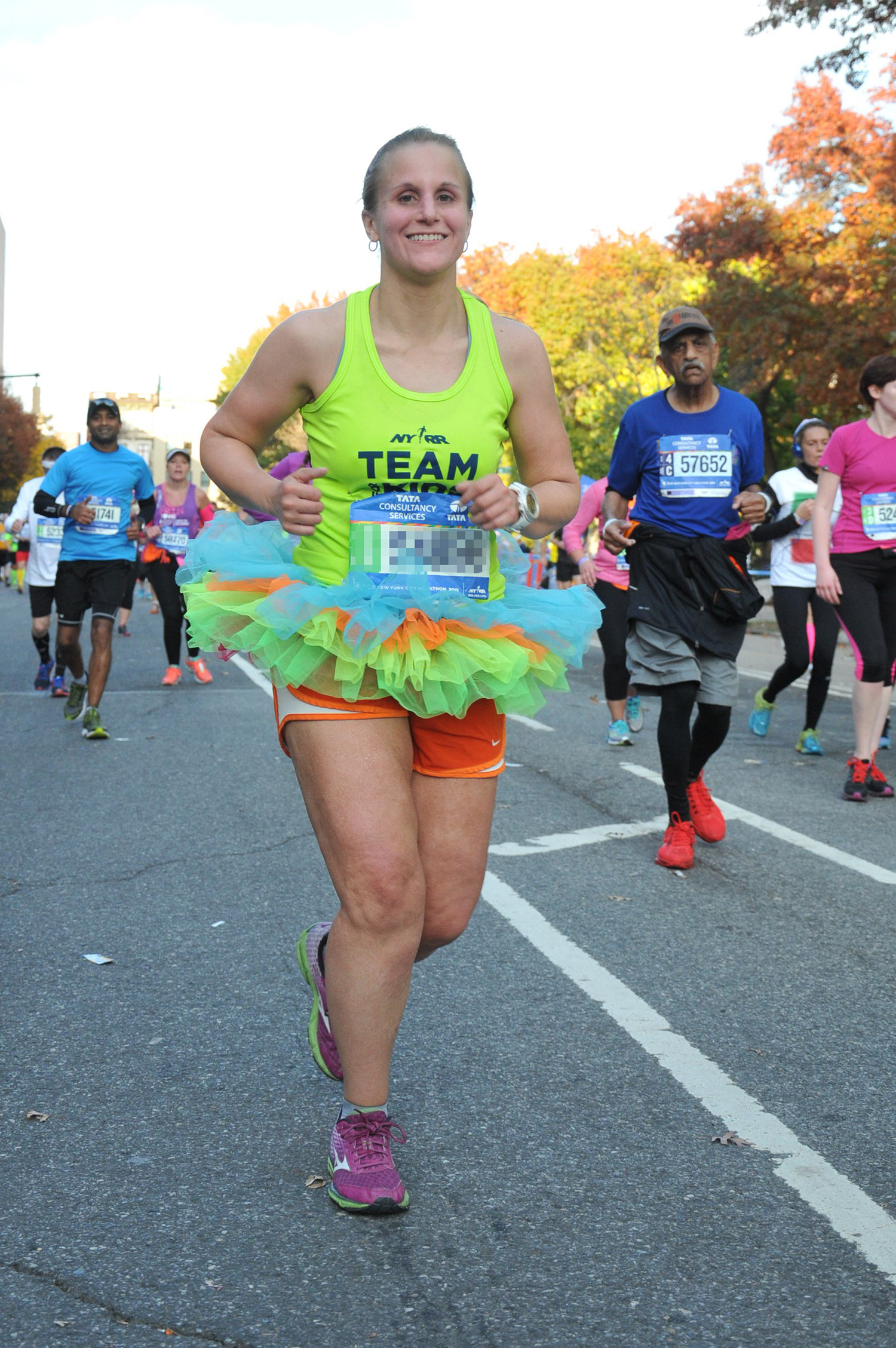 At long last we were on the perimeter of Central Park. It didn't seem like it was possible, but the crowds had gotten even denser. More spectator puppies were present, too! One mile later, we made our way into the park via Engineer's Gate, and a big overhead "Mile 24" banner welcomed us. The trees were all showing off their pretty autumn colors.
I was already running on empty, and the rolling hills made it tougher. But we had come so far and were so close, that I kept visualizing the finish line, seeing our friends, and being able to say I completed a race I've dreamed of doing for so long. Mile 25, so close…I stopped to walk at an aid station, and Chris reminded me that no matter what, we were going to run across the finish line. That was never a doubt. I may have lead legs now, but hell yeah we were going to run across the finish line!
Mile 26…omg this is really happening! We're doing it, we're doing it! I squealed with delight when I saw our friends in the grandstand and saw Cara waving her amazing "Run All the Boroughs!" sign. Chris and I joined hands and raised them up high above us. We did it!!!!
Just one year earlier, I was sitting in my hotel room with Master Laura after the Indianapolis Monumental Marathon weekend and watching the NYC marathon on TV. And here I was now, at the finish line after completing this historic course!
Huge thanks to Chris for training with me and sticking by my side for all 26.2 miles — the good, the bad, and the ugly. Thanks also to our incredible cheering squad of friends who joined us for our NYC adventure and cheered us on! And of course, none of this would've been possible without my work crew donating mega bucks to charity so that I could gain entry. Heart you all for making a dream come true.
I'm still not altogether convinced that this wasn't a dream, but if it is, I don't wanna wake up.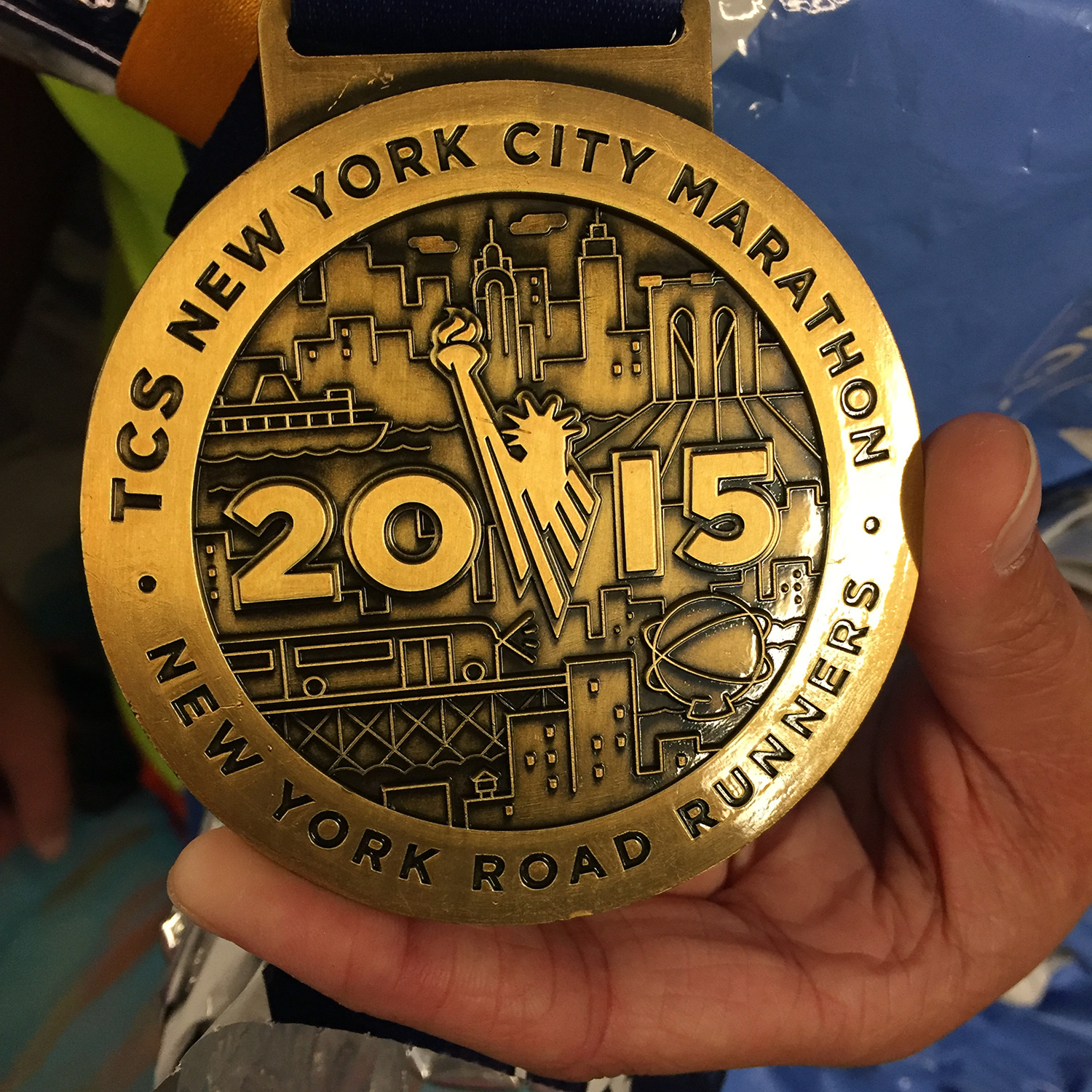 Big Apple musings:
Best sign in Brooklyn: "You CAN even"
Cutest "signs": The group carrying kitty head cut-outs on sticks! We saw them a couple times throughout the course.
Biggest race obstacles: Thousands of water cups, banana peels, discarded gel packets, moist sponges, and the sea of humanity in general.
Greatest uncertainty: It was difficult to tell what was a Halloween costume and what was normal NYC Saturday night wear.
Best reason to go to a bar: The six of us went to Jasper's Taphouse. Because two of us have cats named Jasper.
Most organized: Kudos to the race organizers. The logistics of getting 50,000 runners throughout a giant city (in addition to the bajillion spectators and volunteers) will never cease to amaze me. As a participant, I had no uncertainty about where I needed to go/be/run/etc. because everything was organized like whoa. Even the finish line area had a freakin' map.
Most well-traveled: I'd say Chris and I moved around just a little bit on November 1:
---