My bestie, Cara, moved from Michigan to Colorado two years ago. (Sad face) Although I need no excuse to visit her, her invitation to run a half marathon together in Denver was just too good to pass up! (Happy face)
Pre-Race Funsies
Many of my visits to Colorado revolve around mountain- and beer-related activities, such as hiking Royal Arch and Rocky Mountain National Park, running along different trails, biking to different breweries, touring various breweries, and indulging in beer at said breweries. Delcious tacos are almost always involved, too. Tacos need no reason; tacos just are.
This visit would be no different. First and foremost, to get myself acclimated to the elevation, we did an easy run around the perimeter of Washington Park. Okay, this run was really just an excuse to pet the numerous happy dogs in the park. But hey, I acclimate how I acclimate.
After reacquanting myself with one of my favorite places, Odell Brewing, we hit up the race expo at Denver's Wings Over the Rockies Air and Space Museum. A massive hangar filled with planes from bygone eras, it was a unique location for packet pickup. I'm no aviation history buff — though I think I can say with confidence that. It was also a refreshing change from your typical expo venue, a conference hall or convention center with piercing fluorescent lights and drab carpet of questionable age. We picked up our race bibs, tech shirts, and beer wristbands (Michelob Light again, whyyyy) and even caught a sneak-peek of the medals (ooh there's a spinny center medallion!).
After a chill race eve meal at home of pasta and broccoli, it was time to rest up for the main event. Cara set me up with a pizza plushie and Oreo bedsheets for added comfort and cuteness.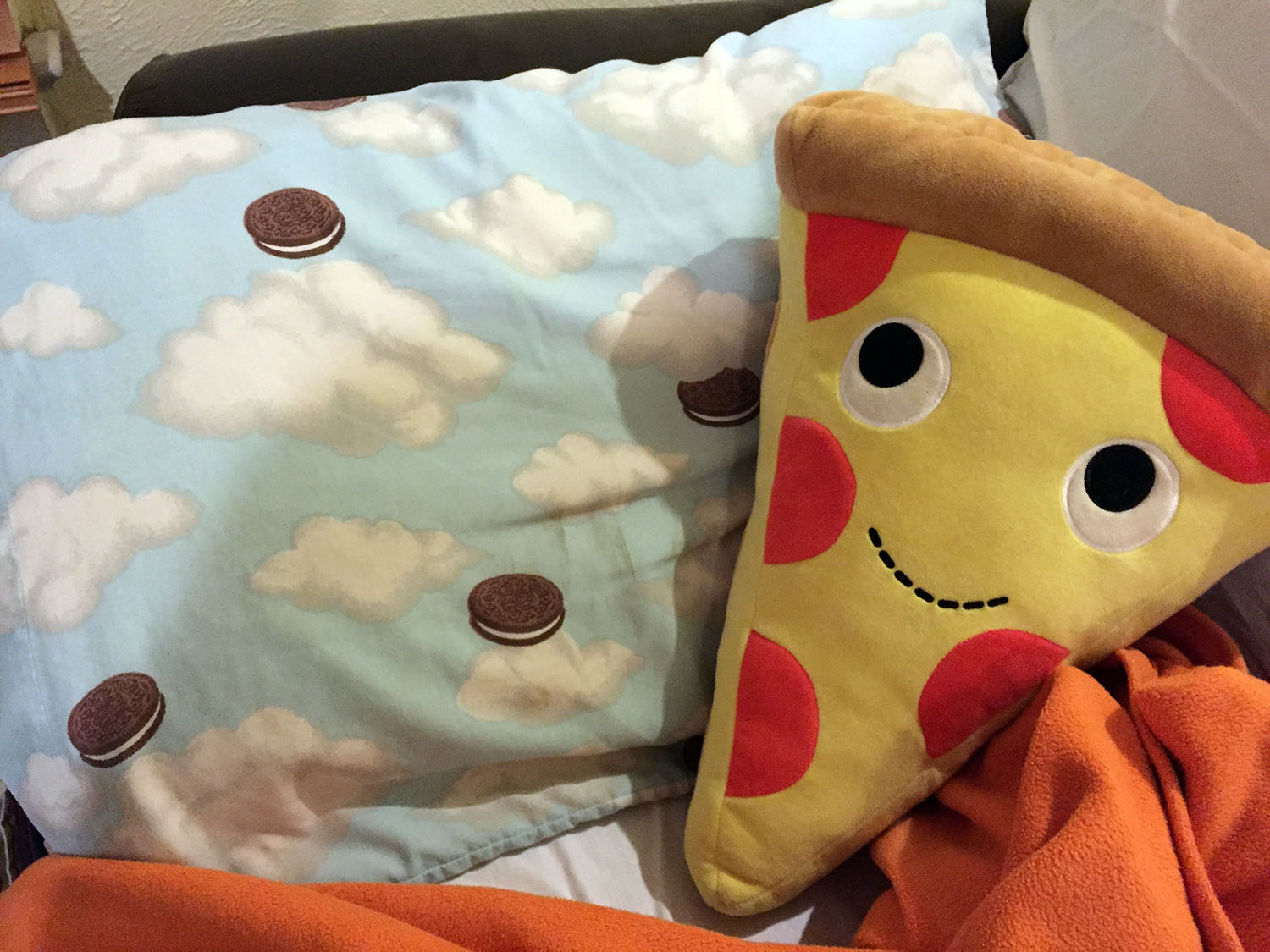 I shared my night on the couch with a very handsome snuggle buddy: Stoutmaster Flex, the adorably floofy ginger cat. He's a very chatty kitty and would often wake me up super early in the morning to tell me SO MANY THINGS. But I forgave him for waking me up. How could I not, with that adorable face: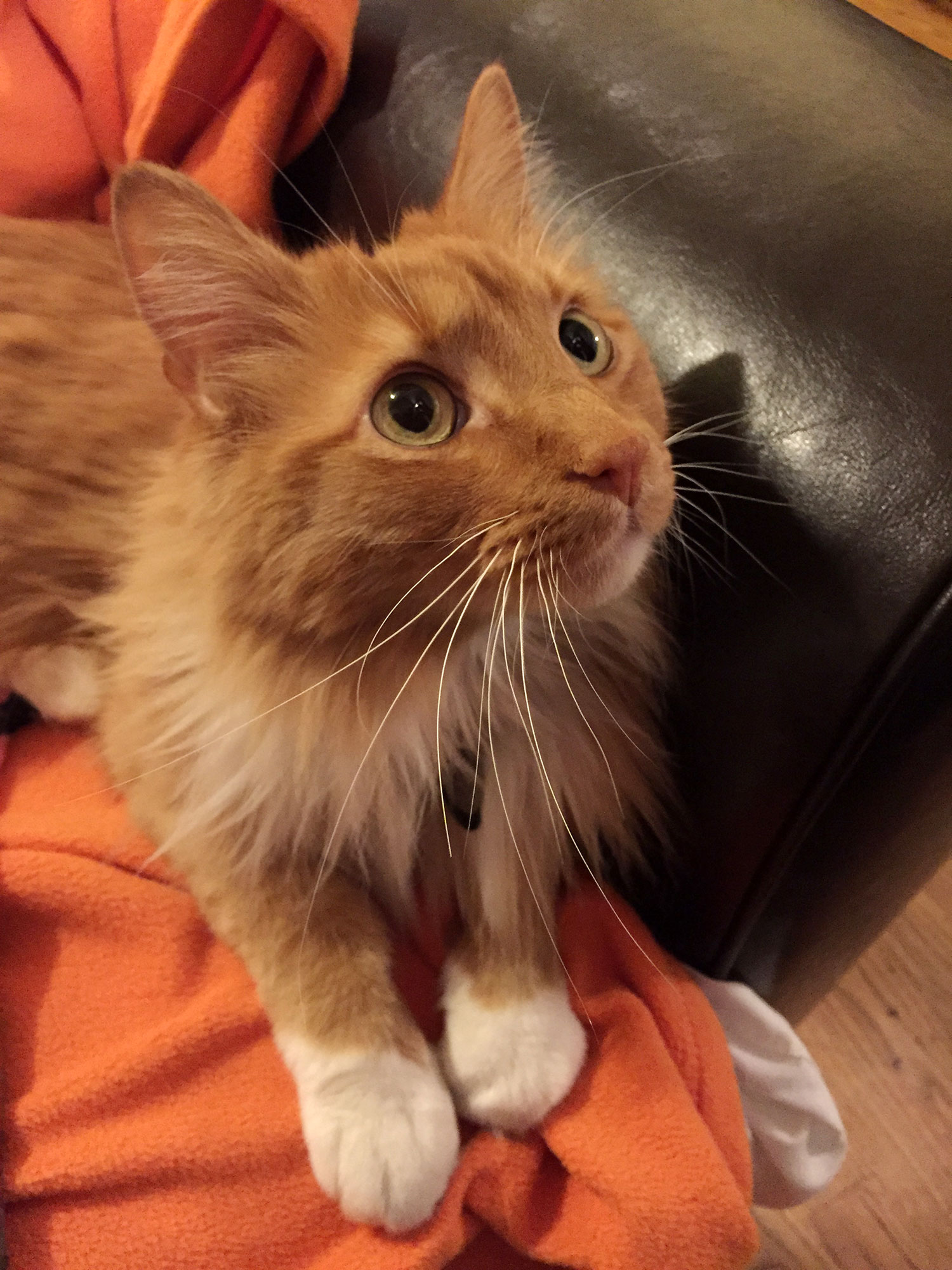 Cara's other cat, Rotini, hasn't wanted anything to do with me since about 2008, so we kept our respectful distance.
Race Day
Cara's lover muffin, Keith, dropped us off at City Park in Denver well before the 6:45 a.m. start time. From the forecast, it looked like we'd be finishing under sunshine-filled skies and temps in the mid-50s. Once again, the racing gods smiled down upon us and granted us good weather.
We heard the "5 minutes til go time" call and went over to drop off our bags at the gear check tent. Cara reached into her bag for her bib… and then dropped it while looking at me with an exasperated smirk. "What?" I ask? "I forgot my bib," she states plainly. Mind you, this was about an ninety minutes after she told me "Don't let me forget my bib!" while we were getting ready at the house. Friend of the Year I am not.
On the off chance that a race staffer could help with this dilemma, we hustled over to the info tent. A volunteer directed us to the registration table since there might be extra bibs. And they did have spares, hooray! Kudos to the helpful volunteers in our moment of need.
Not all the waves had begun running yet, even though at least 10 minutes had passed, so we didn't even lose out on the fun of the group start. We crossed the start line, still laughing about our silly near-predicament, and started our loop around City Park.
The first few miles are all a little Hokey Pokey-like since you keep stepping in and out of the park. First, we ran past a couple lakes and exited the park onto 17th Avenue. Just kidding, it's time to go back into the park and head north! Aaaand, then we're exiting again onto 23rd Avenue. But wait wait, now we're back in again and headed towards the zoo…which is also inside the park!
You get to run a whole mile through the zoo — how cool is that! And let's not kid ourselves; this was the mile I was most excited about. We ran along the winding, paved walkways and saw happy elephants, camels, flamingos, and even a sleepy cheetah. I was sad that the red panda didn't come out to cheer for us, but he was probably very busy doing very cute and important red panda things. Running past the animals and seeing them start their mornings was alone worth the price of registration.
After exiting the park (again), we passed a museum (back inside the park), and then we headed out into the city via Montview Boulevard. Bye for now, City Park! We'll see you at the finish line!
I don't remember what I was trying to do here, but it was probably something amazing: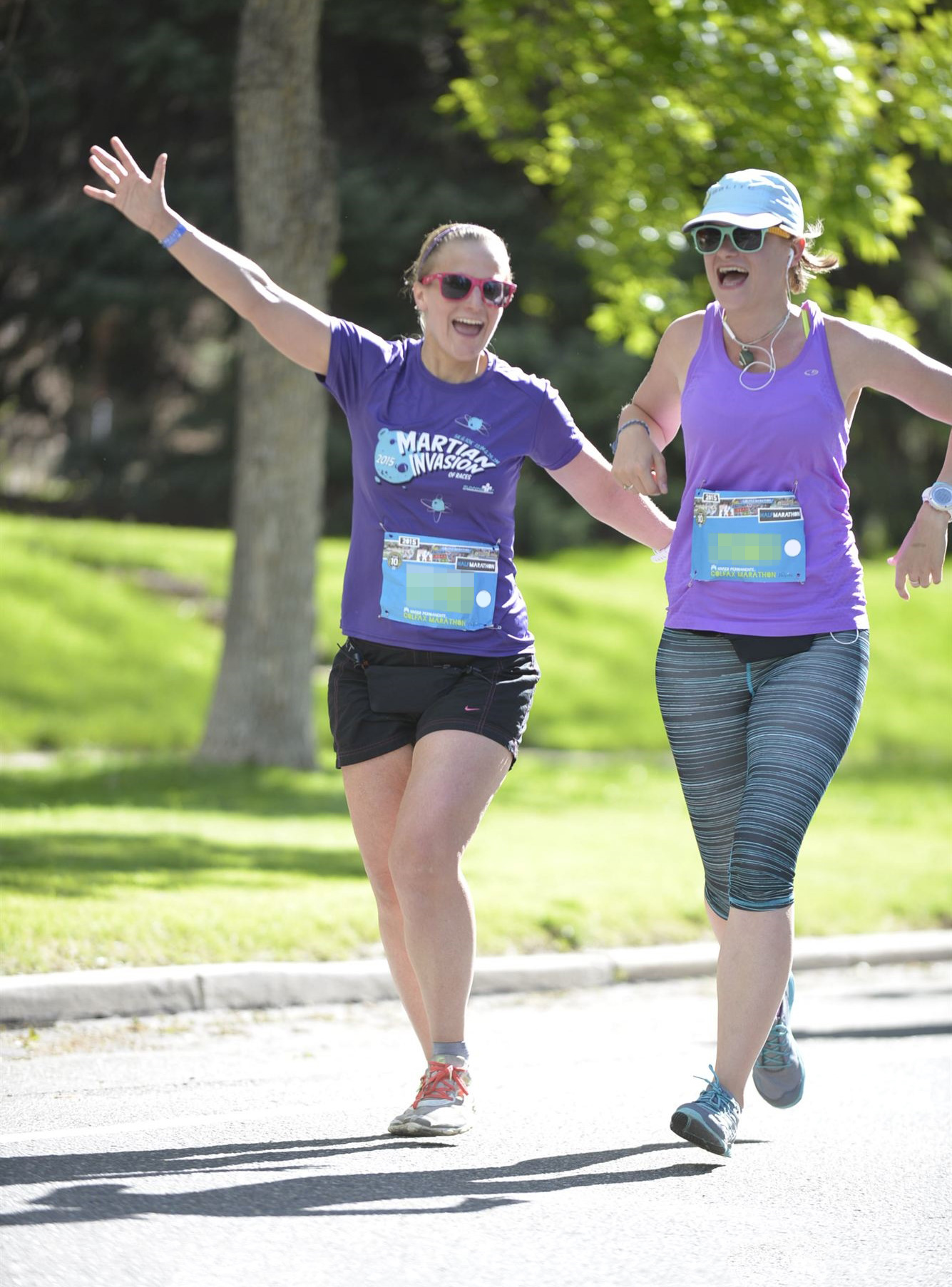 The half course is an out-and-back loop course that loosely resembles a long, narrow rectangle. The two longest stretches are Montview Boulevard on the north and 17th Ave./Colfax Ave. on the south. Montview's flat straightaway lasted several miles and was, for the most part, relatively unexciting scenery. However, the locals were out tailgating and cheering for us, and that's something we runners always appreciate. I was hoping that one of the tailgaters would pass me a beer. I could've used the distraction from the slight incline we had been climbing for a looooong time.
Around mile 7, I saw runners hitting a turnaround up ahead. We made the turn and then headed towards Aurora Fire Station 1. The station's doors were open, and we got to run through the firehouse bay! Cheerful, beefy firefighters gave us lots of high-fives as we passed through the building, crossed under the beautiful Colorado state flag, and then re-emerged into the sunshine.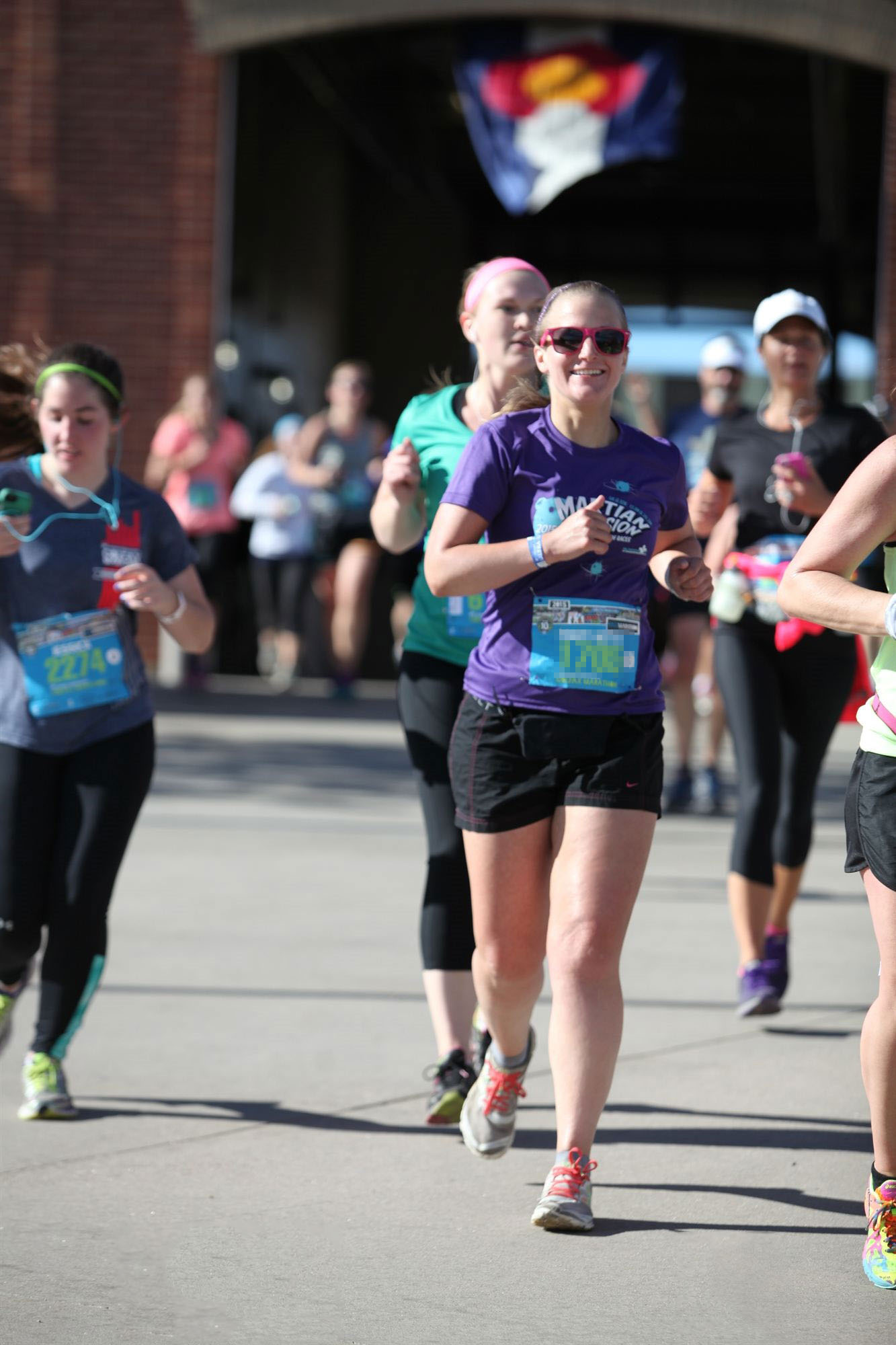 We turned onto Colfax Ave. and headed back west toward City Park. Oh hey, it's the avenue for which this race is named! Fun fact: I learned that this is the longest commercial street in the country — a 26.5 stretch that runs from Aurora to Golden, Colorado. Neat! This was a wide street that featured an eclectic mix of restaurants, bars, old motels (ooh now with color TV!), and live music venues.
Time for the last lengthy stretch, 17th Ave, and its beautiful homes and neighborhoods, tall trees to shield from the sun, and many joyful spectators. Yeah, it was pretty much a block party. Cara mentioned that she felt something sharp in her shoe, so we pulled off onto the side. I watched her pull a ridiculously large piece of glass (!) out of her shoe, but then I became engrossed by the most adorable weeks-old border collie puppy nearby. We administered numerous tummy rubs on this very excited little boy while chatting up his owner. No regrets about stopping for an absurd amount of time for the sake of cuteness. And thankfully, Cara wasn't injured by the vicious glass shard in her shoe, so we could continue our march.
We could see the magnificient Rocky mountains and Denver skyline as we got closer to the City Park. Home stretch! We re-entered the park, did a short loop around a lake, and crossed the finish line amongst all our adoring fans. Okay, maybe the spectators were there for everyone, but it's fun to believe they were there just for us.
Cara and I did our typical finish line chest bump and admired our newly acquired medals. They had tiny "13.1" spinny medallions inside! We met up with Keith and took some goofy "senior pictures" by the City Park fountain.
Ladies and gentlemen, your class of 2015: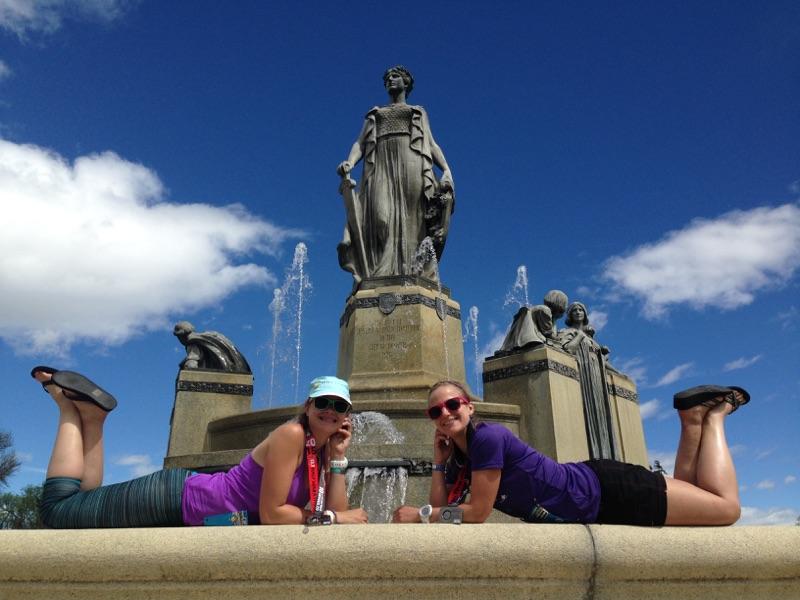 For victory brunch, we opted for nearby Vine Street Pub. It was along the marathon route, so we could get in a little spectating as we sipped our celebratory beers. Well, that was initially our plan, anyway. Since the temperature had climbed quite a bit and there were way too many wild children running around the patio area, we decided to sit inside. Spectating from behind a window still counts, right?
I also need to mention my appreciation for this cozy little bar called Grandma's House. Its decor is full of exactly all the things you'd expect from the name: rocking chairs, night lights, old TVs, knitted everything, framed cross-stitch art, puzzles and board games, Werther's candies, and lil old lady knick-knacks. It's the perfect amount of comforting kitsch, and you can't help but smile when your craft beer is served in a Smurfs or Muppets glass.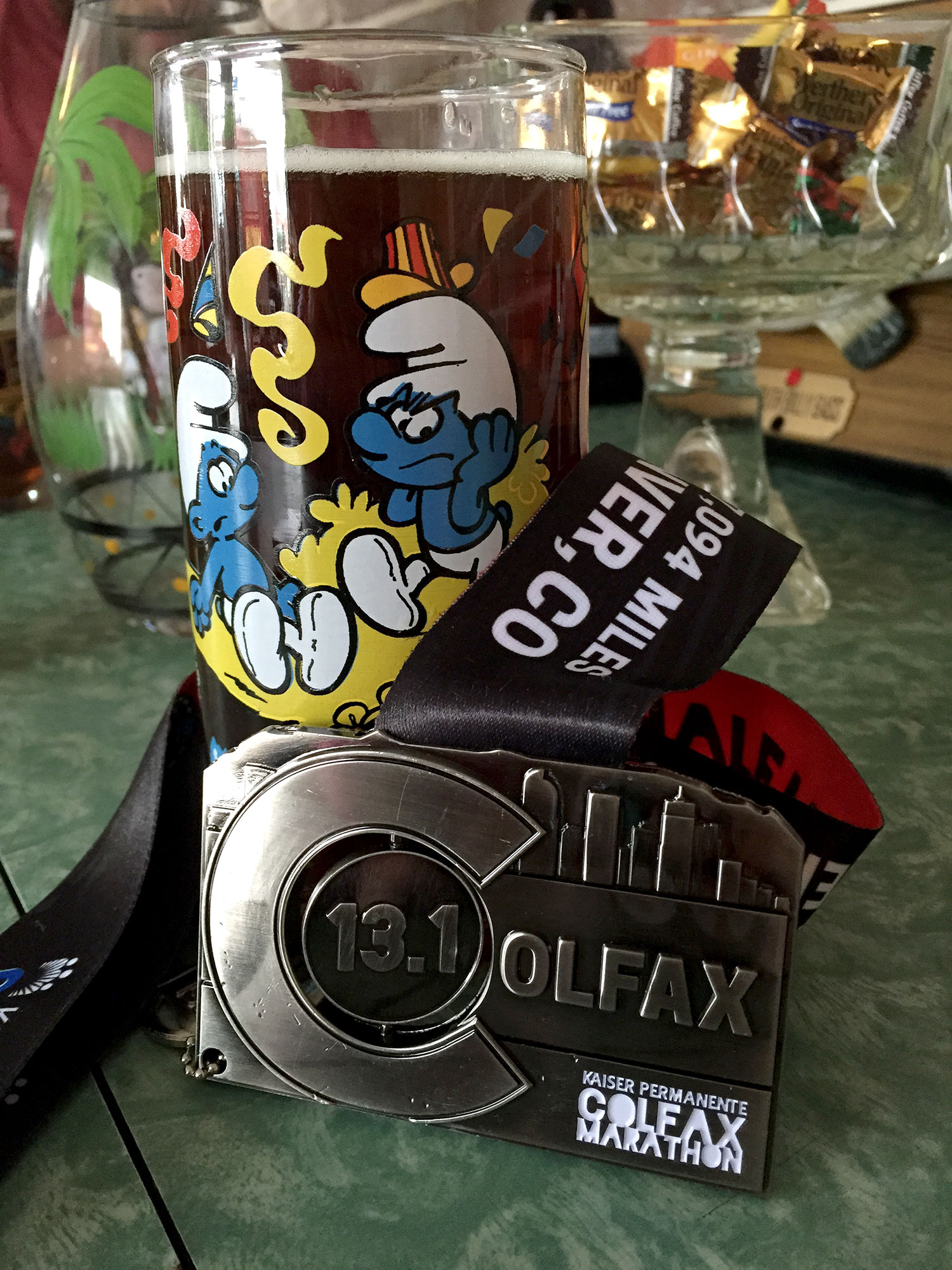 Oh Colorado, how I enjoy you so. I will see you and Cara again sometime soon.
Rocky Mountain musings:
Sexiest cheer station: Mile 11's Colorado Firefighter Calendar crew. Lots of sexy, half-naked firefighter men and ladies giving out the sexiest of high-fives.
Best race eve activity: Building The Simpsons' LEGO house and trying to keep all the tiny pieces away from the cats.
Best reveal: The leftover bib that Cara used logged her as a 90-year old male runner.
Best runner perk: FREE race photos. No more paying $29.95 for a single digital download.
Most fun non-running event of the weekend: Visiting the U.S. Mint in Denver. Alas, no free samples.
Best carb-reloading treat: Vegan donuts from Beet Box. I limited myself to just two giant donuts.
---