Indianapolis Monumental Half Marathon
Buckle up, it's road trip time! Master Laura and I hit the road on Halloween for the 5-hour drive to Indianapolis for the Monumental Marathon weekend. To pass the time, we do what all the cool kids do: sang along to musical masterpieces by Roxette and Starship. (For what it's worth, Master Laura does a spot-on Grace Slick impression.) There were a few traffic hiccups on this joyride, but no biggie; nothing's gonna stop us now. [rimshot]
We checked in to our hotel downtown on West Market Street, which was conveniently located just a few blocks away from the shared start and finish areas and the race expo. I'm fairly certain that I had visited Indianapolis as a wee child on a family vacation, but since my memory of that is fuzzy, I'm going to consider this a first visit. I looked forward to running through the city and taking in the sights, as this event promised to be — wait for it — monumental.
The expo at the Indiana Convention Center was super well-organized and brimming with race eve excitement. Each runner received a cool souvenir: a #BeMonumental poster that had all the runners' names on it. After browsing the expo for a while, we hit up Buca di Beppo for dinner. Typically, we seek non-chain eats when exploring new cities, but we had an especially spectacular Groupon. Yep, we're those people. And, we were likely to dine on pasta anyway, sooooo the decision pretty much made itself.
The weather forecast was already looking like it'd be cold and blustery for the race, but it was downright nasty when we headed back to our hotel. I felt bad for all the tiny humans out trick-or-treating. I mean, look at this shit (yep, that's snow):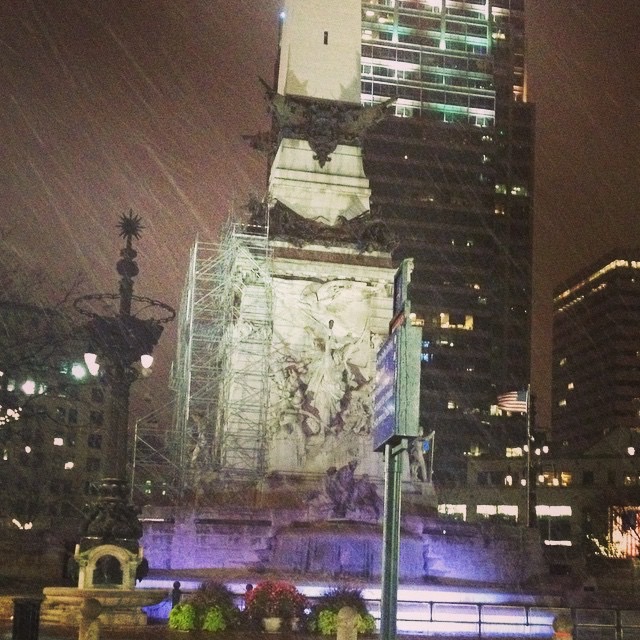 Time to #BeMonumental
After a comfy night's sleep, race morning was upon us. The forecast hadn't improved, so we were looking at a chilly, overcast start with 30-degree temperatures and 18 mph winds. Blech. This was a job for every single piece of race gear I had brought: hat, gloves, short sleeve shirt atop a long sleeve one, tights, and, the pièce de résistance: the rainbow tutu. We procrastinated as long as possible before walking to the Indiana State Capitol start line for the 8 a.m. festivities.
Cue the national anthem annnnnd go! I wished Master Laura good luck with her marathon and set out on my merry way to do the half. From studying he course map, I knew we were in for basically a north-south route that starts and ends at the capitol building. The first few miles through downtown took us past Lucas Oil Stadium (home of Colts sportsball) and the towering neoclassical Soldiers and Sailors Monument in Monument Circle. Oh hey, a monument, just as the race name promised!
Next came a long stretch into some tree-lined residential areas showcasing their pretty autumn colors. The wind was still blowing, but my body had finally warmed up, and I was feeling pretty darn good overall. Two weeks prior, I had done the Detroit Free Press half, and I already felt better here than I did that day!
With the exception of a few small rolling hills, the course was flat and fast — me likey. Just after mile 7, we split from the marathoners and made our way back towards downtown. We began a long straightaway stretch down Meridian. I remembered this street name specifically because this segment seemed so freaking long. I could see the skyline in the distance, but it didn't seem like it was getting any closer! My piriformis was starting to be a cranky little shit, so the tailwind was a welcome boost at this point.
The amount of spectators was increasing, and the number of monuments was rapidly increasing. We passed the American Legion Mall, the Indiana War Memorial, and the Soldiers and Sailors Monument again (oh hey, I recognize you!). One quick turn and then a short bit to the finish line, hooray! Never have I been so relieved to see a capitol building!
I dig the medal. It's a high relief image of Indiana War Memorial against a dark blue field. Behold: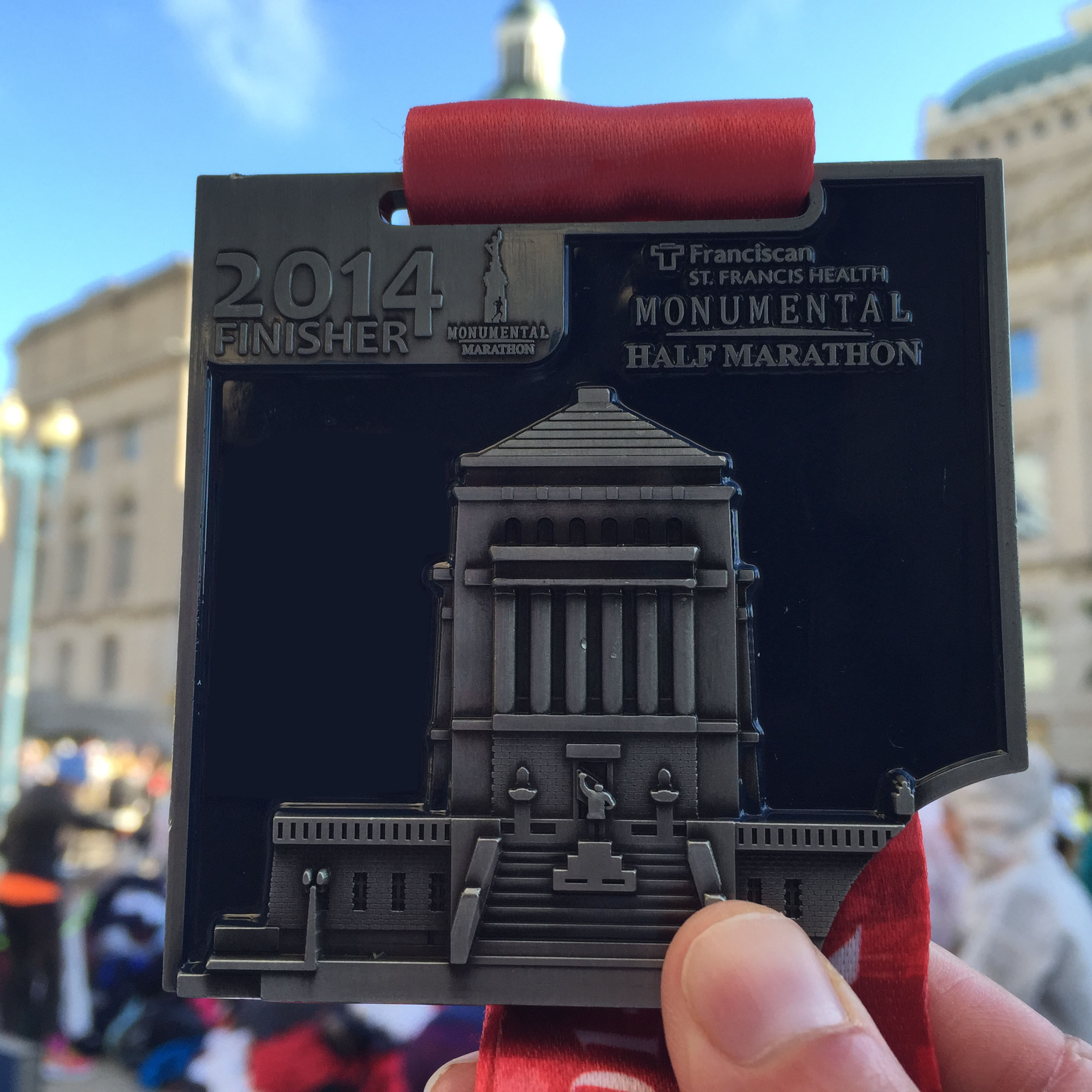 After a quick shower back at the hotel (can I mention again how convenient its location was?), I bundled up in a hotel blanket like a burrito and went to cheer on Master Laura's marathon finish. A cyclist saw me in my blanket and snarked "It's not that cold!" Um, scoff all you want, silly woman, but I have no regrets about my toasty warm getup. The sun finally came out to play, and I caught up with Master Laura at one of the last turns of the course. I gave her a big ol' hug in my burrito wrap and watched as she ran in for the finish.
We celebrated conquering another state by doing a mini food and drink crawl around downtown. Okay, it was mostly drinks. We hit up Kilroy's Bar & Grill for lunch (and beer), then more beer at Dick's Last Resort, followed by some more beer at Rock Bottom Brewery. And naturally, tacos capped off the triumphant day.
The next morning, we made our way home, pleased that our weekend in Indy truly was — omg here it comes — monumental.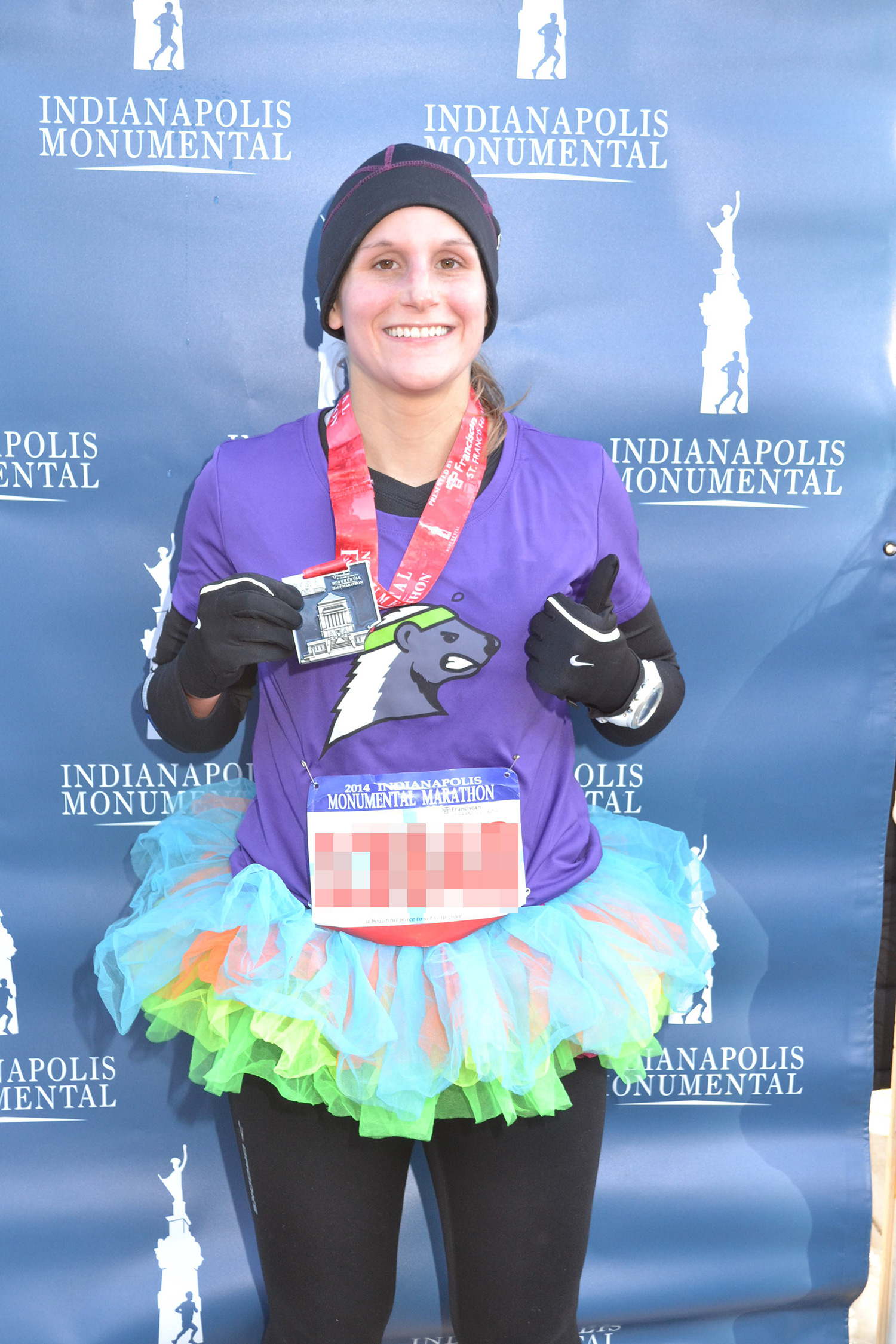 Monumental musings:
Best sugar rush: Thank you, spectators and volunteers, for passing out Halloween candy. I'll gladly take your leftover Skittles off your hands.
Best pup: A very excited husky on the sidelines about midway on the course. A nearby runner called out to the owner, "Hey, what's your dog's name?" "Stanley," came the reply. "Thanks for coming out, Stanley!" praised the runner. Stanley perked up and wagged his tail very enthusiastically as if to agree, "Why yes I AM a good boy!!!"
Best finish line prize: The grey finisher's knit cap with red embroidery for half finishers and blue for marathoners. Runner-up: yummy mini bagel bits, for when you want the taste of a bagel without the commitment of an entire one.
Most helpful: The finish area was occupied by several volunteers holding large "Ask Me" signs. I wish I had something legitimate to ask, since this was a nice accommodation for runners and spectators alike. But all I could think of was snarky inquiries and rhetorical questions, so I kept those to myself.
Best non-race sign: "Our door is heavy. Please pull with vigor." on Mikado restaurant. I did not try the door, so I cannot actually verify this claim.
Biggest moment of concern: When Master Laura texted me to say that I could find her at the tent in the finish area. As if to read my mind that I assumed medical tent, she clarified: "The CHILI tent."
---