Walt Disney World Goofy Challenge
I'm an adult, and I just had my very first magical Disney World adventure. It. Was. AMAZING! It really is the happiest place on Earth, and every mile of the race was magic (well, maybe not the one by the water treatment facility, but I'm getting ahead of myself).
A few years prior, at the Detroit Free Press Marathon expo, my bestie, Cara, and I visited a booth for runDisney races. After seeing the sexy finisher medals and chatting up the Disney reps about the whole race experience, we knew it was only a matter of time before we signed up and made it happen. You mean you get to run through ALL the theme parks?! And you take pictures with all your favorite characters?! Is this real life?!?
Fast forward a couple years, and we make plans for a long weekend in Disney, the first visit for each of us. I had this ambitious idea to do the Goofy's Race and a Half Challenge, which, as its name cleverly implies, involves running the half on Saturday and then the marathon on Sunday. Since my only goal was to have fun and complete the epic challenge — finishing time be damned — I figured what the hell, I'll do it!
We arrived on a Thursday to get in some quality sightseeing time. The staff at Disney's Caribbean Beach Resort and gave us "My First Visit" buttons to wear as we strolled excitedly around the Magic Kingdom. While the abnormally high 85-90º degree January temperatures were a welcome relief for us Michigan natives, we knew it'd be a different story for running. But that was a problem for future us. In the meantime, we were more excited than any of the kids around to meet Mickey and Minnie, various princesses (officially the girliest thing I've ever done), Chip n' Dale, and many more childhood favorites. The nostalgia was delightfully intoxicating.
Half Marathon
Race morning! We hopped on the race shuttle to Epcot Center Drive at 3:30 am. Yes, we had to venture out that early for the 5:30 a.m. starting time. With a big blast of fireworks, our wave was off and running! We were grinning from ear to ear in our rainbow tutus, sparkly tiaras, and Tinkerbell wings, and we stopped for as many pictures with Disney characters as possible. Ariel, Belle, Captain Jack Sparrow, and loads of others were out to greet the runners.
The route took us through the Magic Kingdom (catching the sunrise at Cinderella's Castle FTW) and then along a connecting highway to an exciting, crowd-filled finish inside Epcot. Main Street USA was packed with happy runners and spectators, so we stopped to snag a couple pictures of the Castle and pose with our suffragette friends. We also chest-bumped at a few magical mile markers. It was exciting fun in the hot hot sun!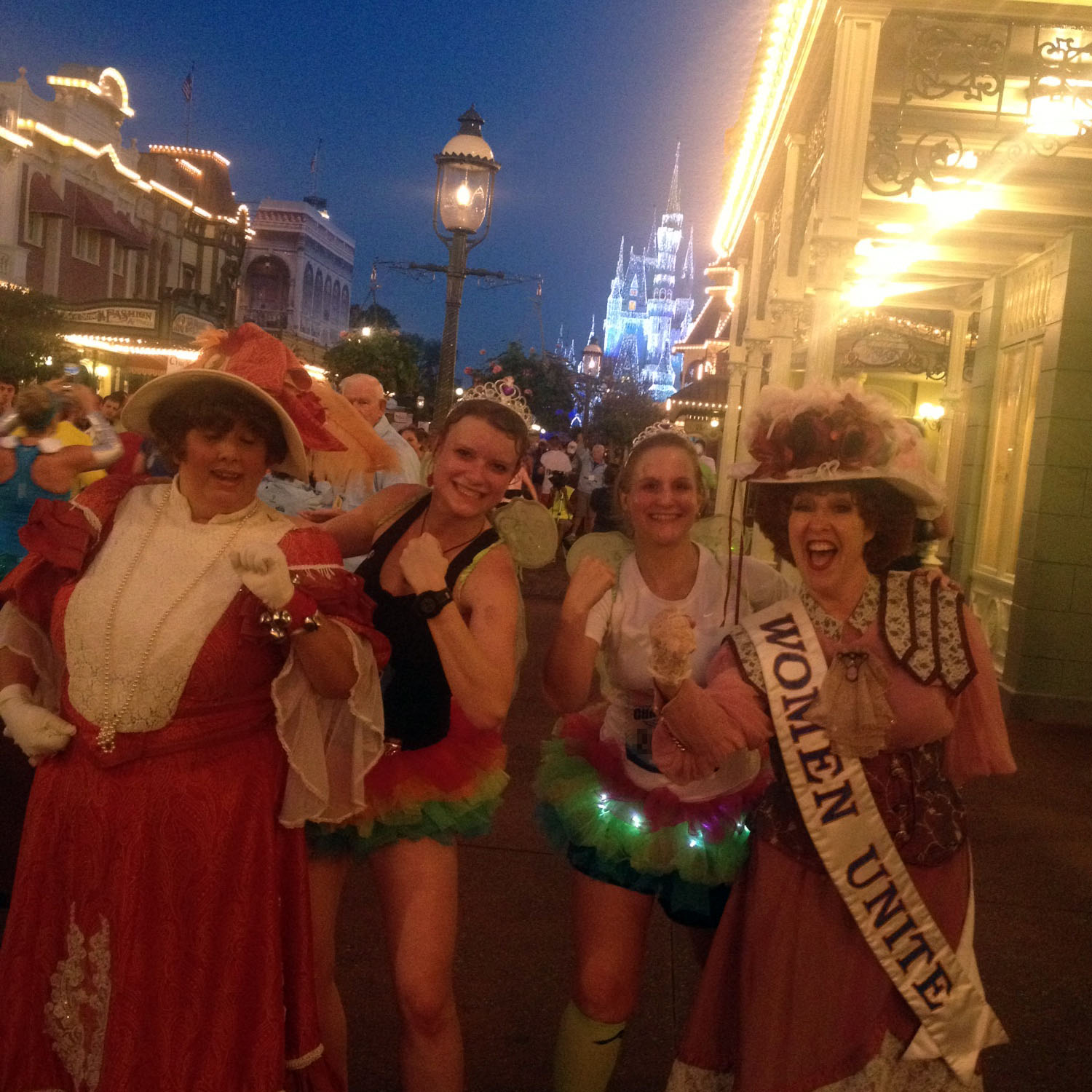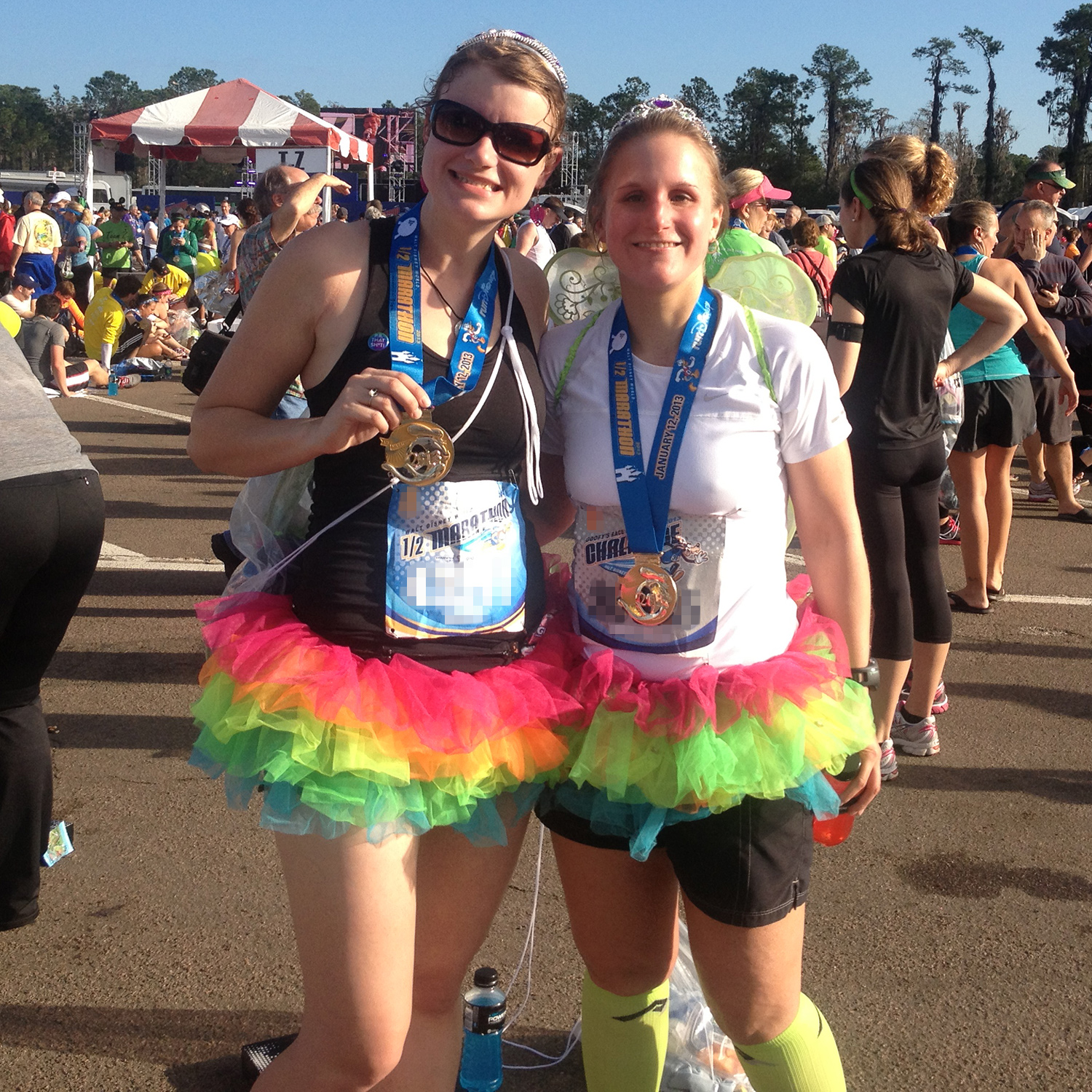 To celebrate our glorious achievement, we spent the afternoon wandering around Animal Kingdom before returning to the Magic Kingdom in the evening. The fireworks display over the Castle was worth the price of admission in itself. Such glitter, such magic. Wow.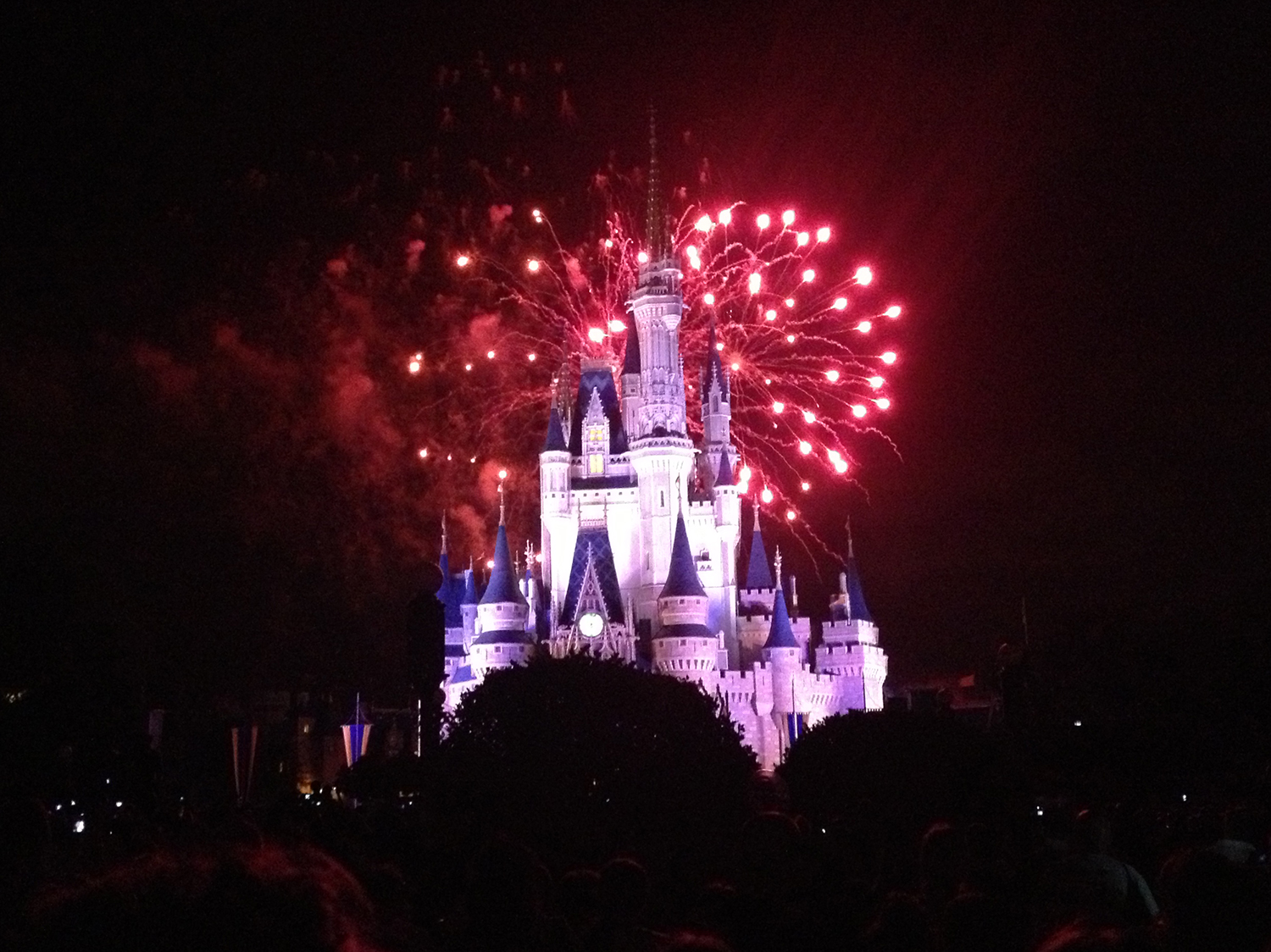 Marathon
After just a couple hours of sleep (I told you I didn't care about performing well), I woke up to catch the 3:30 a.m. race shuttle again. I was running solo for this one, but my bestie planned to greet me at the finish.
Another sparkly set of fireworks and a countdown from Mickey himself started us off! It was going to be another hot, steamy day, so I was focused on getting in as many miles as I could before the sun came up. Fortunately, I could cruise through the Magic Kingdom since I had already snapped photos with the same characters the previous day. Also, there were noticeably fewer participants for the marathon versus the half, so the lines for character photos were much shorter. Win-win.
I did a double-take in the Magic Kingdom parking lot, because alongside me was — drumroll — Joey Fatone from NSYNC. No, really! I had remembered reading that he was doing the Goofy Challenge, but I certainly didn't expect to see him on the course. I gave him a high-five and gleefully scampered off.
I felt surprisingly good through the early miles, through the Walt Disney World Speedway racetrack (hi Herbie!), on through Animal Kingdom, and for a few miles thereafter. Around mile 18, it got really damn hot, and I started to fade and fade fast. I don't remember too much about the ESPN Wide World of Sports Complex, other than we got to run through Champion baseball stadium along the warning track, which was actually kinda cool. Oh, and the voluntEARS handed out pleasingly cool sponges to help delay the inevitable heat stroke.
Since it was the 20th anniversary of the Disney World Marathon, they had promised something SPECTACULAR at Mile 20, and indeed there was quite the party happening. Giant puppets of familiar characters like Lumiére, Tigger, and Aladdin greeted us upon entry. Best of all was that the whole gang — Mickey, Donald, and Goofy — were on hand for a photo opp! It looks like I'm flipping Goofy off in this photo, but I swear I'm not. The heat was baking my brain, so I had no idea what I was doing.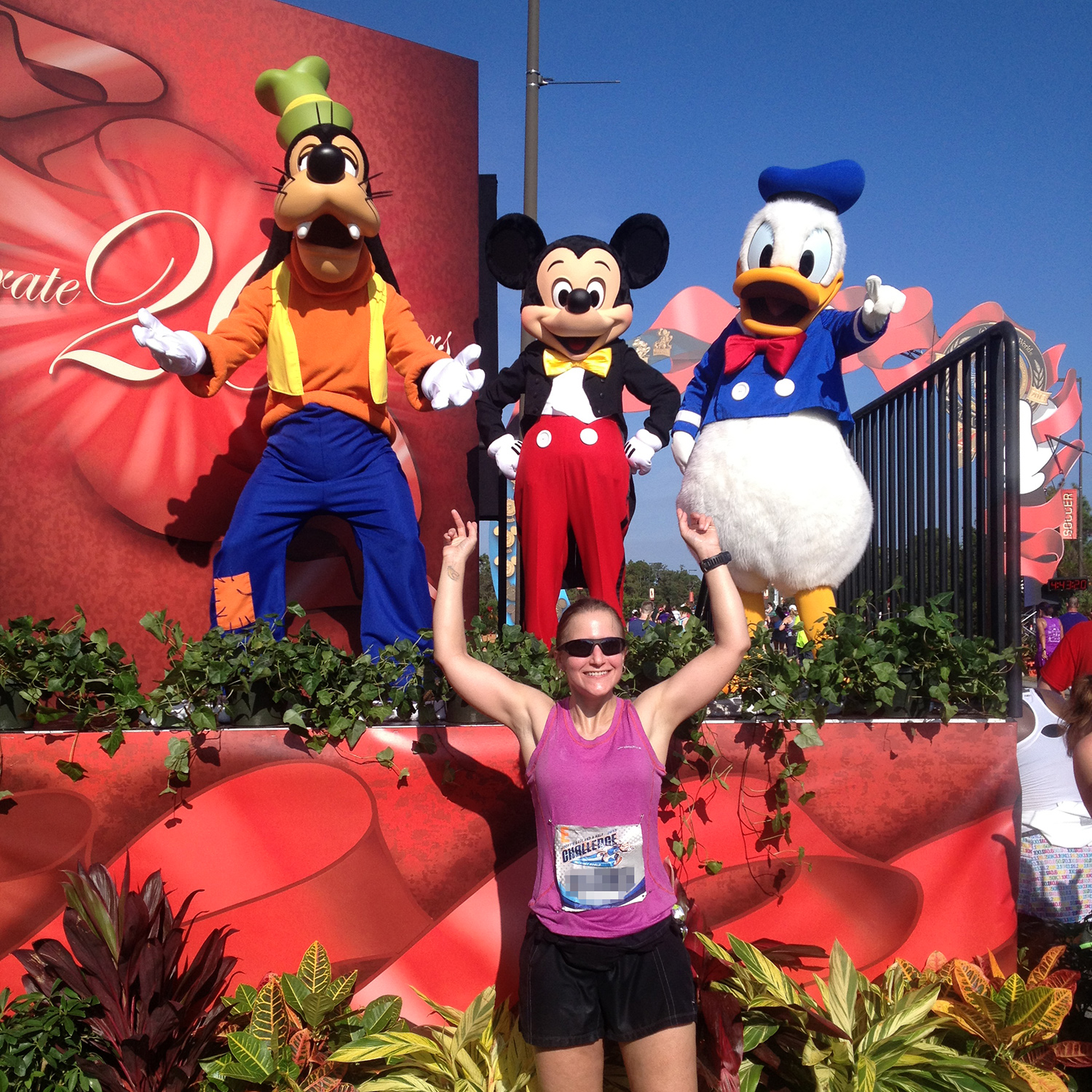 The last 10k was the longest 10k of my life, but each step was one step closer to the confetti-filled finish. Some green army men were on hand to pump us up (or make you do pushups, depending on your attitude) right before we hit Hollywood Studios. I stopped for a picture with Wreck-It-Ralph and moseyed through Hollywood Boulevard and out onto the Boardwalk. Had I not been so fatigued, I probably would've enjoyed Hollywood Studios a lot more!
We finally entered Epcot, plodded through the various cities, and kept going through the last stretch. Wall-to-wall people cheered us on, and I managed to find Cara in the crowd, yay! I made a beeline for Goofy to get a high-five as I crossed the finish line. It's over, I did it! 39.3 miles! And oh all the shiny, pretty medals I earned!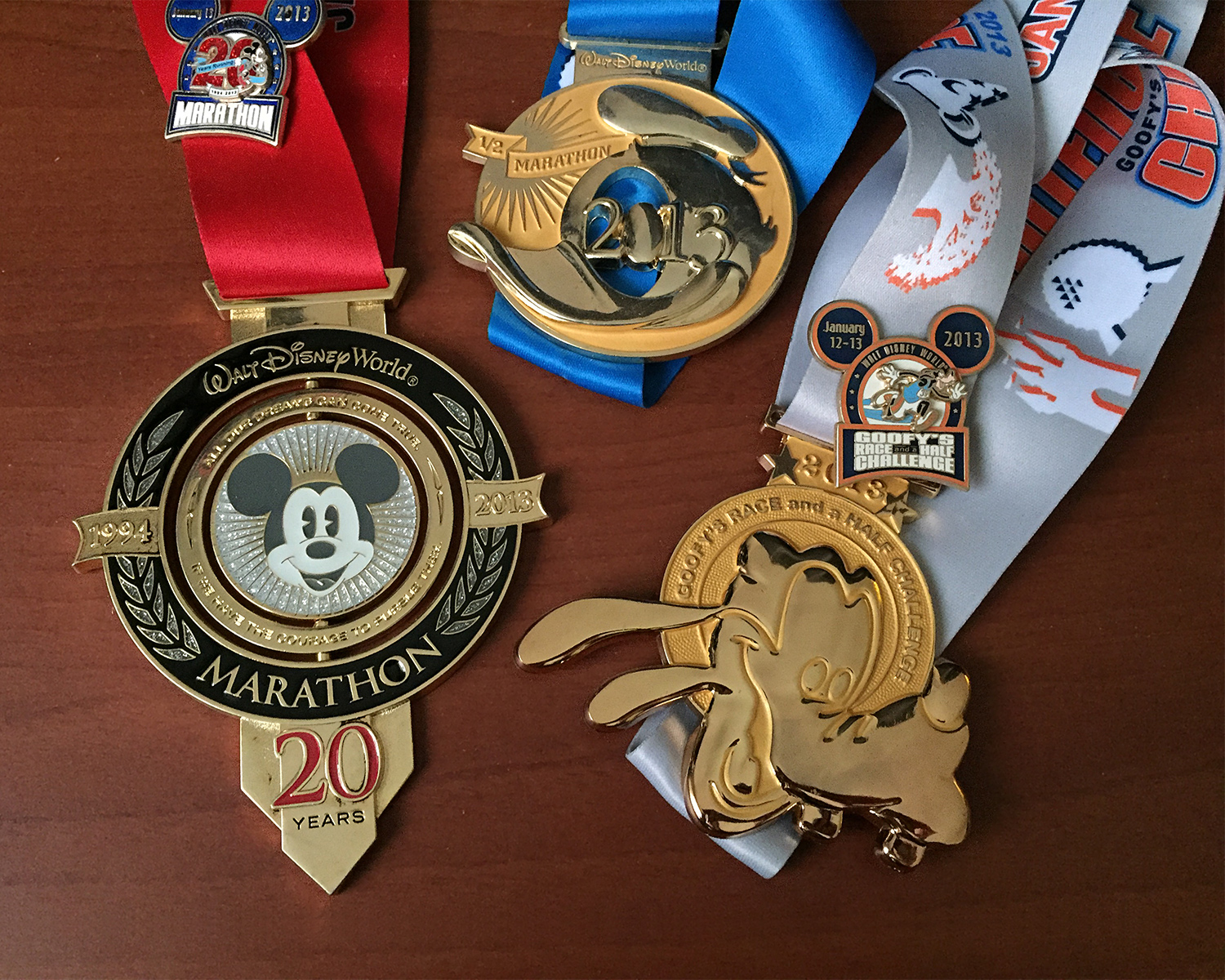 In true Cara and MB fashion, we celebrated our epic achievements by drinking around the world at the Epcot World Showcase. Naturally, this is an important part of any post-race recovery. We cheers'd with margaritas in Mexico, Grey Goose slushies in France, pints of beer in Germany, and a few others in between. We we made it through as much of the globe as possible before Epcot closed for the night. And how else to cap another great day at Disney? With another spectacular fireworks display, of course!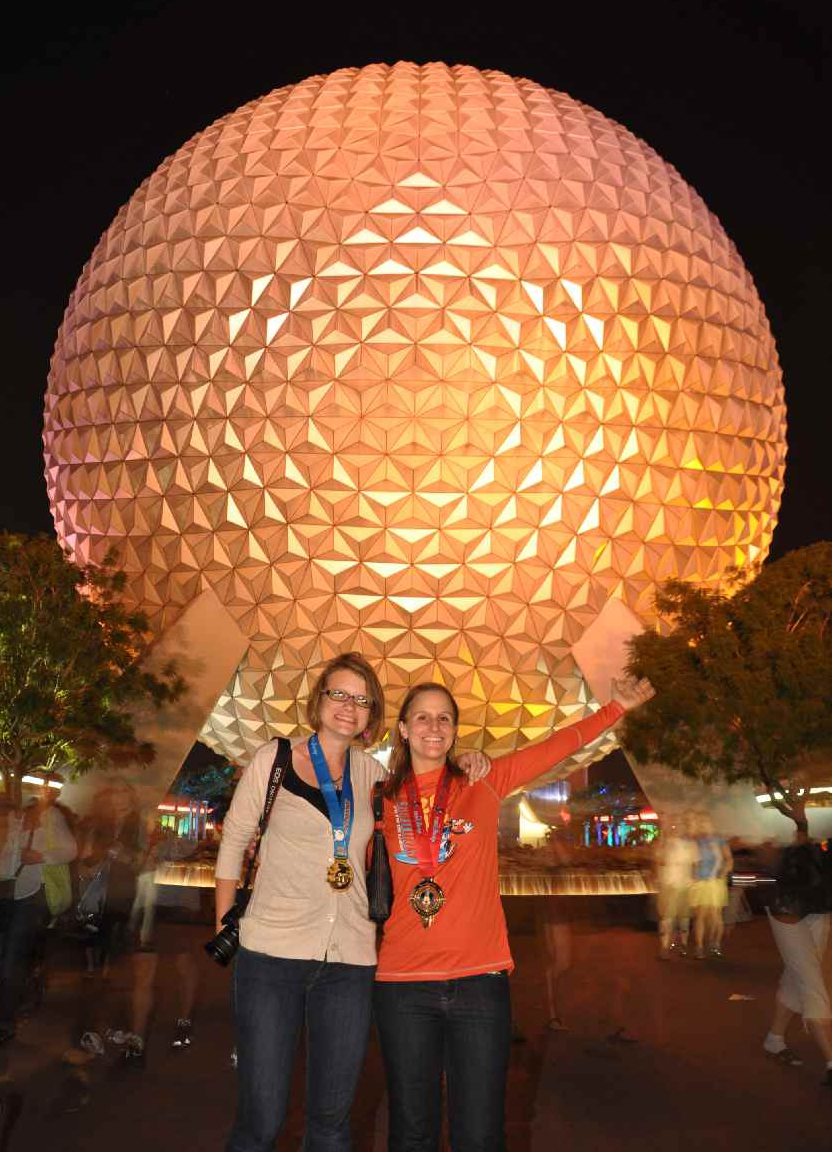 10/10 would run again. If you ever get a chance to do a Disney race, I highly recommend it. It's an unparalleled running experience that brings out the wide-eyed kid in you. It's worth every mile.
Magical musings:
Most awkward moment: Accidentally elbowing a fellow lady runner in the boob as she passed closely in between Cara and I. Even more awkward: at the same moment, Cara turned to talk to me but accidentally belched…in that same lady's face.
Most unexpected: For two ladies scared of roller coasters, we sure went on a few of them, including Big Thunder Mountain, Expedition Everest, and Space Mountain. My heart is racing just thinking about those rides, so next time I think I'll stick to Ariel's Under the Sea Adventure and the Haunted Mansion.
Best cheerleaders: Happy pigs and goats greeting marathoners upon entering Animal Kingdom.
Most astute observation from Cara: "This coffee tastes like it was made in a hotel bathroom. Oh wait…it was."
Olympian moment: A British runner beside me had the 2012 London Olympic torch, and she gladly let others, including me, run with it for a bit. Sure, it could've been a fake, and she could've been blowing smoke up our asses, but it looked very legit and was pretty hefty. So I'm just going to say that I had the once-in-a-lifetime opportunity to run with the Olympic torch.
Best pre-race overheard: "The family that poops together stays together."
Filthiest hands: The giant Mickey Mouse hands a spectator atop an overpass was waving around. I sdon't know what Mickey was touching, but his gloves were obscenely soiled.
Most disappointing moment: Not being allowed to get a post-race pic taken with Snow White because we were holding beers, which I guess are a no-no.
Least exciting stretch: The 3 uneventful miles between Magic Kingdom and Animal Kingdom highlighted by a water treatment plant.
Girliest moment: Actively seeking photographs with Disney princesses. Success!
Medals! Medals! Medals! Each of the Donald, Goofy, and Mickey medals is amazing in itself, but the marathon one is my favorite. Not only is it a sweet anniversary edition with a spinny inner medallion (featuring new Mickey and classic Mickey), but my dad was a Mickey Mouse fan. He passed away in 2009, and I was thinking of him throughout the marathon. This one's for you, Dad!
---