Emerald Bay Half Marathon
My first ever destination race — achievement unlocked! My close friend T lives in the Tahoe area, and she found this scenic half marathon for my friend Cara and I to plan a little vacation around. Impromptu vacation amongst purple mountain majesties? Um, yes please.
Running at altitude was a new experience. Cara and I gave it a try a few days before the race. It made me feel grossly out of shape as I gasped pathetically for air and my heart pounded rapidly on a little 5-mile run. Okay, we walked a bunch. Okay, fine, we stopped and got Slurpees along the way, too. It's best not to rush into this whole acclimatization thing, anyway.
My, what big pinecones you have out West: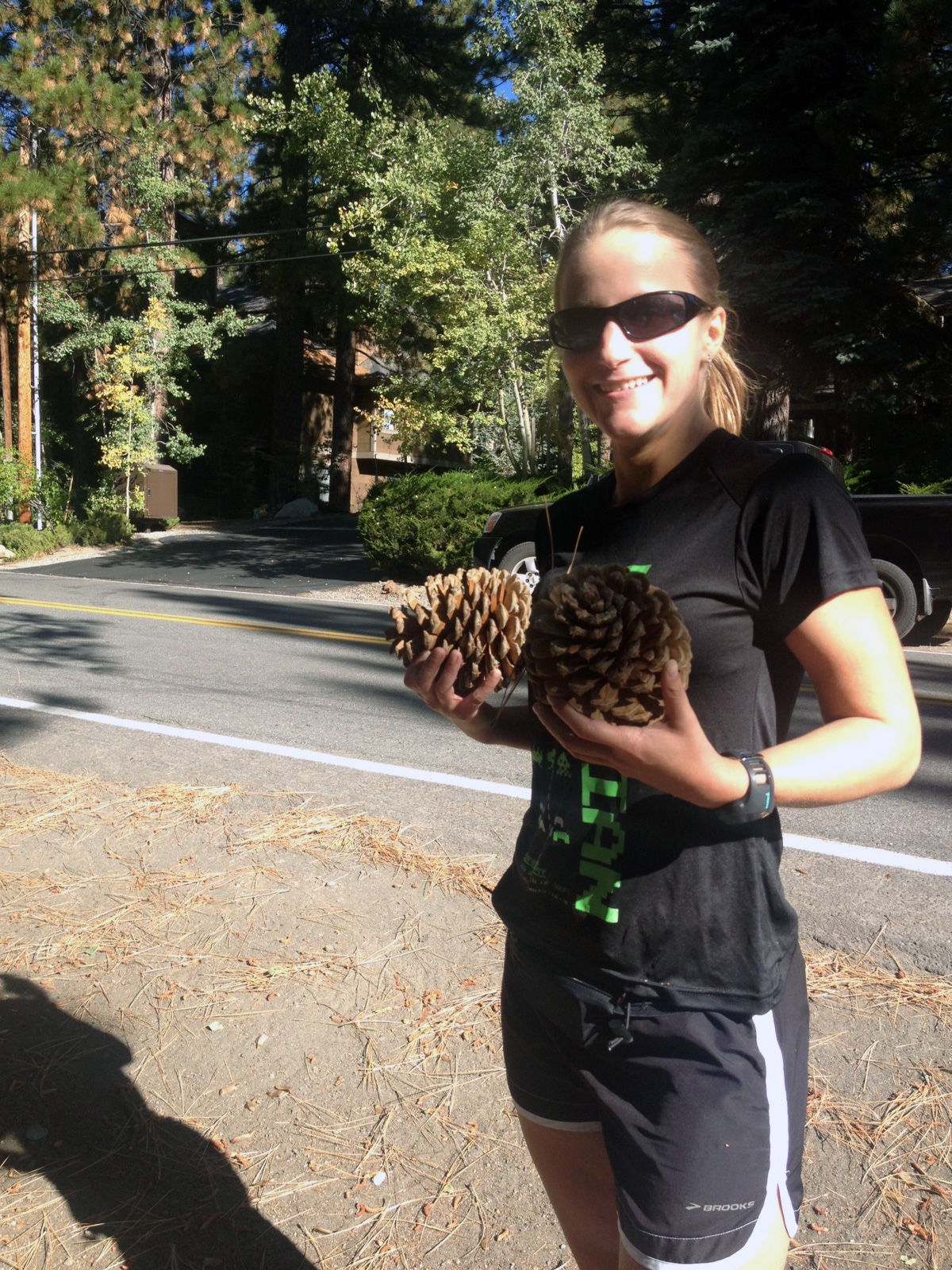 The pre-race info was sketchy, at best. It was unclear where the finish area was, which shuttle bus to take to the start, if gear check was a thing, if/where water stops existed, and so on. My Tahoe friend described this laissez-faire attitude as typical "Lake Flake" mentality. Needless to say, we figured it out and made it to the starting line at Inspiration Point for a breathtakingly beautiful Emerald Bay sunrise. (And yes, there was, in fact, a gear check!)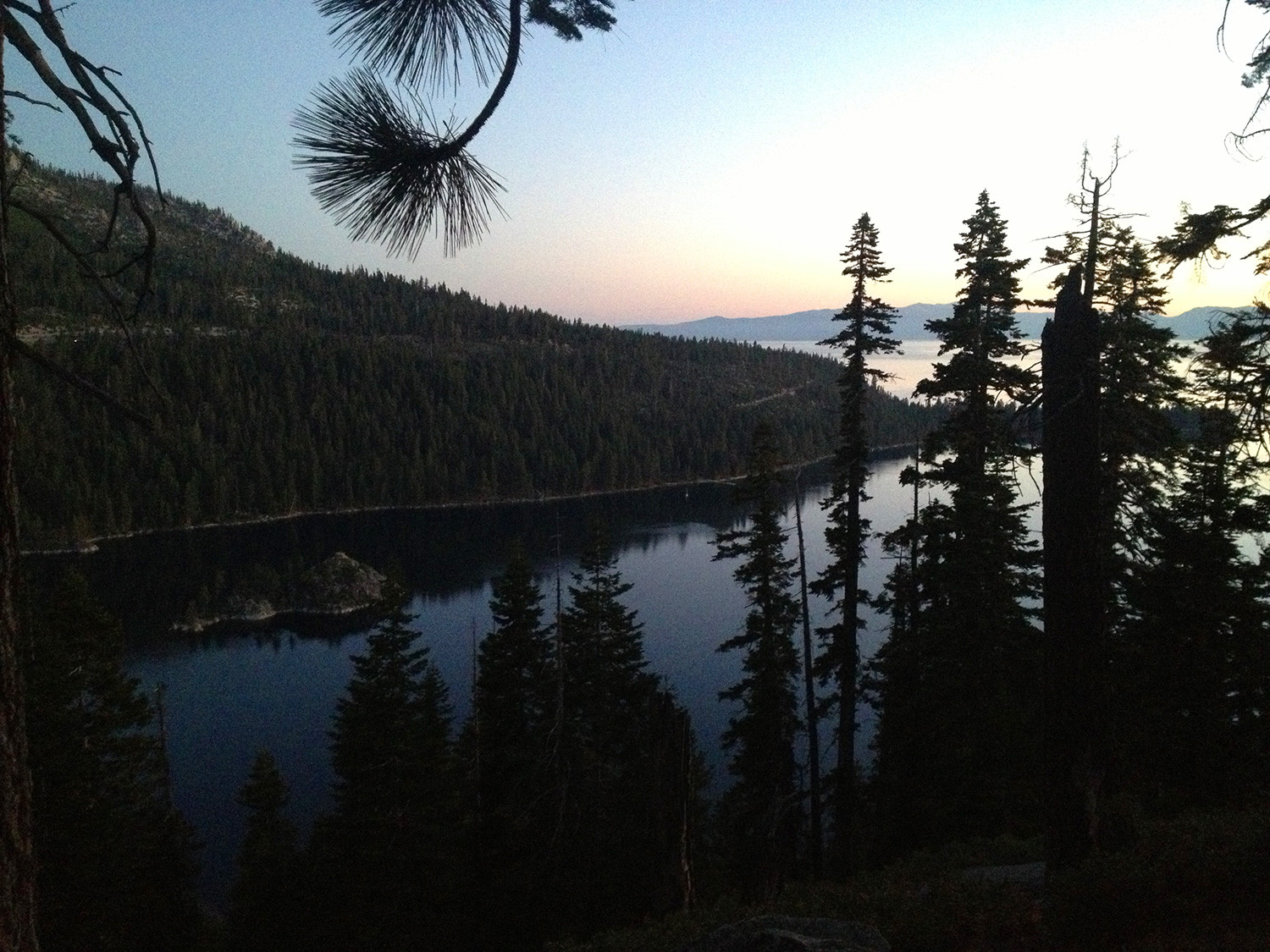 With a rifle blast from the race director, we were off! The first four miles of the course curved and wound downhill through the mountains. Neither my pictures nor my descriptions can possibly do it justice, but trust me, the scenery was epic. Lush green trees, soaring mountain views, and crystal clear blue waters were fantastic distractions from the quad-pounding descent.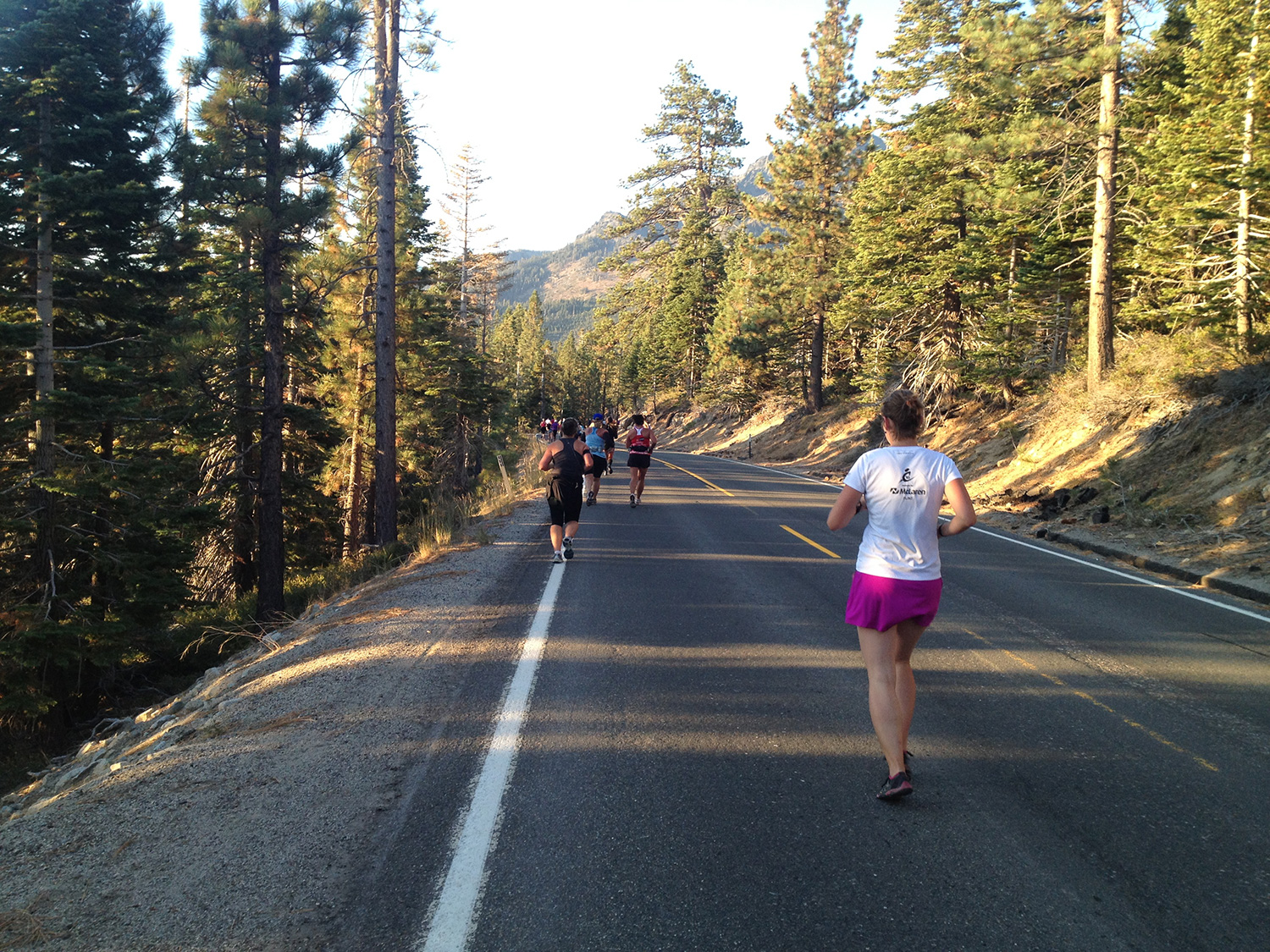 The next few miles took us through some lovely state park areas. We passed one location setting up for an Oktoberfest event, so why not stop and take a pic with the ridiculously large beer stein?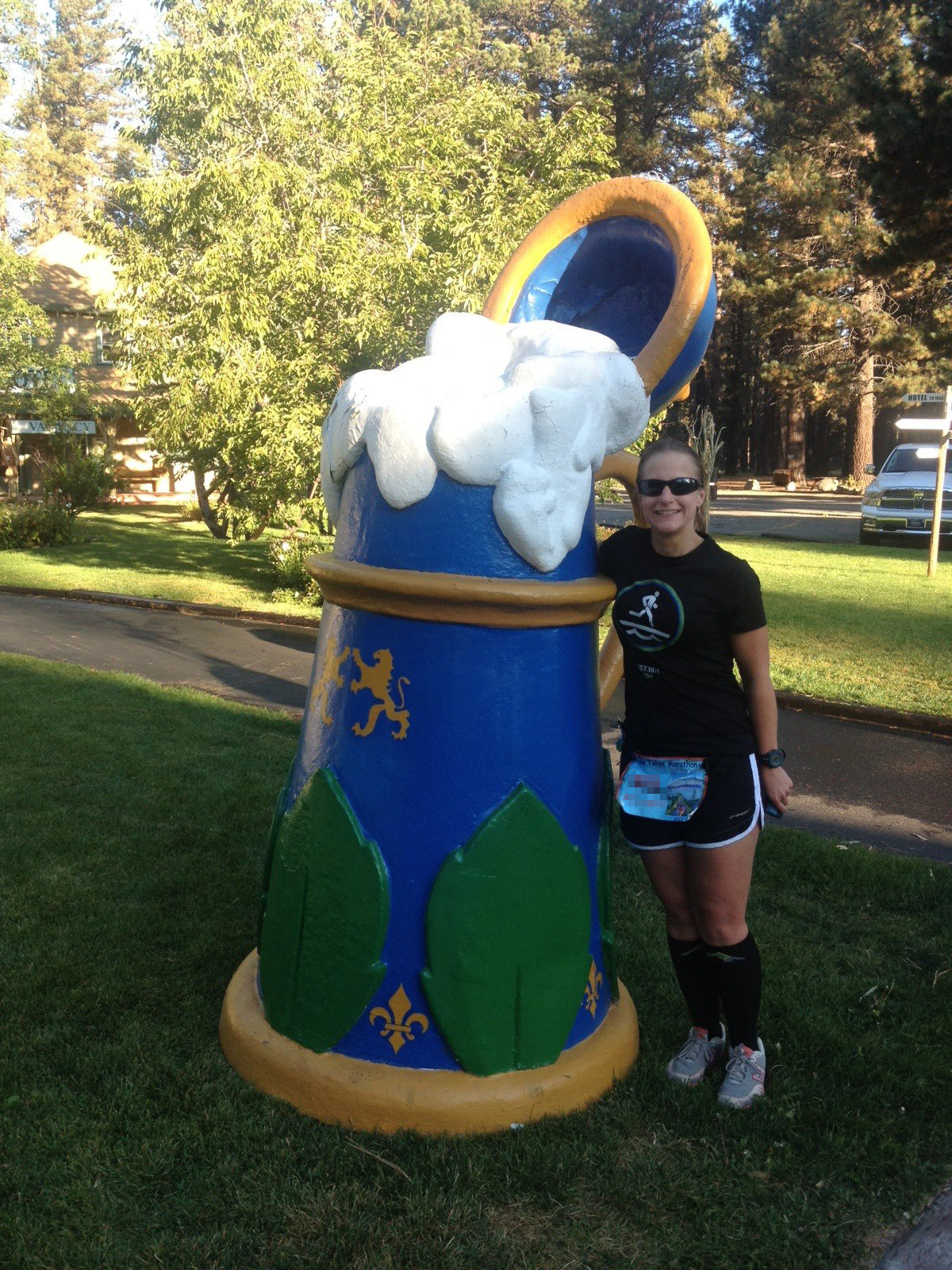 Next, we crossed anticlimactically into… a construction zone. Not just the "oh excuse us, but a little construction is happening, so kindly step onto the sidewalk" kind. I mean legit construction zone with blockades, big ass trucks, loud tools, and numerous construction workers who looked just as alarmed as we runners did. In many cases, the sidewalk was also blocked, so it was a challenge to avoid falling into a 6-foot chasm and getting hit by oncoming traffic. I exaggerate a little bit, but it was pretty dangerous. I mean, you can't control construction, but you'd think they could have re-routed us to a safer path. Or given us dazzling orange safety vests or something.
Around this point, Cara and I started to wonder if we were still on the course. The race field wasn't huge to begin with, but we had other runners in sight until suddenly we realized we didn't. Where did everyone go? Why aren't there course marshals? Not only that, but mile markers had disappeared, too. We made a pit stop at a gas station to buy water, because where are the aid stations? Get your shit together, Tahoe.
The last few miles were along highway 50 through South Lake Tahoe. We heard a car drive pass, honk, and someone yell "woo!" and it was T, headed to meet us at the finish! This renewed our confidence that maybe we ARE on the right path after all! As we'd later find out, the only way she was able to find the finish line was to follow the occasional line of runners, as she also was unclear where the finish line was.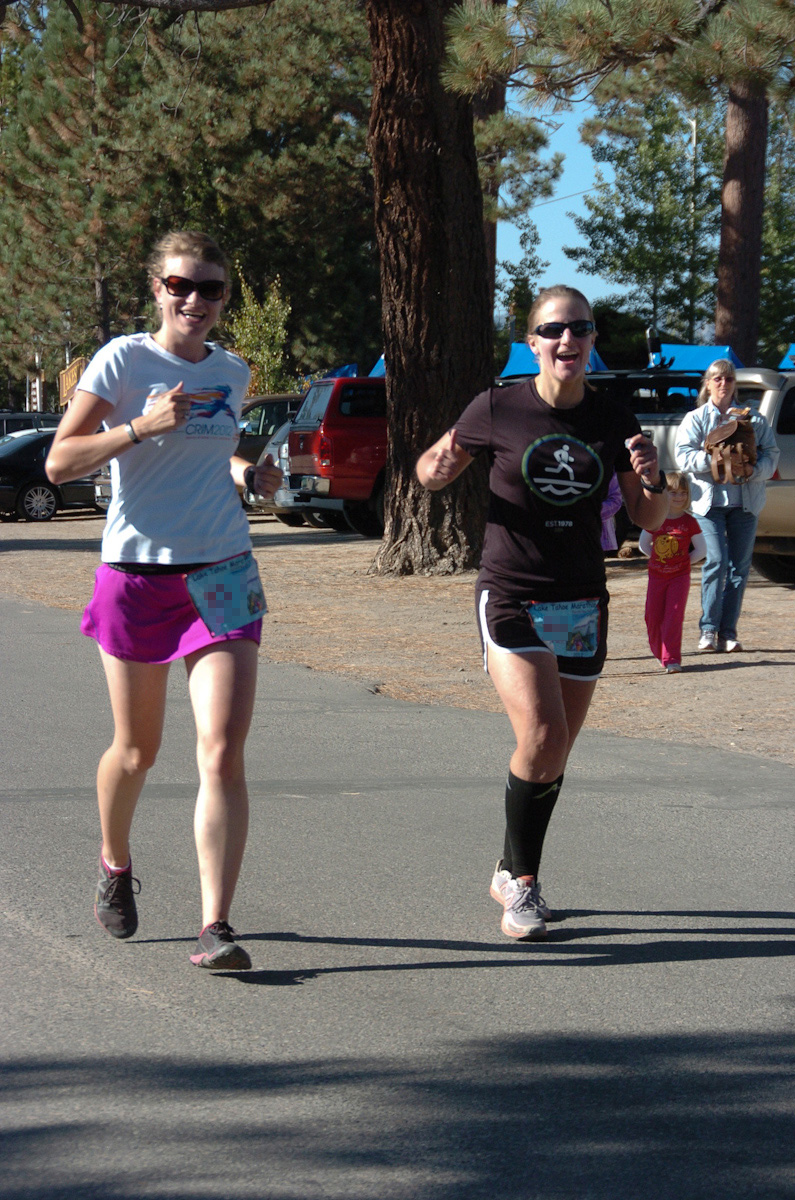 Our friend greeted us with Cara's handmade glittery sign from a previous race (yes, we had it shipped from Michigan just for this moment of glory). And look how excited we are! Overall, it was a privilege to run among the beauty of Lake Tahoe that morning with my bestie. We took it really easy, and stopped to take lots of pictures — even our trademark "senior picture" pose ones.
Senior pic 2012: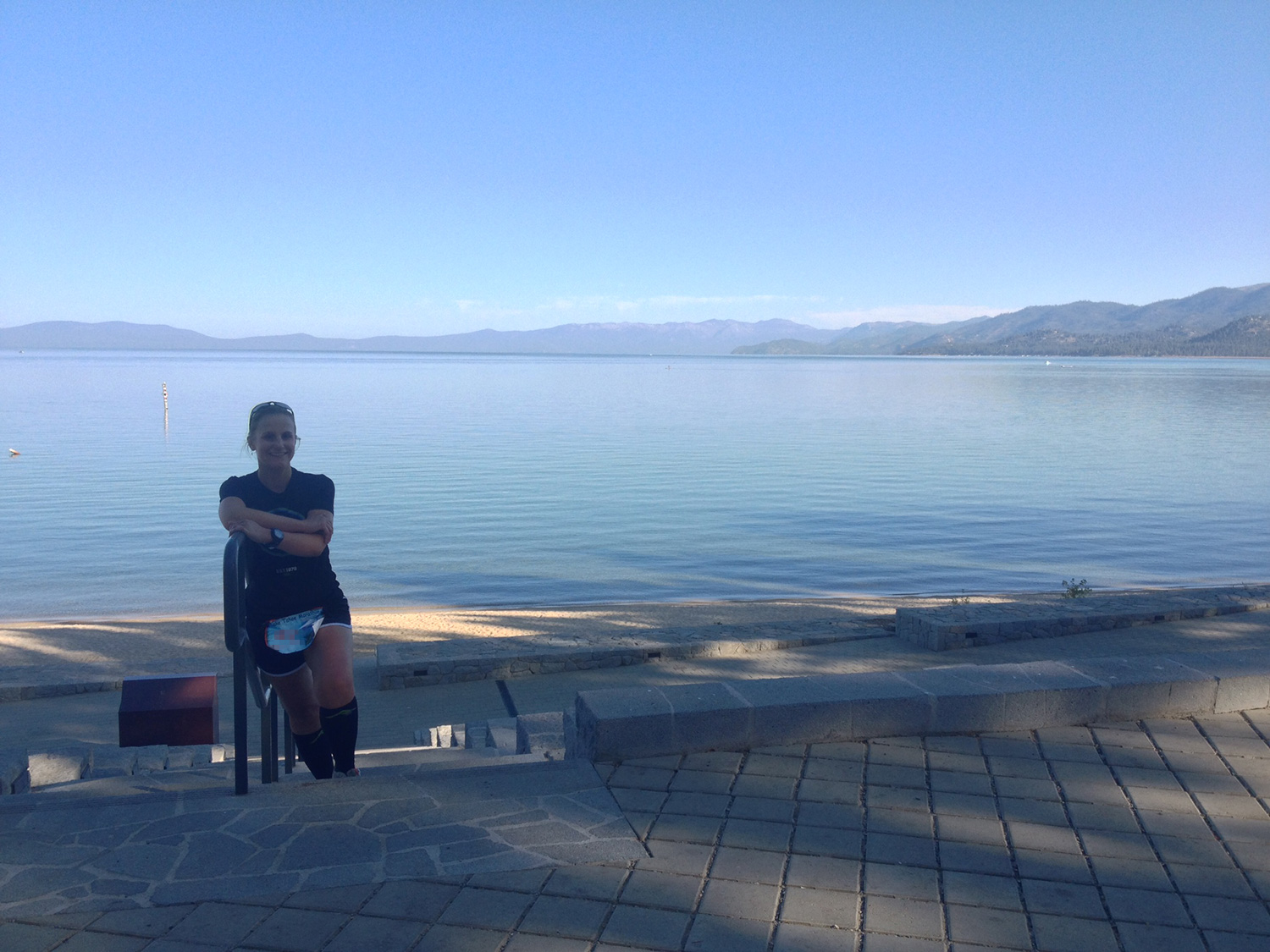 Many people had better finishing times, but I'm willing to bet that no one had more fun than we did!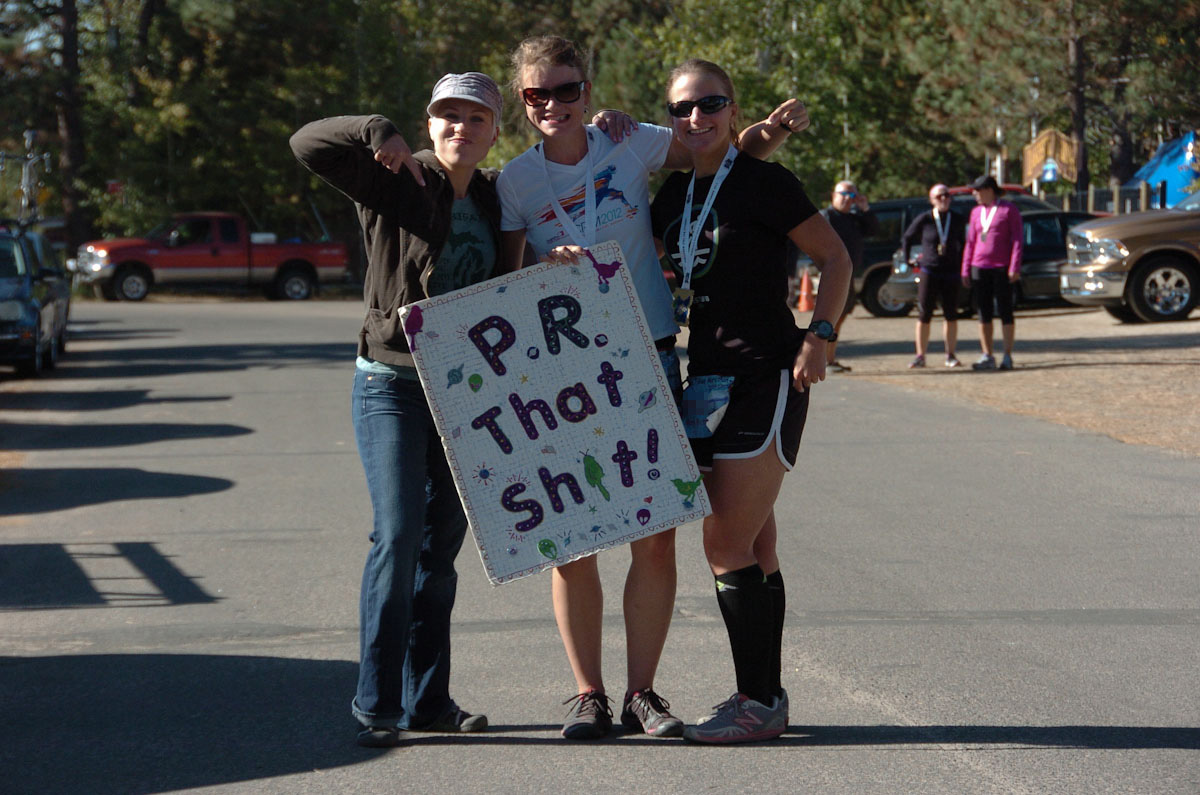 Random musings:
Best in show: Lake Tahoe, you sure are overwhelmingly beautiful and scenic. And dat gorgeous mountain sunrise.
Biggest "oh shit!" moment: Running for a short stretch on a 2-lane road without guardrails. Those plunging depths high above the valley are super terrifying to an acrophobe like me.
Worst design decision: Comic Sans. Everywhere. It was on the medals, ribbons, bibs, race website, everywhere. No one should use that typeface, ever.
Bonus points: Free race pictures (digital and prints!) for all participants.
Best post-race celebratory noms: Mimosas and vegan french toast at Ernie's (across the street from a place named Bert's. Yes, I'm serious.)
Most appropriate follow-up: The race director's post-race email acknowledging "some issues" to fix for future events.
---