Sometimes life throws you a curveball. The 2013 Chicago Marathon weekend was one of those times.
A couple months prior to race day, I was struggling with a fierce case of IT band issues and patellar tendinitis that kept me on the sidelines for a few weeks. In both legs too — what luck! Well, these things can happen during a training cycle, so you put your dreams of a PR aside, hope that your knees don't explode during the run, and aim to simply enjoy (and survive) the race instead. Any nerves I had about tackling 26.2 miles with partial training were offset by my excitement to spend a weekend with my bestie Cara as she her ran first marathon.
FFFUUUUUU
We met up at the Chicago Midway airport on Saturday and hopped on the Orange Line train to get to our hotel. Not long after we were seated, I glanced down at my phone for transit directions and felt something brush against my lap. I looked up to see a man sprinting out the train door…with my purse. In my stunned state, all I could manage to do was stand, point, and exclaim, "That man has my purse — SOMEBODY STOP HIM!" Looking back at that moment now, it reminds me of The Simpsons' Chief Wiggum and his girly reaction to a purse snatching during an undercover stakeout: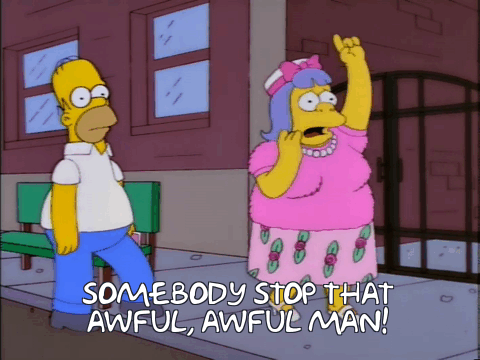 Welp. SHIT. Now what?!
Thankfully, I still had my phone and my buddy, so we could divide and conquer the fun tasks that came next: contacting the police, cancelling my cards, figuring out how to get cash wired in, etc. The CTA attendant complimented us on our composure, as he seemed accustomed to witnessing excessive freakouts in similar situations.
Years earlier, I had lost my wallet, so I knew that aside from the inconvenience and urgency of replacing everything, it wasn't a huge deal. But since I was away from home, stress kicked in, and my mind raced:
I don't have my asthma meds or EpiPen omg don't eat anything or touch anything you might possibly ever be allergic to.
Um, how the hell can I board a plane without ID, and how can I get home without keys to my car or house?!
Will I even be able to pick up my packet without ID and run the marathon tomorrow? AAAH!
That last concern resulted from the numerous pre-race emails clearly stating that runners must present identification upon entering the expo or else the whole known universe would collapse. This was the first World Marathon Majors event in the United States since the Boston Marathon bombing, after all, so naturally they weren't taking any chances with security.
With those little crime-reporting duties out of the way, we made our way to the huge expo at McCormick Place to see what would happen. As it turns out, I could just saunter in and get my packet with only my race confirmation mailer. Huh. That was quite unexpected, given all the dire email warnings… but delightfully fortunate for me!
We point at things: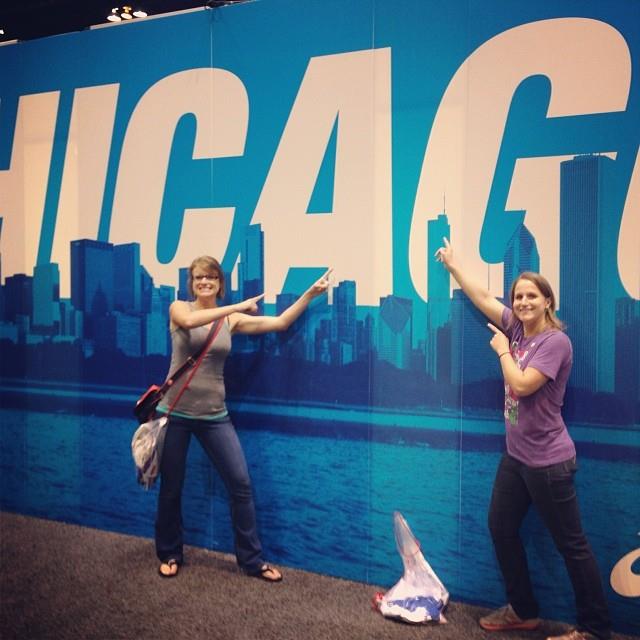 My mind was still fretting and couldn't quite simmer down for the night, so needless to say, it wasn't a very restful race eve sleep. Cara set her phone to wake us up to… a "Happy Holidays" remix. It's ridiculously silly for the middle of October, so why not? We needed a laugh to get ready for the big run ahead. I decided to wear my rainbow tutu because I could use the extra cheering due to my undertrained body and anxious brain.
The Main Event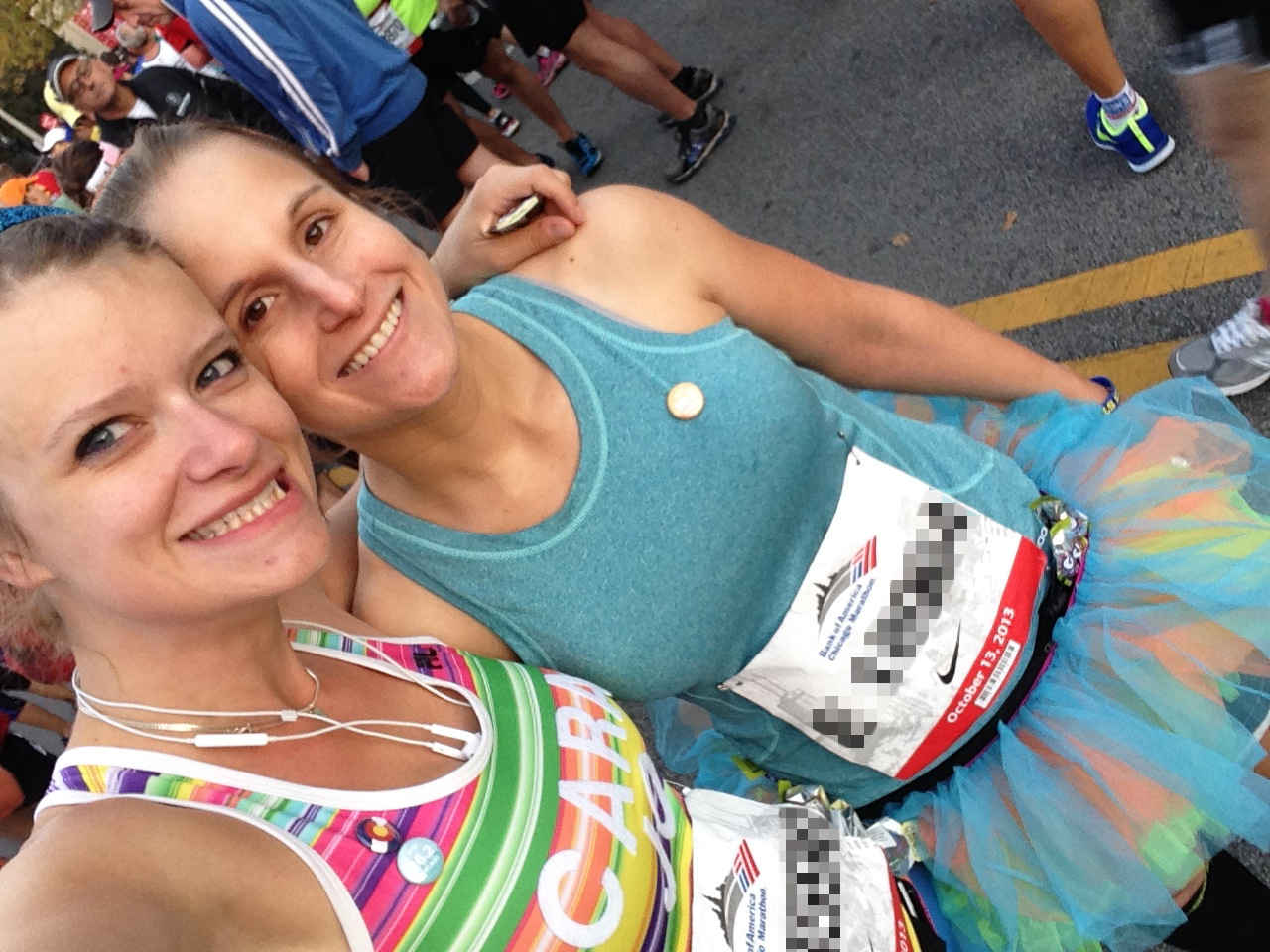 It was a warm, sunny morning as we lined up in our corral for the 8 a.m. start in Grant Park (aka Chicago's "front yard"). After an obligatory selfie together, Cara and I were off and running our own races amongst the towering skyscrapers. A sea of over 38,000 runners swept through the satisfyingly flat streets of Chicago. I can see why they call it a "people's marathon" since the crowds were so dense and boisterous. Chicago spectators, you didn't disappoint!
My slow plod on my janky knees started up Columbus Drive, ran around the Loop, and past the Lincoln Park Zoo. I wish I could've stopped in to say hi to all the cute animals. I was struck by all the preeeetty tree-lined streets and charming neighborhoods we went through. The official course description states that you run through 29 neighborhoods total! I may not remember many individual details, but they were all memorable for their enthusiastic crowds.
The miles ticked off slowly but steadily, though I started to slow a bit. That's never a good feeling when there's 13 miles to go, but my "shut the hell up, legs" mantra seemed to help. After trotting past a district of colorful murals and tasty Mexi restaurant smells, we crossed through the majestic gates of Chinatown. They were having a grand party, parading bright dragon costumes, and blaring upbeat tunes. I'm pretty sure this is where I heard "Gangnam Style" playing and stopped to do the little dance.
Tutu power in Chinatown: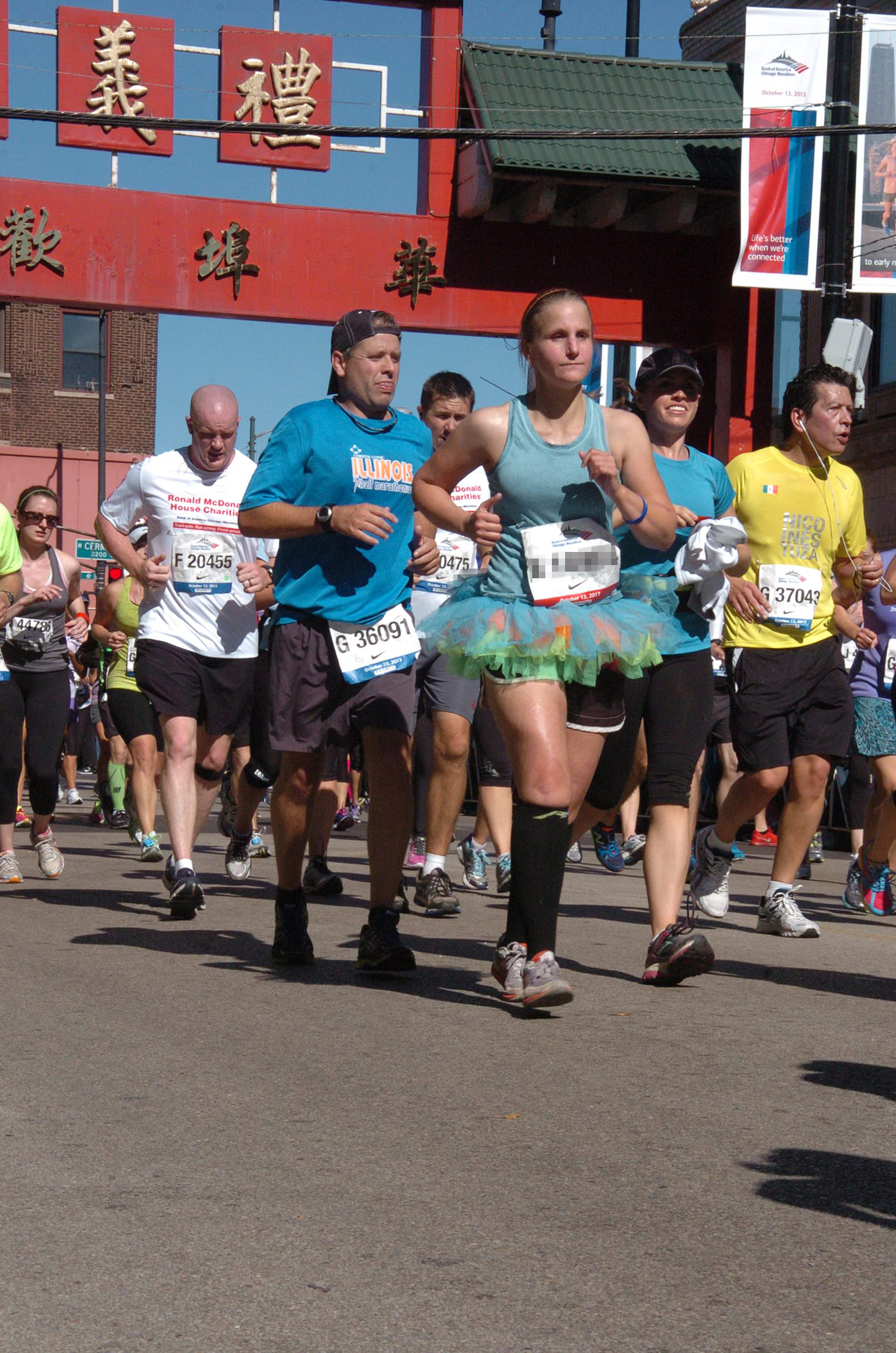 The End is Nigh
The heat was making me sweat somethin' fierce, and as a result, I was experiencing obnoxious amounts of chafing. I stopped at a couple aid stations to get a fingerful of Vaseline (that may be the only time I'll ever type that phrase) to help offset the sick burn under my sports bra and shorts.
Even though I was in a "just finish the race" mode, seeing pace group after pace group pass me was discouraging. But dammit I was going to finish this race, ideally alive. With just a few miles to go, and during one of my many walk breaks, I passed an aid station blaring Michael Jackson's "Man in the Mirror." I don't know if it was due to fatigue, stress, heat, fumes from the "L," or what, but I almost legit started ugly crying. Even though races can make you feel the full spectrum of emotions, crying is not one I've experienced, so I was surprised to feel on the verge of tears. I don't even like that damn song!
Somehow I got my shit together and ran the last few miles to the finish. Okay, well, I'm not sure what I was doing at that point could technically be called "running," but at least it was moving forward. It seemed to take forever as I inched up Michigan Ave., but the finish line cheers were getting closer and growing louder. After rounding the final stretch into Grant Park and up the only "hill" on the course, I crossed the finish. I survived!
After grabbing a medal and a beer (always important), I found Cara chillin' by the gear check. I hugged and congratulated her on crushing her first marathon, and we toasted our accomplishments with our free beer in the park. Later, we headed out for our typical post-race meal of tacos and beer (we do likes our beer). Another marathon and race adventure was in the books!
Postscript
I sense your concern, my dearest three readers, so let me impart this wisdom. If you lose your ID and need to catch a flight, call the airport and/or airline ahead of time and get advice on what the hell to do. After presenting a copy of the police report per the airport's recommendation, getting a mega security pat-down, and answering a few "yes I am actually who I say I am" questions, I was free to go home!
Windy City musings:
The race before the race: The tense moments when registering for the race. After multiple server timeouts and processing errors, we got confirmation that we were both in. Whew! The Chicago Marathon would move to a lottery system the following year because of this registration fiasco.
Biggest non-issue: On the flight over, I realized I had forgotten to pack my Garmin. Not a big deal, though it is a nice-to-have for when I run. Little did I know that would soon be the least of my issues.
Best advice: "Okay. Let's not get mugged again." Cara, upon our leaving Western Union with a giant wad of cash.
Recurring theme: Many signs referenced the ongoing federal government shutdown, e.g. "You're running better than the government!"
Best sign: "If Britney survived 2007, you can survive this race."
Freeloader feeling: Asking Cara to buy me a t-shirt at the expo since I had no money on hand. It took me back to the days of "Mom, can you buy me this pleeeease?" And yes, I did repay her.
Squishiest aid station: The one giving out the energy gummy things, half of which inevitably ended up on the ground. I was extracting gummies from my soles for the next quarter mile.
Most unwelcome guests: The sunburn and a gumdrop-looking blister on my toe that I earned.
Moment of silence: In honor of my cute little yellow purse. I hope you're in a better place now.
Additional kudos: To my brother for meeting me at the airport with my backup car keys and house key (and for calming down our mom after she learned that I had been mugged).
---