Detroit Free Press Marathon
Did this actually happen? Did I really just complete my first marathon? It seems so surreal. After committing to doing the Detroit Free Press Marathon over a year ago, and going through all the highs and lows of training, I can't quite wrap my head around the fact that it happened and is over.
As I stepped to the starting line, waiting for the clock to tick down until our wave could begin, my heart was pounding. I was just so…EXCITED! Here I was, about to do what I had dreamed about for so long. I wanted to remember everything about this race, every footstep, every feeling (good or bad), every mile, etc.
My first 5k was at the Detroit Free Press Marathon. My first half-marathon was here. It was only appropriate that my first full marathon should be here, too, in the city that I love with the friends and family that I love.
One of the coolest things about this race is that you get to cross the border to Canada twice – once over the Ambassador Bridge and once through the underwater tunnel. After doing the Detroit half twice before, I already had a love affair with the bridge and a so-so relationship with the tunnel. The day was overcast, so unfortunately we didn't get the privilege of seeing the sun rise as we crossed the bridge around the 3-mile mark (and thankfully it wasn't as windy as it had been the previous day!). Nonetheless, I still get goosebumps when I run over the bridge and into the land of our friendly Canadian neighbors.
Once in Canada, we wound around the riverfront amongst throngs of spectators (and lots of puppies!), and I made sure to look to my left and admire the Detroit skyline from across the river. The few miles in Canada flew by, and I entered the tunnel to return to my homeland.
Here's why I say I have a so-so relationship with the tunnel. Don't get me wrong, it's a very cool and unique experience (the only underwater international mile in a race!), but it feels cool and unique for only about a third of a mile. Then you realize how effing hot it is there and how there's no good airflow. I was relieved when I saw the (literal) light at the end of the tunnel, made my way back onto the street, and breathed in the very welcome cooler air. I even jumped up to touch the "Welcome back to the USA!" banner for fun.
I was feeling pretty good, just cruising along through Mexicantown and Corktown, and seeing the miles tick off. 8, 9, 10, 11, 12…I couldn't believe how they were flying by! I don't think I've ever thought "Oh yeah, those 13 miles really breezed by" but that's kinda how it felt. And that's probably a good thing, since I had half the race still to go! My stupid hamstring/piriformis was already tightening up and was making things uncomfortable, but I wasn't gonna let it get me down. I had to just keep moving at all costs!
Crossing through Campus Martius and hearing the roaring crowd at the full/half split was inspiring. I wish I could have carried that enthusiasm with me since there were about 3 lonely miles on Lafayette straight ahead. A lively church with a snack table and some high school marching bands kept me entertained, but I was happy to move on to the next leg, Indian Village.
Damn, Indian Village knows how to party! So many families, kids, and pets, were out on their lawns to cheer us on. What a fun neighborhood! Quite a few people were even handing out freshly-poured PBR for willing takers. Seeing beer reminded me that I probably should empty about 10 aid stations worth of fluid from my bladder. I headed to the first port-a-potty I found, and took my first-ever mid-race pee break. This would have been uneventful and not worth mentioning, except some dude decided to rip open the door while I was peeing, and that made everything awkward. But I was really too tired to care.
The next leg of the journey took me to Belle Isle, and that meant another fun bridge crossing. When I reached the island and saw mile marker 21, I realized that this was the farthest I had ever run. Unfortunately, by this point everything was starting to cramp up, and my left hamstring was REALLY unhappy. I was doing everything I could to just keep moving, and I tried not to get down on myself when I saw the 4:30 pace group pass me. From here on out, it was all about just surviving the final 5 miles.
From Belle Isle, I ran, shuffled, walked, and hobbled along the Detroit Riverwalk. There weren't many spectators here, but the few that were there were very encouraging. I felt like I was fading fast and that time had slowed to a crawl. I needed a boost, and luckily that was just about to arrive.
I rounded the corner to head north from the riverfront, and I happened to look over and see someone talking on the phone nearby. My unfocused brain soon realized ZOMG THAT'S MY SISTER! I ran toward her and we shared an epic flying hug as she shouted into her phone "I found her!!!" After that split second, she looked at me and said "Let's go!"
For the next half-mile or so, she ran alongside me and we chatted about the race and how I was feeling, etc. My legs were so cramped that I wanted to slow down and walk, but I didn't want to let my sister see me doing that, so we kept going. Just seeing her on the course was a wonderful surprise but then to have her running alongside me for a bit…well, that's just a great moment that I'll remember for life. She gave me a hug at the end of the block, wished me luck, and I kept plodding along.
A seemingly-giant hill greeted us at Mile 25, and it was a toughie but I could just feel the adrenaline REALLY start to flow. After all, the end was near, I could already hear the roaring crowd, and I was going to get a sexy shiny medal.
Flying down the homestretch of Fort St. to the finish line gave me goosebumps. The crowd was going nuts, the finish was in sight, and I was on the verge of achieving one of my dreams. I was grinning like a fool.
With a few fist-pumps to the sky, I crossed the finish. Oh yes, it just happened. I. CAN. HAS. MARATHON!
Still grinning like a fool, I let a volunteer congratulate me and reward me with a medal. I hadn't gone more than a few steps when I heard my name and saw my amazingly supportive best friend, Cara, running full-speed at me from the finish area. We collided in a flying hug, and she started bawling, telling me how proud and how excited she was. It was another perfect moment to share with someone so special. And, of course, I was excited to hear all about her race too because earlier she had completed her very first half-marathon! With a fractured tibia. Yeah, think about that for a moment. That's total badassery. Also badass? She hopped the fence and eluded security to get to me, just so I could get an amazing hug upon finishing.
We rejoined our friends and family on the sidelines and all exchanged giddy hugs and chatted about our races. Another of our friends had also completed her first half-marathon with a broken effing ankle. Do I have incredibly badass friends or what?!
Whew. I'm still coming down from the high of completing my first marathon. All the ups and downs of the past year were worth it because they let me reach my goal. I hope there will be many, many more races and marathons in my future.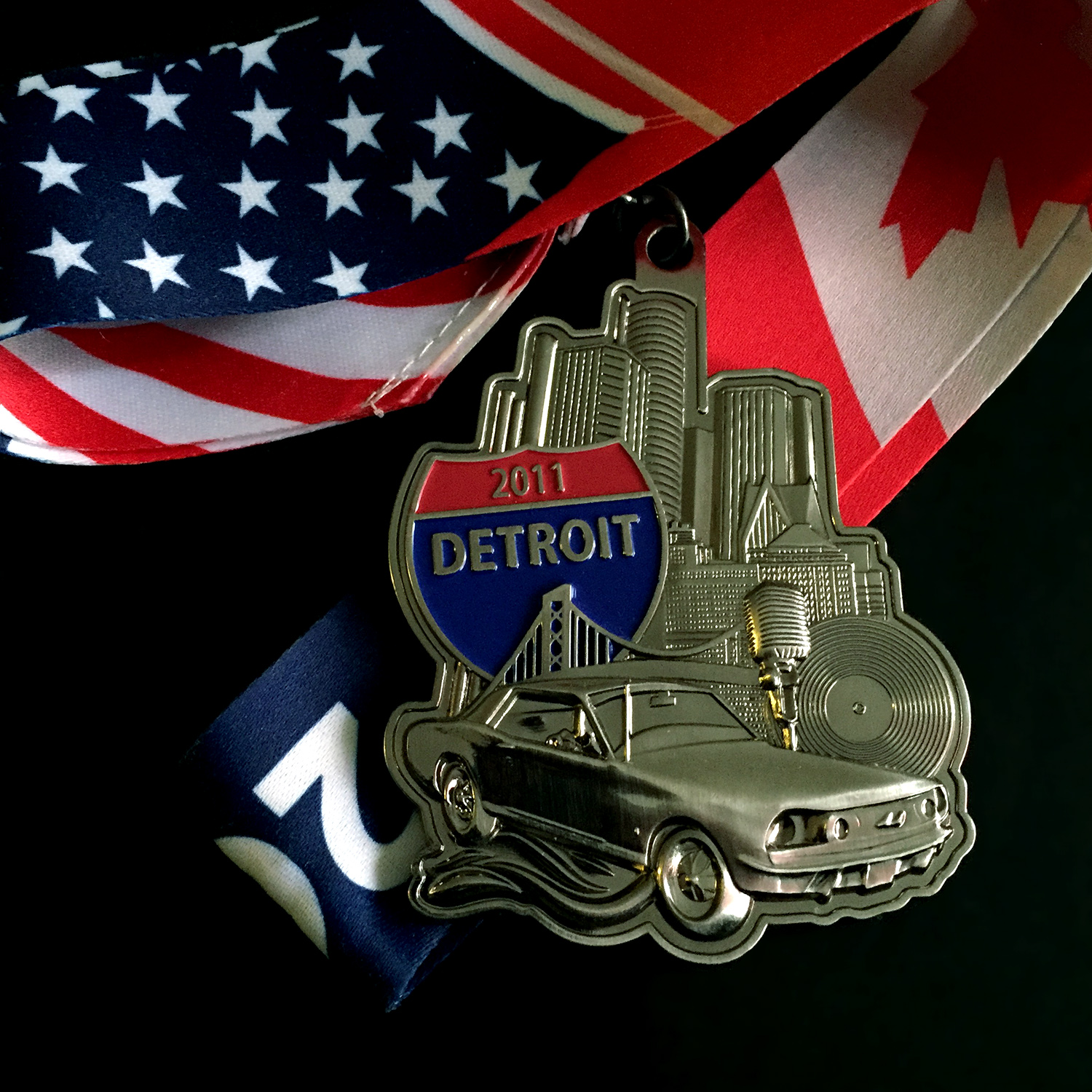 And with that, I leave you with a section of…
Motor City musings:
Best nonhuman spectator: The Canadian beagle who was howling along with the enthusiastic spectators.
Best sign: WORST PARADE EVER (made me giggle).
Most high-fives per square mile: Indian Village neighborhood.
Best aid station: The one near Belle Isle that was uniformly cheering my name. :)
Grossest thing on the course: A piece of raw fish that a group of Belle Isle seagulls were fighting over and dropped…onto an unsuspecting runner. Well, at least it wasn't poop?
Most potentially dangerous thing on the course: Hundreds of loose M&Ms. Good in theory to hand out at an aid station, but kinda funny and potentially dangerous in practice!
Music overheard that made me run faster: "Don't Stop Believin'" by Journey. No, I didn't run faster because I got pumped up; I ran faster because I dislike that song and did NOT want that shit stuck in my head.
Funny statement overheard: As a marathon relay runner blew past a pack of us marathoners: "Good job relay!!! We hate you."
Best object acquired while racing: Mardi Gras beads. Yeah, I'll wear them, why the hell not?
Best post-race food: Tacos and beer with my close friends.
Best day-after treat: A day off work to recover!
---