Chicago, we may know you as the Windy City, but I hereby bestow that title upon Kenosha, Wisconsin, for May 7, 2016. I'm no stranger to running in the occasional wicked weather conditions, but the wind that assaulted us throughout the Wisconsin Half Marathon was some next-level shit.
The week leading up to this event predicted less-than-desirable race day weather: 80% chance of rain, 1/4" of total rainfall, and wind speeds of "HAHAHA #$!@ YOU!" My brain knows full well that weather is a race day factor that I can't control… and yet, I still find myself obsessively checking the forecast. Maybe this time when I look, it'll have improved and be all sunshine, rainbows, and cookies! No? What about now? Or maybe now, 5 minutes later? And repeat.
It's more like WINDsconsin, amirite?!
The clouds were trying valiantly to clear as the sun rose over Lake Michigan on race morning. Our starting area was along the shore in Harbor Park near the cute lighthouse. Such quintessential Midwest picturesque. Take note of how calm the water is at this point: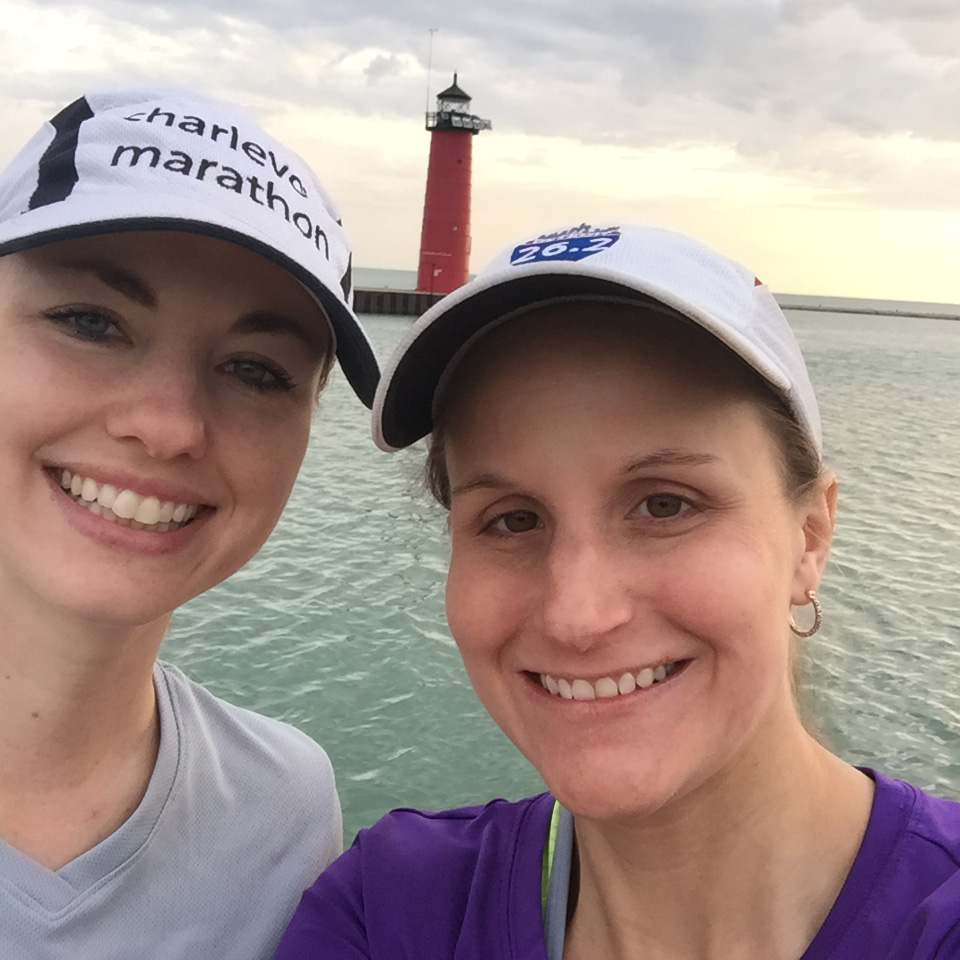 The staging area featured a very special All-Cheese Corral, which is entirely appropriate for the self-proclaimed "cheesiest marathon." Anyone wearing cheese-themed apparel was permitted entry to this exclusive corral.
Sing it with me now:
Don we now our cheese apparel,
Fa la la la la la la la la.
I don't know that there were any perks beyond being among other cheese enthusiasts, but you can't help but smile when you're surrounded by a plethora of cheese wedge hats, cheddar-y bow ties, cheesy tights, and more. As someone with a life-threatening dairy allergy, even I was amused by this spectacle and wished I had joined in the cheesy charade.
Just as the national anthem was playing, a brilliant flash of lightning appeared in the sky. Noooo! You cut that shit out, Zeus! Though the clouds held tight onto their raindrops (yay!), the wind kicked up somethin' fierce and never let up. It was an American-flag-straight-out, whitecap-producing kind of wind, which official weather readings equate to steady 25 mph winds and gusts up to 40 mph. This was going to be an interesting run.
We crossed the start and headed south through some lakefront neighborhoods about a block in from the shore. Well, it'd be more accurate to say that the wind pushed us south, and we were merely along for the ride. Within a half mile, I began to question my decision to wear a cap. Though it would be a useful shield against any rain that may appear, it threatened to fly away at any moment in this ferocious wind. I pulled that adjustable strap as tight as it could go (without giving myself a headache) to make sure it'd stay on.
After heading south for a few miles, it was time to turn around and meet the wind head-on. We passed the starting area around mile 5 — well, at least I think it was mile 5. The wind had blown over most of the mile markers and had taken some road barricades with it. The route had become littered with various hats and cheese-themed accessories which had fallen casualty to the savage wind. To make things worse, numerous port-a-potties in the start area had also blown over. Whoever had to clean up that mess deserves one hell of a raise.
After turning into Simmons Island Park, this next stretch of the course became downright laughable. What might normally be a nice, scenic run along a beach was instead one big, complimentary microdermabrasion. I attempted to shield my eyes against the blowing sand and water, but it still felt like a thousand tiny stabby knives all over.
HEY, DID I MENTION IT WAS WINDY?!
At last I reached the Mile 8 turnaround, woo-hoo! Another trip down the stabby beach and shoreline, but at least the wind was at our backs again. I saw Master Laura coming up the other side of the road, and as we exchanged high fives, I assured her that the turnaround and relief from the wind was nigh.
Oh yeah, remember that earlier photo with the calm water? Check out these beast whitecaps on Lake Michigan on the back half of the route: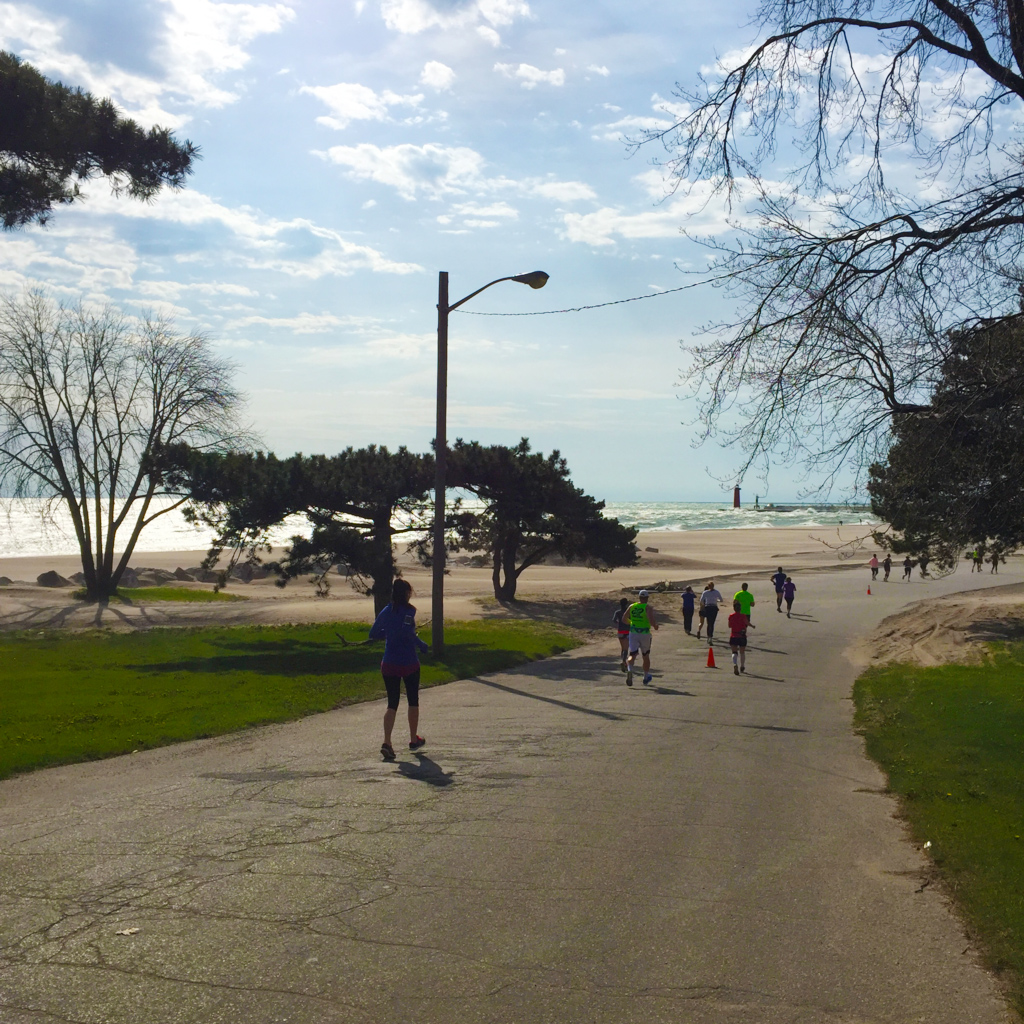 This is me laughing at the ridiculousness of it all: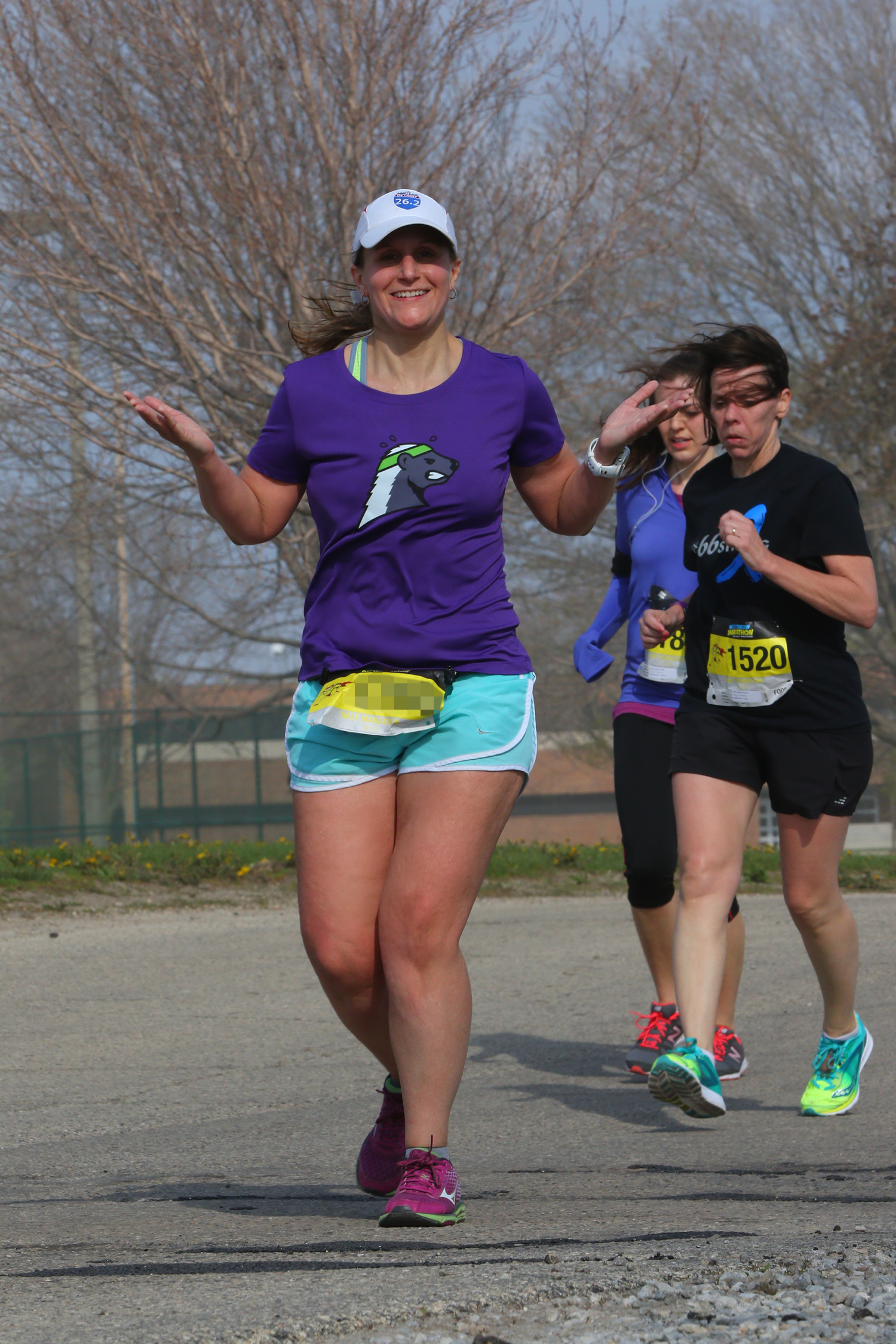 You couldn't help but feel for the aid station volunteers and cleanup crew. Hundreds of cups were blowing about like violent confetti thrown against us, while others skittered speedily along the ground. Alongside me, a runner lamented to her friend, "That cup is running so much faster than me."
Shortly thereafter, we were back near the downtown and start area but still had a couple miles to go. We dipped back into the same neighborhoods from earlier in the route and then looped back. I spotted a couple running with an adorable husky puppy around mile 12, which gave me a little happy boost in my step. Naturally, I reached down to greet and pet that cute pup… aaaaand then my hat flew off my head and tumbled wildly down the street. Reluctantly, I turned away from the cute doggie to chase down and grab my hat off a nearby lawn. You thought you could get away so easily, dumb cap! NOT TODAY!
After blowing through the finish line, I was handed a much-anticipated "Big Cheese" finisher's medal, which featured a wonderfully ridiculous cheese superhero. Words cannot do it justice. I mean, look at this majestic sight: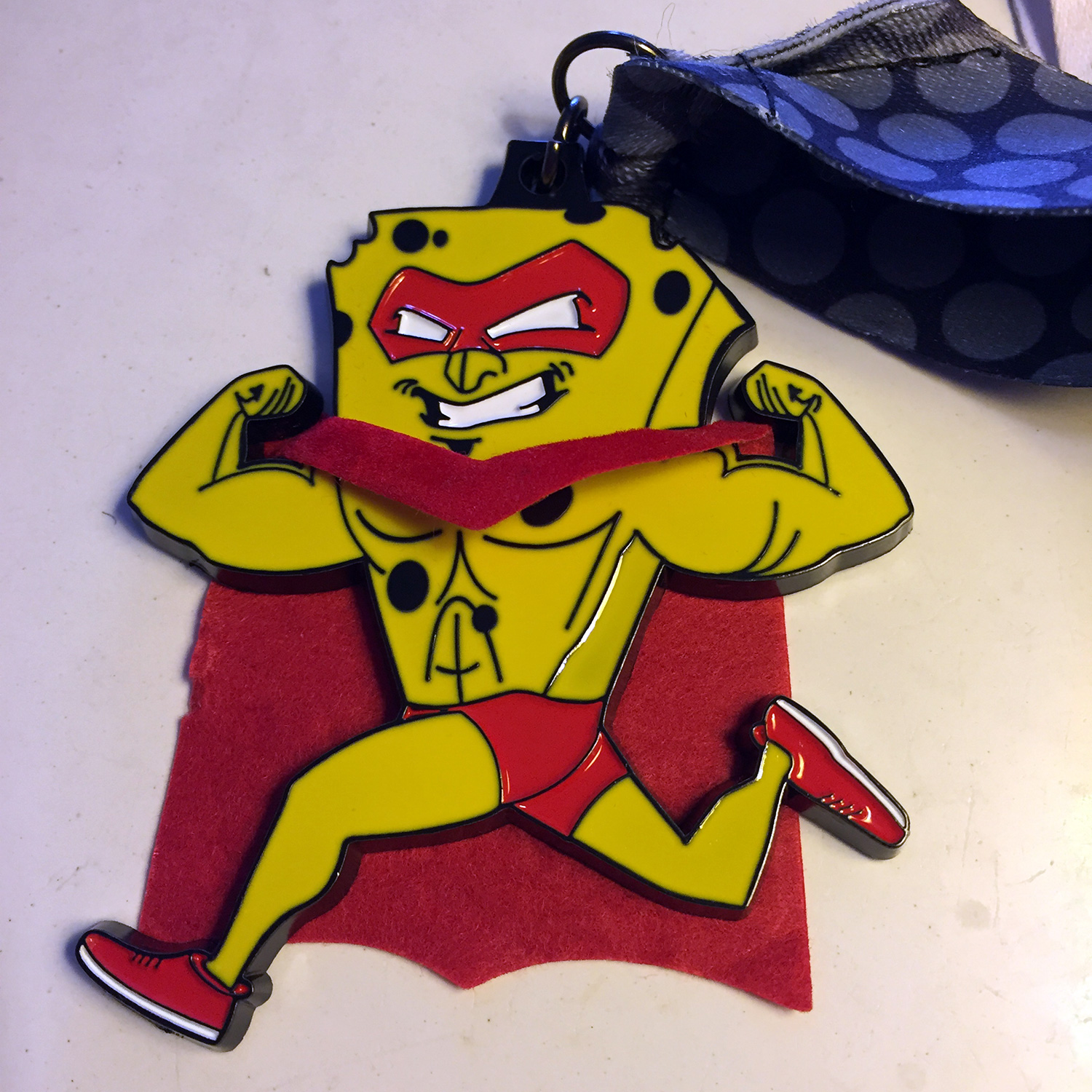 There were beer, brats, and music at the finish, but after standing around for even a few minutes, I realized how chilly it had gotten. I took refuge from the wind and cold at a nearby coffee shop and tracked Master Laura's marathon progress. After warming up and downing a couple cups of delicious coffee, I headed back to the finish line to await my friend. I wrapped a heat sheet around my legs like a sarong and pulled my hoodie tight over my head, leaving only a peephole. And still I shivered. I must've looked as bizarre as a felt, because a guy walking his dog stopped to ask "Um…are you okay?" I'm still not altogether sure if he thought I was a vagrant, loiterer, creeper, or what, but he seemed concerned.
When I saw Master Laura hit the last turn, I jumped up and down excitedly, accidentally shaking my heat sheet loose. It promptly blew away and pressed itself up against a chain link fence where many more of its heat sheets friends were congregating.
We grabbed lunch at the nearby pub and compared windburn as we cheers'd over Leinenkugels (it is Wisconsin, after all). And with that, we were back on the road for Michigan, since we were both doing a 10k the next morning. Yep, it was a very brief visit, Wisconsin, but I will say that Kenosha, with your cute neighborhoods, lakefront downtown, and pretty parks, you really had me…blown away.
Cheesy superlatives:
Best perk: Getting our race packets delivered via mail. This was super helpful for us late arrivers and expo-missers.
Least favorite moment: Having sand blown into my eyes, nose, and other places that sand really shouldn't be.
Biggest surprise: The absence of cheese at aid stations. I had just assumed that you couldn't go 5 steps in the dairy state without encountering something made of cheese.
Most impressive glutes: Did you see the buns of steel that Cheeseman medal? That guy doesn't skip leg day.
Most impressive everything: The guy (or possible superhuman) who set a new course record despite the epic headwinds.
---