I can now say that I've done a 3-way, and it was a very satisfying experience.
Hey, get your filthy mind out of the gutter! I'm talking about the Skyline Chili 3-Way Challenge, part of the Flying Pig Marathon weekend in Cincinnati.
Doing the 3-Way meant completing Saturday's 5k and 10k events, followed by Sunday's half marathon. So maybe it's not as sexy as you envisioned, but it was a very alluring challenge to me, so I signed up. My training buddies Chris and Master Laura were down for this, too, so we made the drive to Cincy.
We checked into our hotel in northern Kentucky — it was hella cheaper to stay across the Ohio River! — and walked to the expo. This interstate trek was very pedestrian-friendly, and the weather was sunny and warm, so none of us minded the walk. We spent a good amount of time playing at the expo hall (once we figured out where the friggin' entrance was) and enjoyed seeing all the piggy-themed merchandise and decorations. Cincinnati would be hosting the MLB All-Star Game in a couple months, so this year's event theme was everything All-Star. Our race shirts even had fancy sportsball jersey script lettering!
Can't have a good race without a good race eve meal, so we headed to Arnold's Bar and Grill. I can't remember where I read about this place, but since it'd been around for over 150 years, they must be doing something right. They even had a special menu for Flying Pig runners. We sat in the cute outdoor courtyard patio area and ate a variety of pasta deliciousness.
10k, 5k, and puppies, oh my!
It was a sunny Saturday morning, and we had a busy day ahead. Yes, we were running the 5k and 10k events, but more importantly, we were going to watch the IAMS Flying Fur event. Not gonna lie, I think all of us were most looking forward to this parade of pups that day.
First up was the 10k at 8 a.m. The start line was at Great American Ballpark, home of the Cincinnati Reds, because of the aforementioned All-Star Game theme and all that. After the gun went off, we crossed the first of many bridges, this one into northern Kentucky. After running along the cute riverfront area (and avoiding stepping on a broken bottle, eek) and across another bridge, we ran back into Ohio via…yet another bridge! The last couple miles twisted and turned around downtown Cincy before we made the last turn onto Pete Rose Way towards the Finish Swine. I love me a good wordplay, so I love this moniker. The volunteers were even referred to as grunts! Ooh, ooh — and our starting corrals were called Pig Pens! Oops, sorry, I got myself a little off track, but I really do love these witticisms.
All smiles in between the 10k and the 5k: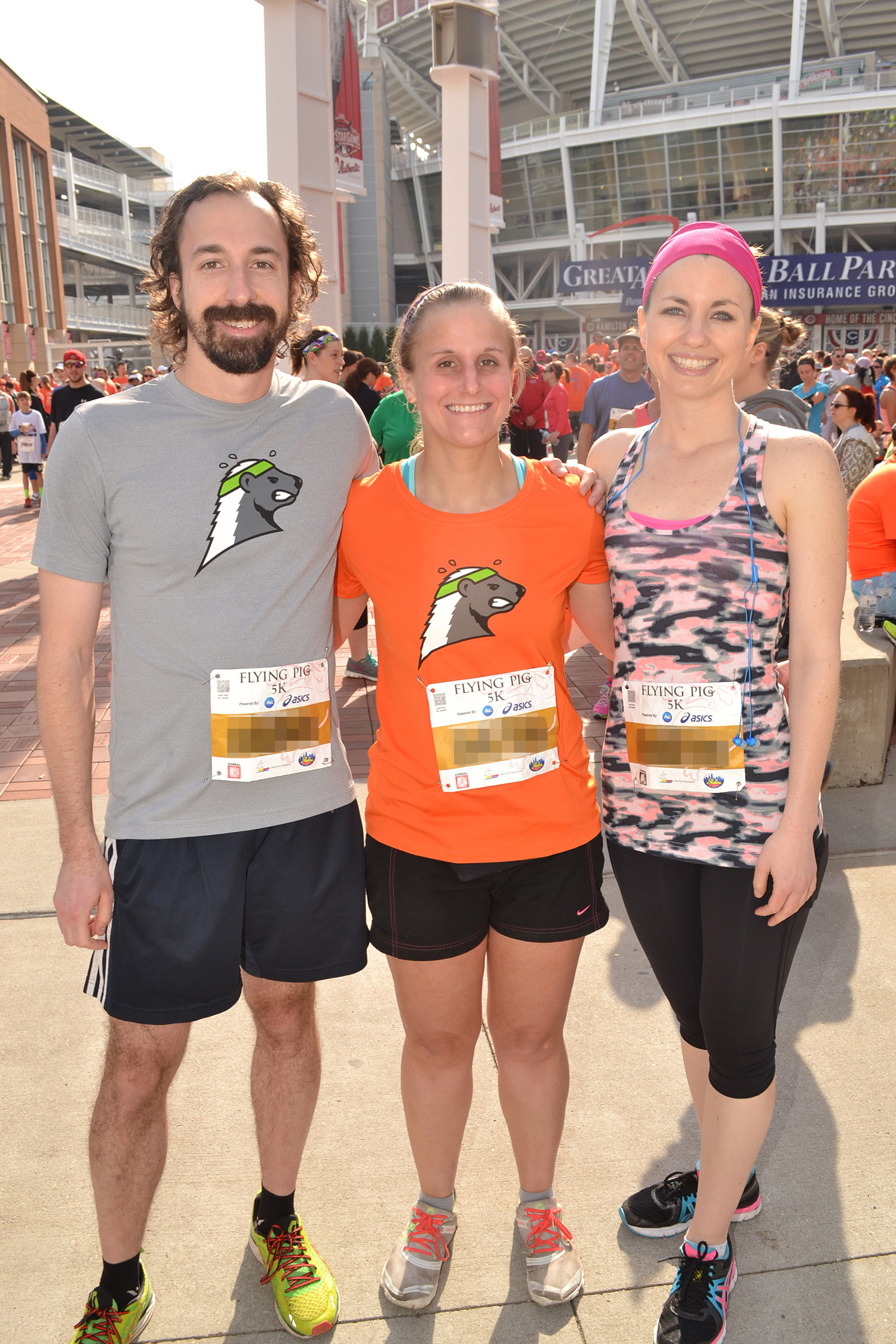 One race down and two to go this weekend. I met up with Chris and Master Laura, and we got back into our Pig Pens back near the ballpark. Temperatures had started to climb a bit, so we were already slicked with sweat. You could even say we were — are you ready for it? — sweating like pigs. Okay, fine, I'll leave the clever zingers to the pros.
Once again, we were off and running! I saw that speedy Chris was nearly taken out by a overzealous guy with a loaded stroller up ahead. Yikes, calm yourself there, dad. I'd like to drive my friend home in one piece. After we made a couple quick turns, we hit the now-familiar route to the finish. Just like that, another part of the 3-Way was complete.
We collected our shiny 5k and 10k medals and found a local breakfast joint to refuel ourselves for watching the main event: the happy parade of pups. We walked to the nearby lavender-colored pedestrian bridge, aptly-named the Purple People Bridge, to secure a prime spectating spot. Within a few minutes, hundreds of pups of all shapes and sizes came streaming excitedly across the bridge with their humans in tow. Labs, beagles, greyhounds, corgis, and everything in between — this was by far the most excited group of non-human runners I had ever seen. Actually, now that I think about it, they were more excited than any group of human runners I'd ever seen, too. Even the slow, plodding basset hounds bringing up the rear looked like they were having the best time at the Flying Fur.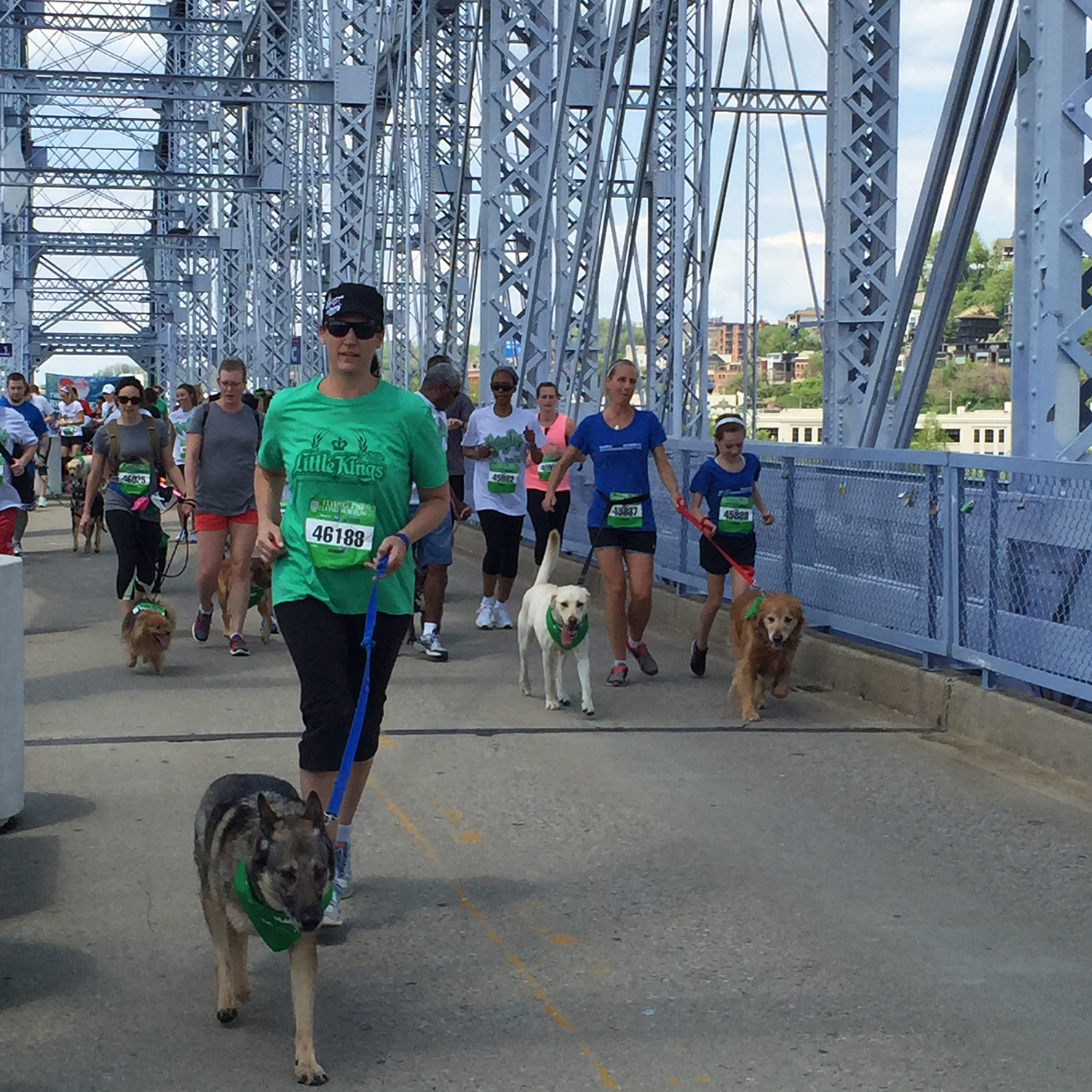 Our hotel was irresistibly close to Horbräuhaus in Newport, so we eagerly headed there to enjoy the perfect beering weather. In the sprawling outdoor Bier Garden, we carbo-loaded on many a lager, dunkel, and maibock while overlooking the picturesque Cincinnati skyline and waterfront. This place was so awesome and the beer was so good that we visited twice that weekend!
Rise and Swine for the Main Event!
Sunday was an even earlier morning; go time was 6:30 a.m. The wind was calm, temperatures were in the mid-40s, so the weather was perfect to run some serious miles. Despite our planning, the three of us arrived at the start line just barely in time for the National Anthem and the start. Oops. At least we made it in time to see the cool fireworks and flame effects for each corral start.
Aaaand we're off! Following the sports venue loop around the Cincinnati Bengals and Reds stadiums, we crossed the bridge into Kentucky. These first few miles were familiar to us since they replicated the Kentucky portion of the 10k course. (No broken bottles this time, yay!)
Kentucky also had the best cheering squad in front of a senior living facility. Seriously, they could put on a clinic of how crowd support is done. The old folks had cute piggy noses and carried witty signs such as "Run faster or I'll hit you with my cane" and "Hurry up, I'm missing Bingo." They were so amazing and inspiring — I hope to be that cool when I grow up!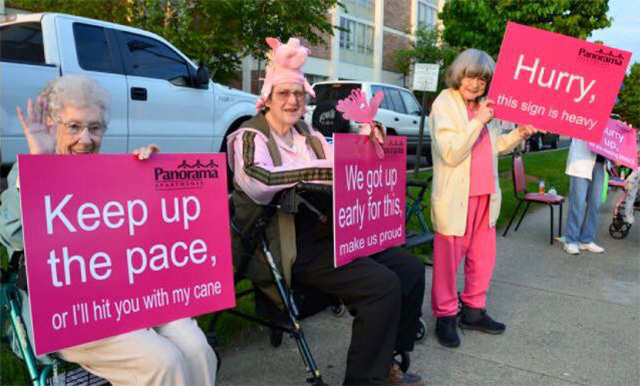 photo credit: Flying Pig Facebook page
Our return to Ohio was marked with a gorgeous sunrise and loads of cheering spectators. We made our way toward Eden Park around the midway point of the race. I knew from studying the course map beforehand that, in addition to elevation changes from all the bridges, we were due for some serious hills. And oh yes, there were hills, starting with a 300-foot, 3-mile beast climb. Damn, how do cars even go up a road this steep? As I plodded along, I heard a guy shouting at us to "Get the 'F' up the hill!" He came into view, and I saw that he was holding a large cutout capital "F." Okay, that is just pure genius; well played, sir, well played!
After seemingly forever, we reached the top of the hill, the highest point in the course, and were rewarded with a panoramic view of downtown Cincinnati and the Ohio River below us. You'll have to take my word for its awesomeness, since I stupidly didn't stop for a picture.
Thank the sweet piggy gods that we weren't climbing uphill anymore! And after that steep, miles-long climb, I felt like I was flying the last few miles through the neighborhoods (or neigh-boar-hoods, as the race cleverly calls them). Downtown and the Finish Swine were growing closer, and the crowds were getting louder! One final trip down Pete Rose Way, and one final trip across the finish. My 3-Way Challenge was complete, huzzah!
I found Chris, and we walked toward the Victory Party at the nearby park. We were stoked to receive our sweet Challenge prizes: a long-sleeve technical shirt, a special 3-Way finisher medal, and a plaque to display all our fancy new hardware.
All the medals for us 3-Way Challenge finishers!
Chris and I planned to make a quick detour to the hotel and then return to see Master Laura finish the marathon. Well, our detour was anything but quick. The driver of the complimentary race shuttle bus wasn't too familiar with the area, nor did she appear to have any sort of helpful GPS device. All the poor woman had was a list of hotel names in the area. After whipping into a parking lot and making a large 3-point turn, impatient runners started dictating directions to try to help.
Since Chris and I were the only ones returning to Kentucky, we were the last riders on the bus. Despite our helpful coaching (or what we thought was helpful), she was heading the wrong way. This ride was taking an unnecessarily long time, and I didn't want us to end up in Indiana. Finally, the old faithful Horbräuhaus came into view — hey, we know exactly where we are — so at the next stop light, we pounced on the chance to ask to get out. As we were doing so, the bus explosively backfired, and she exclaimed "That my bus?!" Yes. Yes, it is your bus, and please let us out so we can walk the rest of the way back. I really hope she's still not lost somewhere in northern Kentucky.
It felt like 4 days had elapsed, but we were finally back at the finisher chute to greet Master Laura. She'd been posting updates to Facebook about all the on-course beer, couches, and other diversions, so we knew she'd been having a fun adventure. We heard a shrill squeal and looked around wondering what the heck it was and where it was coming from. Someone had brought an actual pig to the Flying Pig! Naturally, we had to go say hi. She was an adorable little girl named Bacon, and we gave her pets.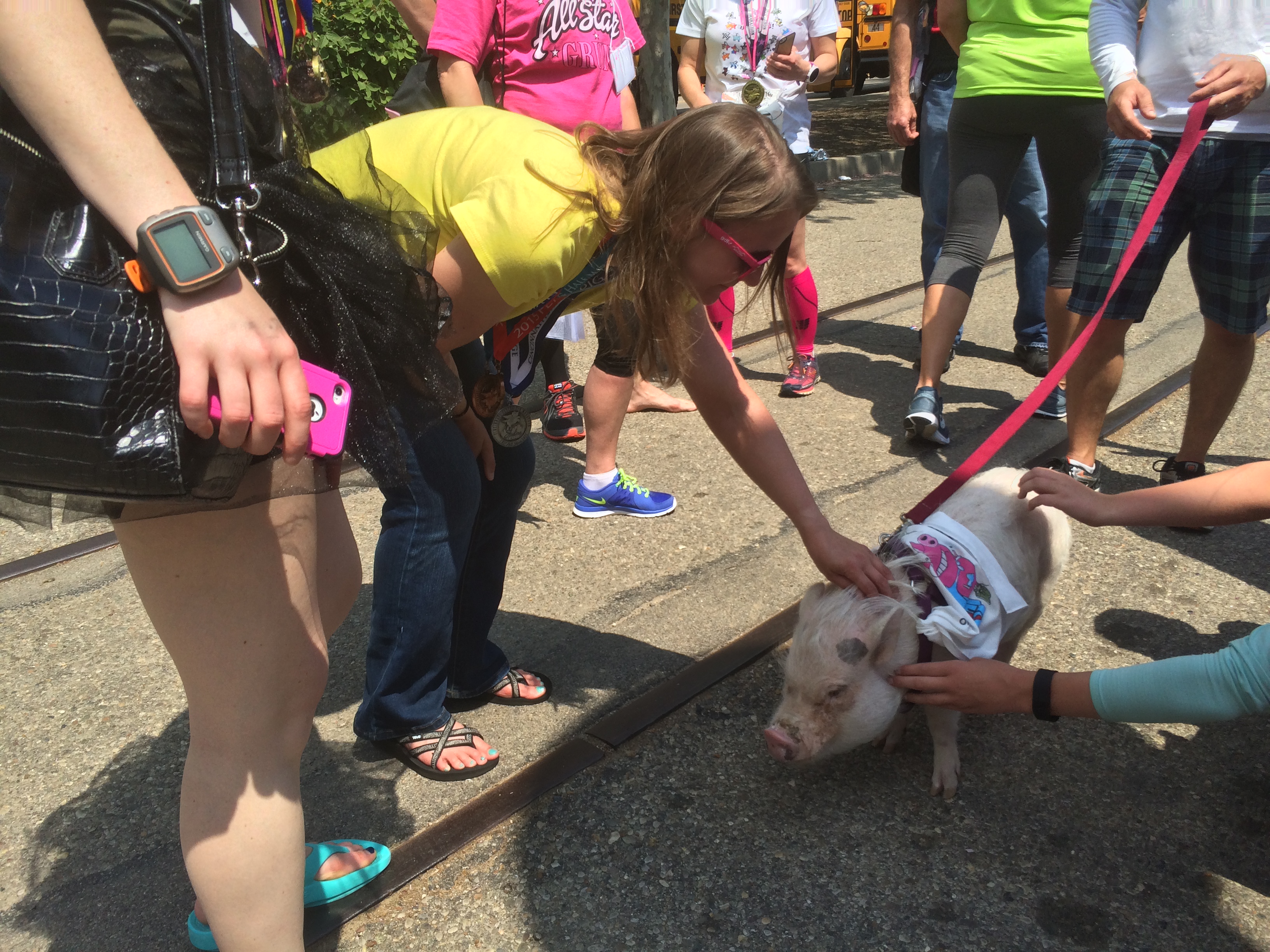 We grabbed post-race beers and lunch nearby before embarking on the drive home. I was sad that our merry Flying Pig weekend had come to an end. The event was so much fun and had great crowd support, scenic city views, and top-notch wordplay. I can't help but squeal with delight about this entire experience.
Pigtastic musings:
Best race eve support: Upon noting we had expo bags in hand, a joyful lady cheered "Go Piggers!" to us on our walk back to the hotel. It took us a few confused seconds to realize that she didn't actually say something offensive.
Most cohesive theme: A+ work on the whole pig theme. From the race shirts with curly tails printed on them, to the Finish Swine banner, the Pig Pen corral labels, and the Street Squealers spectator support crew, it was awesomely well-done.
Best on-course treats: Twizzlers and Swedish Fish! The former were handed out at the aptly-named Twist-n-Snout aid station around mile 10, while mile 11's Flying Fish aid station provided the sweet chewy feesh. Running candy FTW.
Best post-race snacks: The Flying Pig race sure knows how to feed you. The finish line was impressively stocked with…everything! I'm talking water, Gatorade, fruit cups, Clif bars, bananas, apples, crackers, cookies. etc. Next time I'll bring a wheelbarrow to accommodate this motherlode and eat like a piggy.
Best Flying Fur accessory: Aside from the cute green IAMS bandanas, we saw many pets in adorable tutus and pig costumes.
Best sound: The sounds of the PR bell being rung by all those who set PRs, including Chris!
---