New Orleans Rock 'n' Roll Half Marathon
I had a blast visiting New Orleans on two previous non-running-related occasions. So naturally, when I heard about the Rock 'n' Roll Marathon and Half Marathon weekend in the Big Easy, I had my bags packed faster than you could say "hot jambalaya."
It was late January, just a couple weeks before Mardi Gras, and the city was already gearing up for all the festive shenanigans. Master Laura, her boyfriend, and I stayed in the historic French Quarter so we'd be within walking distance of Bourbon Street revelry and other sightseeing. First order of business, though, was to pick up our race packets. We decided to walk to the expo, and though the 1.3-mile walk was leisurely, in retrospect we probably should've taken a streetcar or Uber. Or a wheelbarrow. Or anything, because Master Laura ended up with some angry blisters on her ankles. She has such an indomitable beast spirit, though, so we doubted it'd even mildly faze her on race day.
The expo hall seemed to be miles away from the entrance of the convention center. It was in Hall Q or some letter that I didn't think convention centers went up to. When we finally arrived at the entrance, runners had a literal red carpet entrance — ooh la la! No photos please; we're here on business. I scored a cute lil race magnet for my collection and was happy.
Sub-2 or Bust!
My training had been geared towards a sub-2 hour finish, which would be a PR for me. I'd been knocking on the door of a sub-2 for multiple races, but each time I'd come up just a little short. This time, though, I was optimistic that I was ready and that the below sea level, pancake-flat (mmm pancakes) course would set me up for much success.
We lined up for the 7:30 a.m. start in Lafayette Square. It was a little chilly that morning, with temperatures in the mid 40s. The occasional winds made me shiver, but overall it looked to be a good day for a race. I'd never run with a pace group before, but I figured I'd try sticking with the 2-hour group and see how it went.
The first mile or so took us through the downtown area and then we turned onto historic St. Charles Ave. So many architectural gems and beautiful Garden District mansions on this stretch! I was enjoying the views, but by about mile 3, I felt like the pace group was going too fast. I looked down at my watch and saw we'd been clocking 8:45s, which was about 20 seconds per mile faster than the goal pace. Since I was feeling okay, I decided to stick with the group and hang on.
We hit the turnaround near Loyola University and made our way back on St. Charles. This long out-and back on both sides of the boulevard took us through about the 8-mile mark, so we spent the majority of the race here. I lost sight of the pace group and started to feel not-so-great. Pretty terrible, actually. I could've kicked myself for making the stupid rookie mistake of going out too fast. Welp, nothing to do now but try my best and keep putting one foot in front of the other. I distracted my mind all the happy canine spectators — I counted at least 50, so that's a puppy PR!
After all the time on St. Charles, I was more than ready for a change of scenery. Within a few turns, I began to see some familiar sights from my previous visits: the French Quarter, Jackson Square, Cafe DuMonde, and the French Market. I never get tired of all that sexy French Quarter wrought ironwork and bright colors.
We made the turn onto Esplanade for the final 3-mile stretch into City Park. There were some very strikingly colorful homes on this street, and damn, I wish I had stopped to grab a photo. But my hip flexors were bitching at me, so there was little else on my mind. Slowing down considerably, I entered into survival mode. We passed a cemetery around mile 12, which felt fitting for how I was feeling.
Finally, we made it to the park. There was a big lake to our right, which I later learned is named… Big Lake. Spectators were handing out Jell-O shots and King Cake, but I just wanted to be done! The course split around the 12.5 mark, and we halfers hit the finish. Hooray!
Slicked with sweat but happy to be done: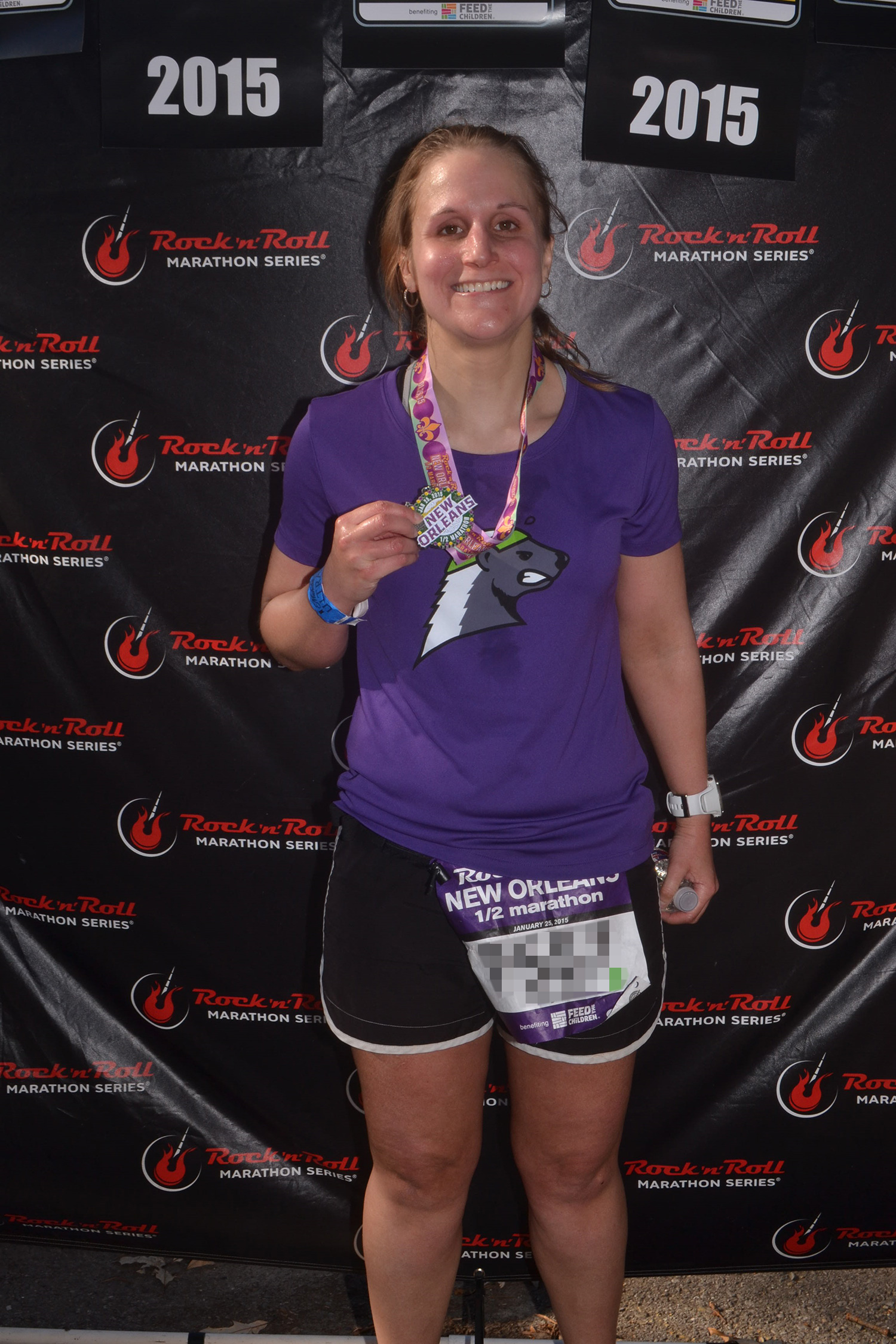 And check out these sweet medals, with Mardi Gras beads, of course: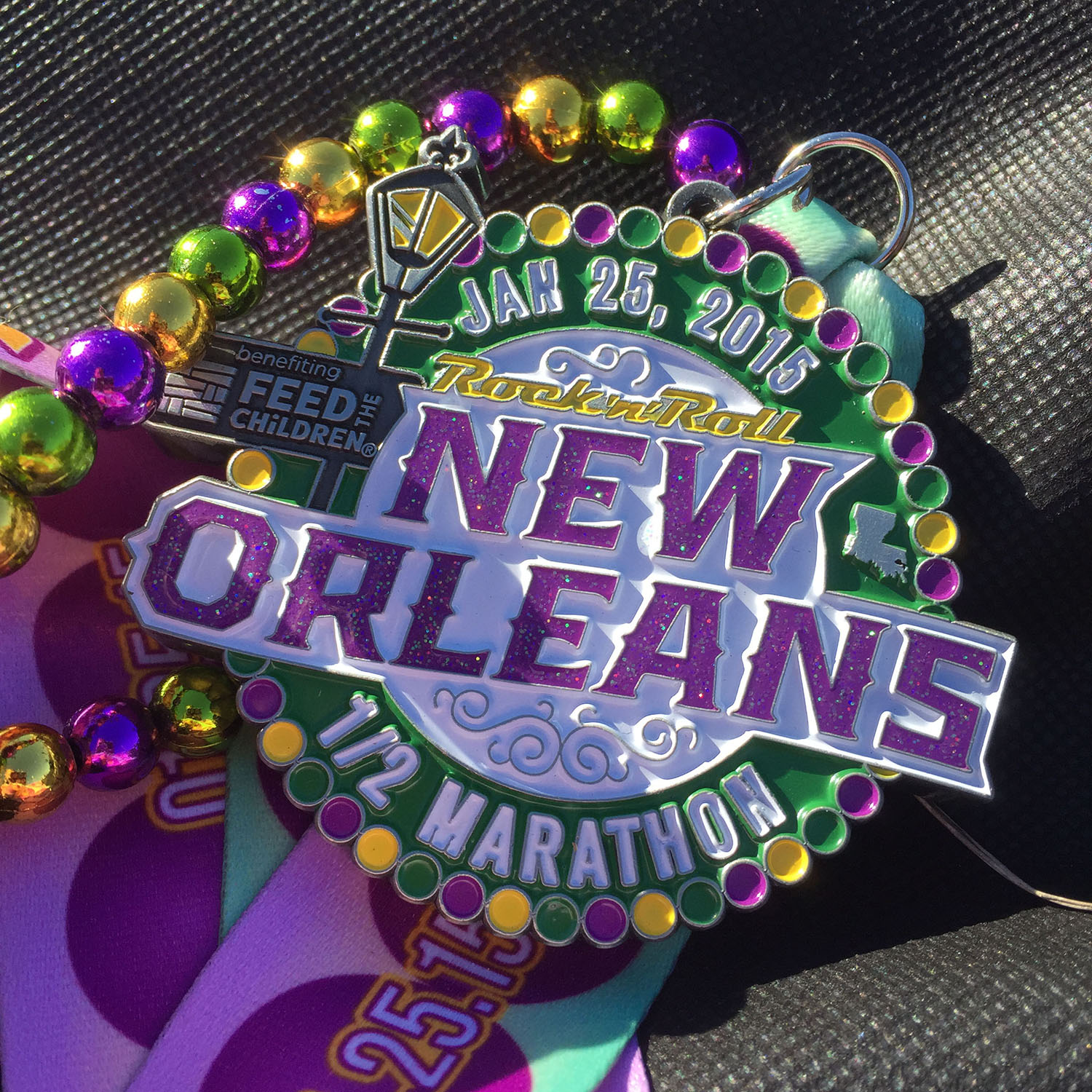 I had time to kill before either Master Laura or her boyfriend completed their marathons, so I hung out in the park and enjoyed the sunshine and blue skies. The good news was that there was also unlimited free post-race beer! The bad news… it was Michelob Ultra. Whyyy must they keep sponsoring races, anyway?! Anyone who just ran 13.1 or 26.2 miles ain't watching their carbs, so what's the point? But, it's free, and I do have time to kill, so…yeah, beer me. My back had started to stiffen, so I stretched out on the grass, stomach-down. It was a surprisingly comfy position, though a few passersby thought I was drunk and passed out.
I caught my friends at the finish, and we hung out in the park for a bit longer. We headed back to our hotel briefly and ventured out again — it was time to party New Orleans style!
Boozy Fun on the Bayou
We had the rest of that Sunday and the next day to play, so we packed in as many quintessential New Orleans things as possible. We drank hurricanes and hand grenades; enjoyed the dueling piano show at Pat O'Brien's; ate jambalaya, seafood gumbo, red beans and rice, crawfish étouffée, and other local treats; and wandered Bourbon Street, Jackson Square, and the French Market.
We sure ran a lot and did a lot. Thanks for another great time, New Orleans!
Jackson Square. Hi, Old Hickory!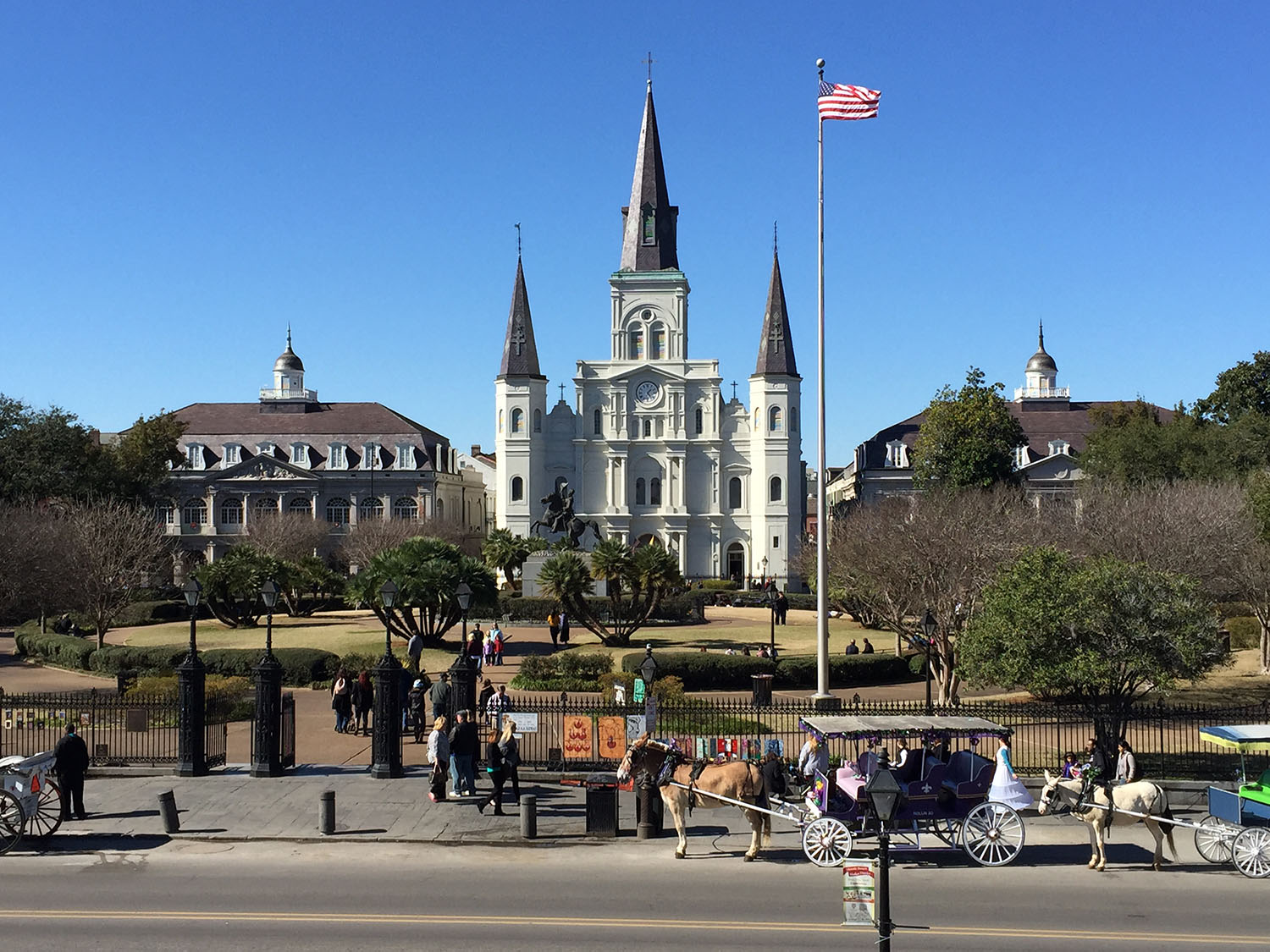 All of New Orleans on one plate. It may look less-than-appealing, but I assure you that it was delicious: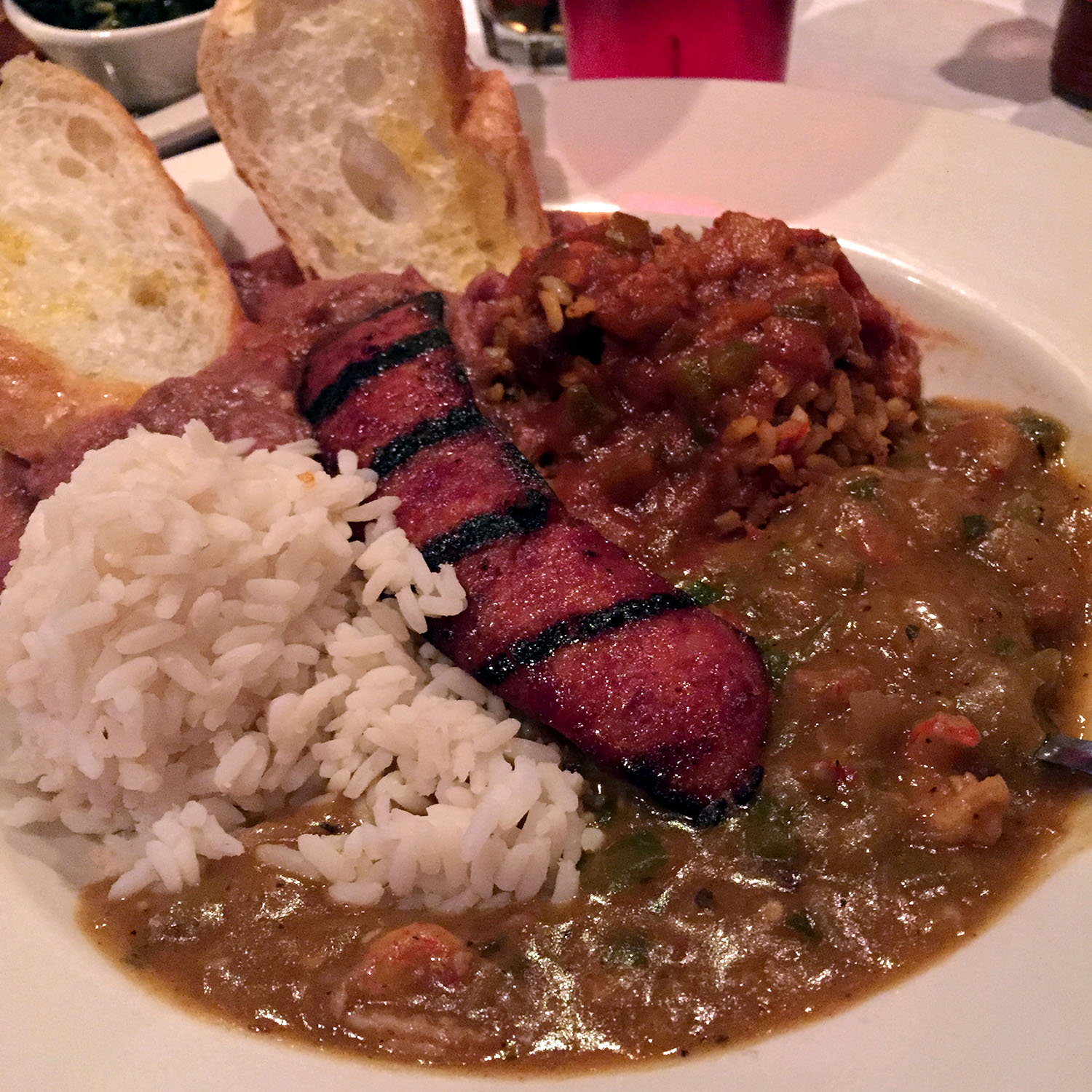 Me and a Minion because reasons: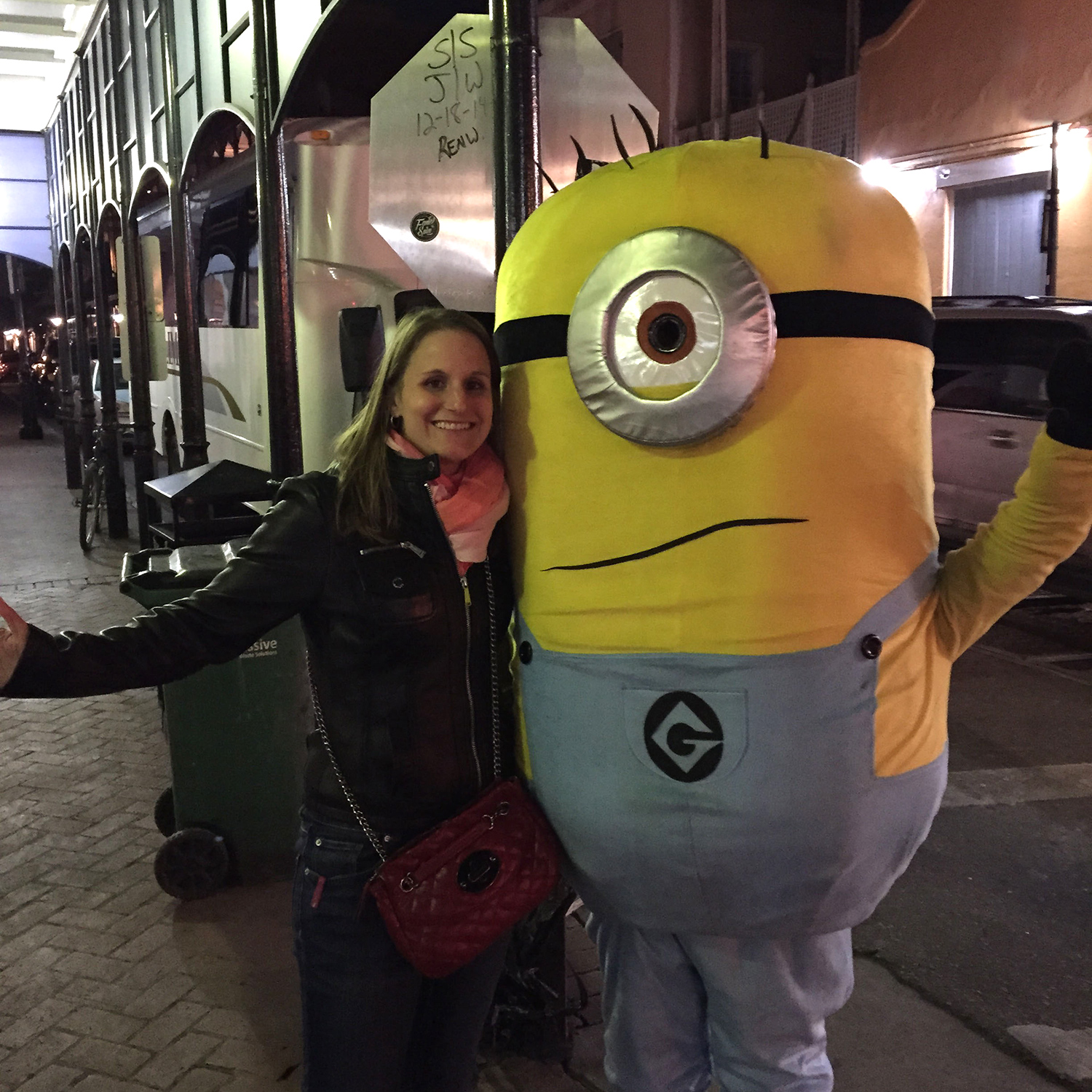 Nawlins superlatives:
Best fitting rooms: The Brooks merchandise area at the expo had fitting rooms in the style of port-a-potties. Tee-hee.
Worst pavement: St. Charles Ave., with its broken pavement, potholes, and generally crappy surfaces. I'm from Michigan so I know neglected roads when I see 'em. Thankfully I survived with both ankles and all joints intact and without any road rash.
Best Garden District spectator: A dog in a front yard beside a sign reading "25 miles left? You've gotta be kitten me!"
Most giggle-worthy observation: Spray-painted "POOP" in large letter on a plywood board in a construction area. Yes, I have the sense of humor of an 8 year old. Sorry not sorry.
Best free drink: Whiskey at May Baily's Place. Hotel guests got a free drink, and bonus history points that this place is a former saucy brothel.
Most adorable French Quarter sighting: A shiba inu pup just chillin' in an open-air bar at night.
Best find: Vegan King Cake at the French Market — my first ever King Cake. Yum.
---