My 200th race! Nope, that's not a typo; I really do have a racing problem passion.
To commemorate this bicentennial, I would be running the Charlotte Half Marathon in North Carolina, state #17 on my list. After my solo trip to Oregon, I was glad to be reunited with my runventure buddy, Master Laura. [Cue the late 70's R&B] Reunited, and it feels so goooood. Several friends from her running group also joined the trip, so we had quite the squad assembled.
While researching this event beforehand, I learned that it was previously called Thunder Road Marathon, and it had featured a NASCAR theme. As someone with less-than-zero interest in auto racing, I was on board with this rebranding. Also, as a graphic designer, I appreciate the new look's stylized Queen City crown logo, vibrant color palette, and sexy sans serif typography. No vroom vrooms or checkered flags here; it was all about a citywide celebration.
Excuse me while I make lovey eyes at this design sample:

photo credit: Novant Health Charlotte Marathon Facebook page
Okay, I'm done nerding out about visual design for now. Upon arriving in the city, we hit up the race expo at the Charlotte Convention Center. I enjoyed the punny "Charlotte's got a lot" sign in the hallway en route to the exhibit hall. Once inside, we noticed a fun bib decorating station. It offered an array of fat, colorful Sharpies to write or draw upon your bib. Unimaginatively, I wrote my name, though I strongly considered writing something absurd like "Butts" or "Fart Pickle."
Nearby, the medals were on display for everyone to admire and fondle if they so desired. I didn't dare touch them, though; I prefer that the first time I touch the race medal is after I cross the finish line. The medals looked impressively big n' weighty, so I would wear it with pride regardless of any neck pain it may cause.
With that preliminary stuff out of the way, it was time to kick off this runcation properly. We visited Unknown Brewing Co. for a sample flight and then fueled up with pizza at Mellow Mushroom. With bellies full of carbs, we made our way back to the hotel for a proper night's sleep.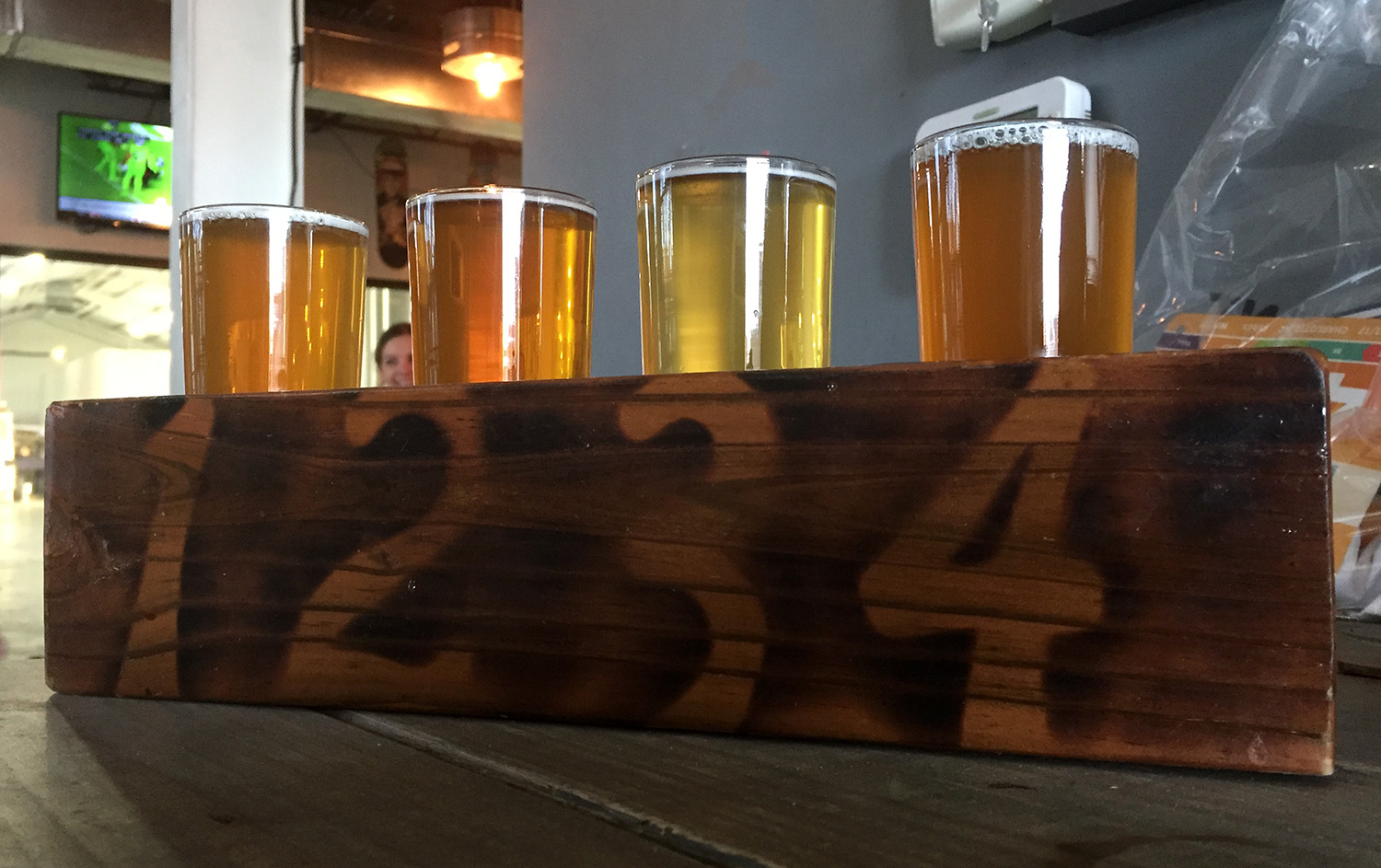 Charlotte's got a lot…of hills
Race morning temperature looked to be in the mid-30s (with a "feels like" temp of 25 at start time, eek), so I went with wearing every damn thing I brought. I put on my hat, gloves, long sleeve shirt, short sleeve shirt, warm socks, and tights — and shoes, of course, silly! — and was ready to go. I'd probably be chilly in the starting corral but perfectly fine while running. And the entire morning forecast looked dry and sunny, hooray!
As we walked from our hotel to the start line, we chatted with a couple local runners. Naturally, we all discussed the weather, and Laura mentioned "Well, this is better than back home where it's a high of 16 some days." One of the ladies, in an adorable southern drawl, asked softly, "Do y'all still run when it's…six-TEEN?" Of course we run when it's that cold — we just complain about it the whole way!
It was Veteran's Day, and Old Glory was very well-represented. Lots of Team RWB runners, giant flags in tow, were already lined up and ready to go. There were also some camo-clad runners and even some badass ruckers! It was truly an amazing and inspiring sight not only at the start line but throughout the course.
We couldn't hear the announcements clearly through the speakers from our corral, but I believe they said that there were about 6,000 runners out that day. Or 6,000 of something, because I heard "[muffled audio] 6,000 [even more muffled audio]."
I got some good luck kisses from this sweet black lab girl in the corral, and then we were off!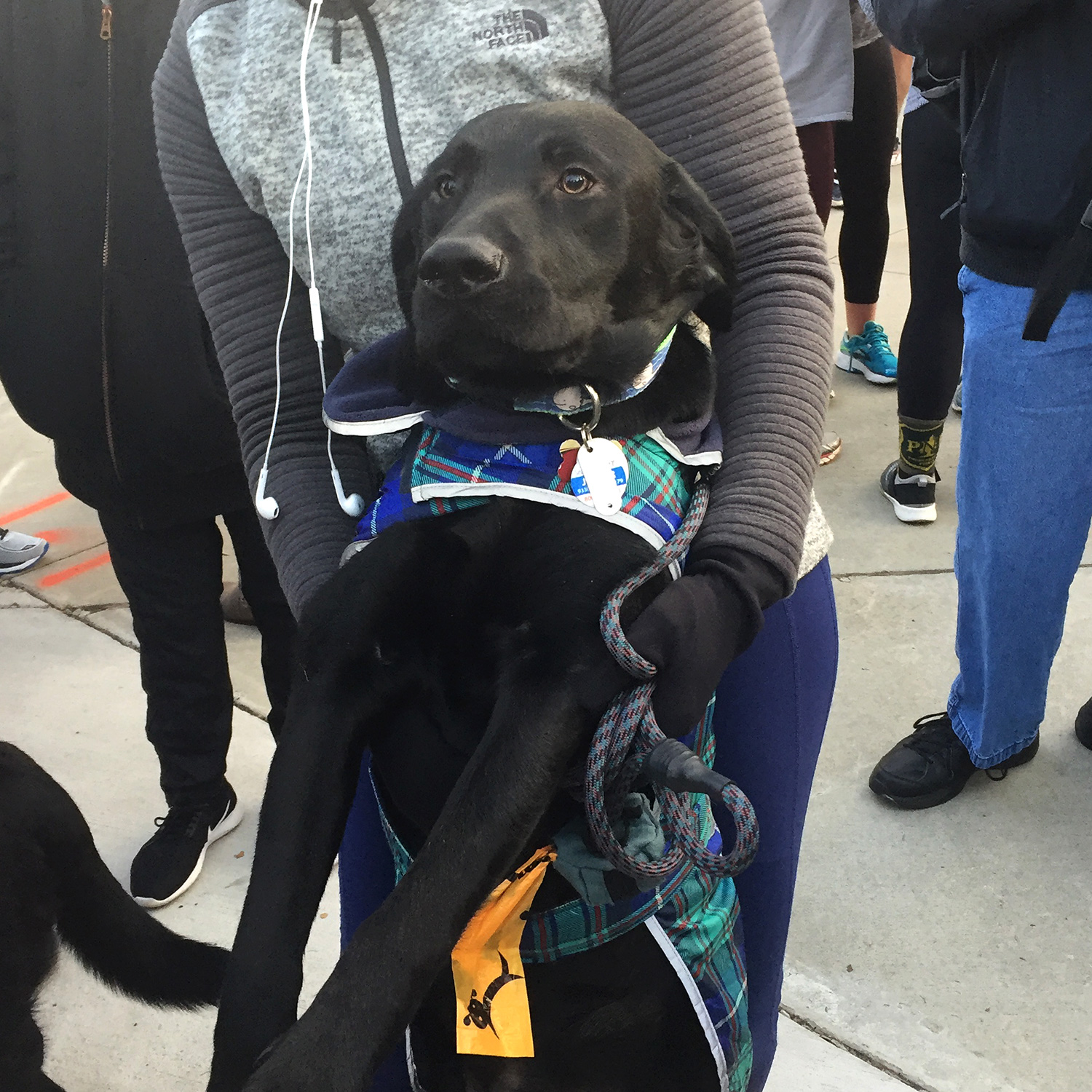 To pump up the crowd, Mötley Crüe's "Kickstart My Heart" blared through the speakers. Upon my crossing the starting mat, the audio abruptly cut out, and after several seconds of silence, a completely different song started playing. Someone give that audio tech a hug because clearly that person's day isn't off to a great start.
The first bit of the course had us heading towards and then curving around Bank of America Stadium, home of the NFL's Carolina Panthers. Statues of big, menacing panther kitties adorned one of the entrances that we passed by. After a couple more turns, we were on 4th St., and it felt like we were here forever. At some point I realized it had magically morphed into Randolph Rd, so that explains why it felt so long.
Itsa me on the left in the yellow!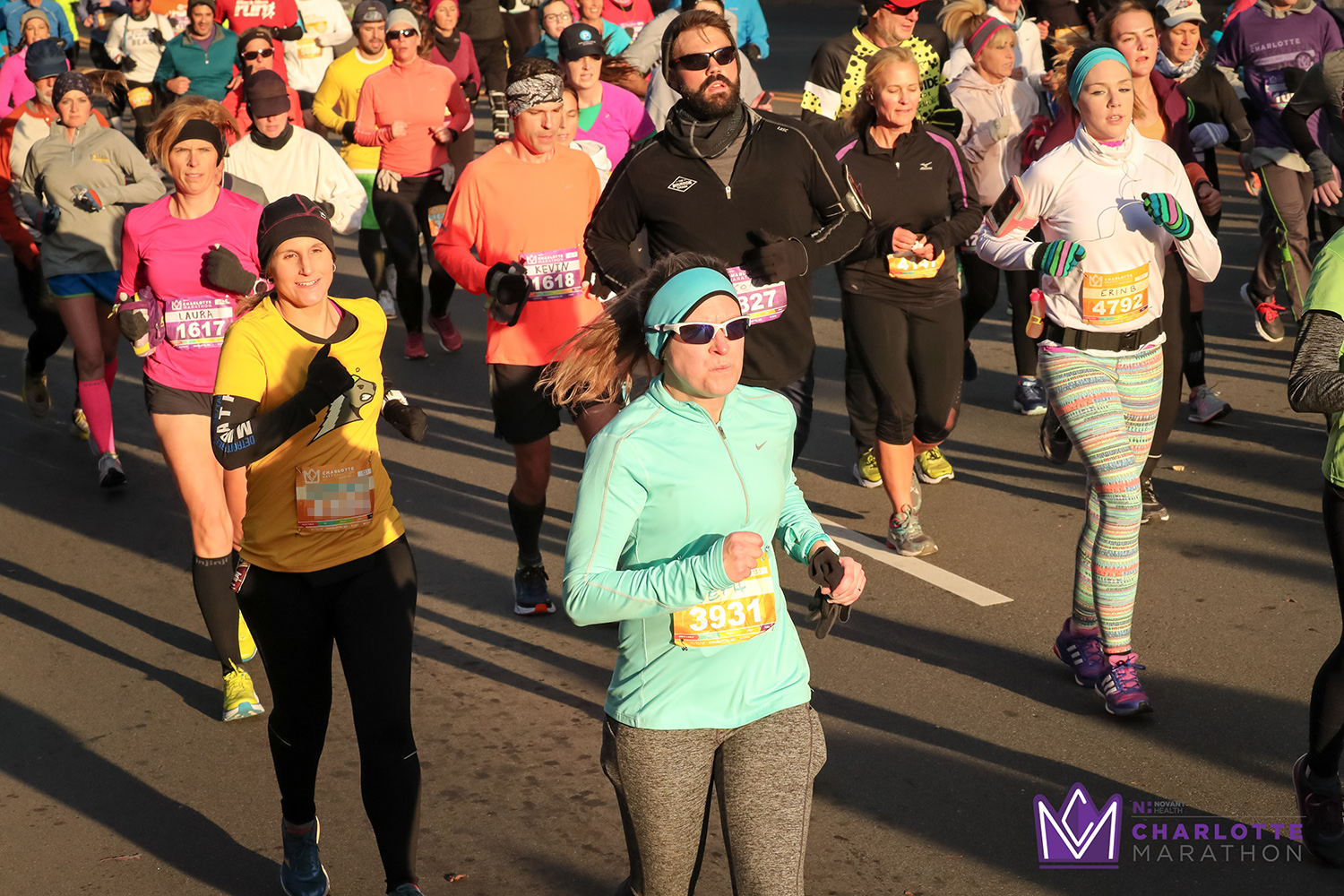 A few miles in, we entered a neighborhood with some really fancy-ass houses. I felt like I should be sipping from aid station water cups with my pinky up. The giant oak trees lining the streets had tinges of gorgeous fall colors, though there was still a decent amount of summery green lingering.
As I rounded one of the bends, I saw a tent of spectators and a fun "Shit ton of miles left" sign. I wanted to get a photo, so I slowed down and stopped. Before I could get a word out, two ladies apologized and said "This isn't an aid station!" I clarified that I was here for a photo of the sign, and they broke into laughter. Apparently, more than a few runners had stopped at their tent throughout the morning and demanded water.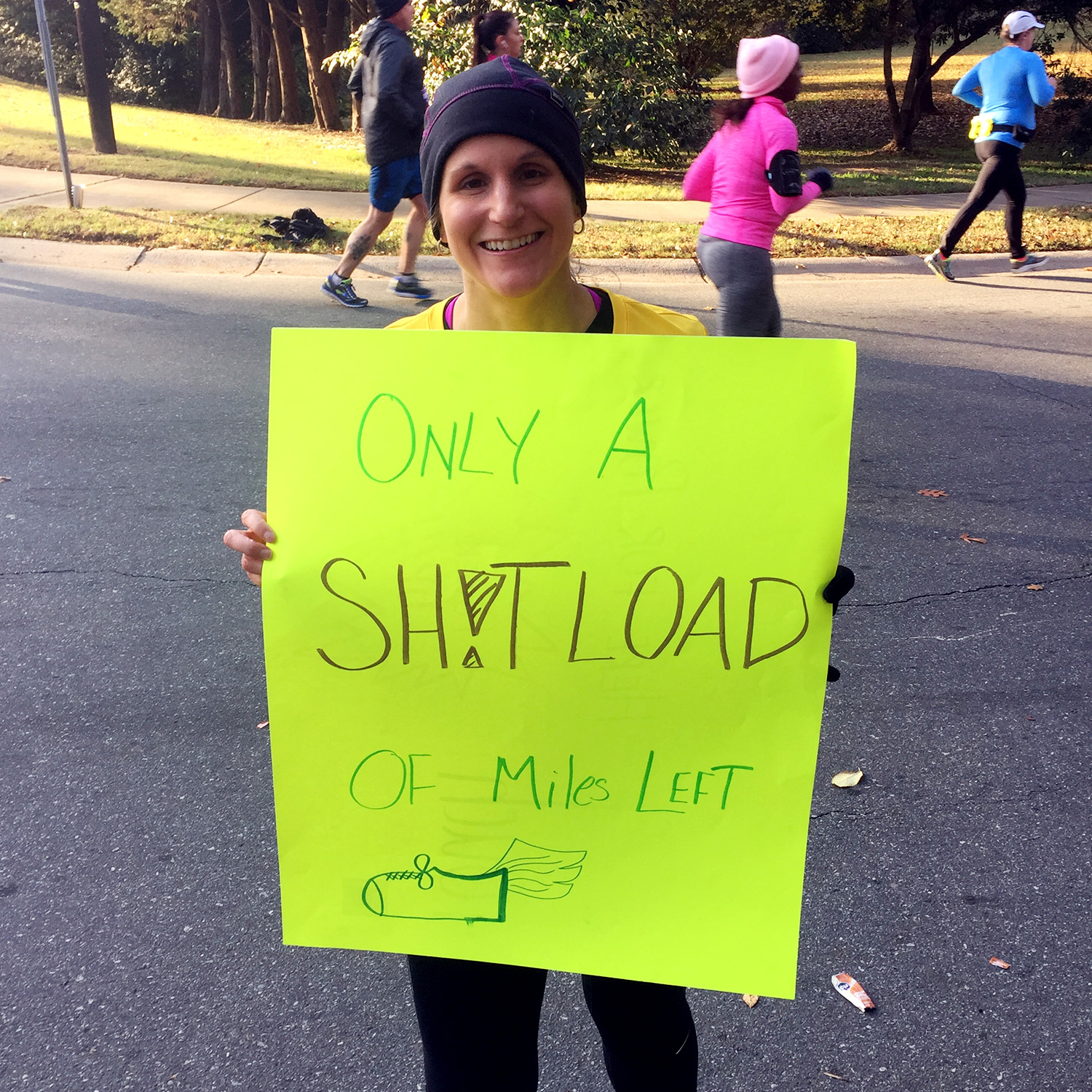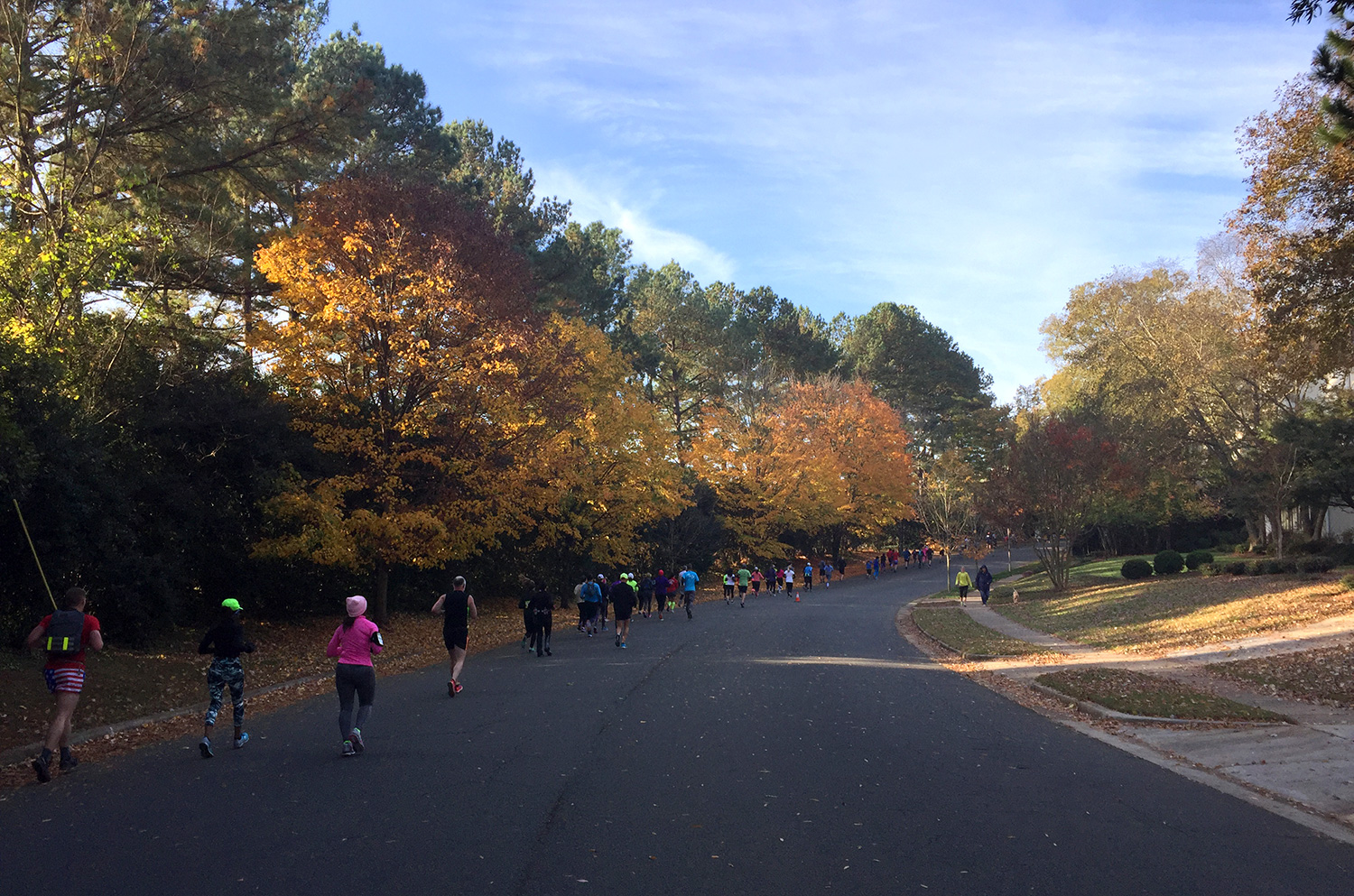 I was really impressed by the community support and hometown pride. It had the cheer squads, course support, and amenities as any big city race, There wasn't a moment where you didn't feel like the city was rooting for you, which was a pretty awesome feeling.
We were about 8.5 miles in, and there'd been rolling hills and a moderate climb or two thus far. When I made the turn onto Morehead St., however, I found myself staring right at one big ol' hill. The tough climb lasted about a half mile, but the crowds cheered us on. Soon enough, there was a lovely downhill curve around a park.
I noticed the most adorable baby puppy off to the side. I slowed and stopped to pet him, much to the disbelief of his human. Unconvinced that a puppy was a valid reason to stop running a half-marathon, he urged me to "hustle!". But c'mon, how could I ignore this cute face gazing lovingly at me?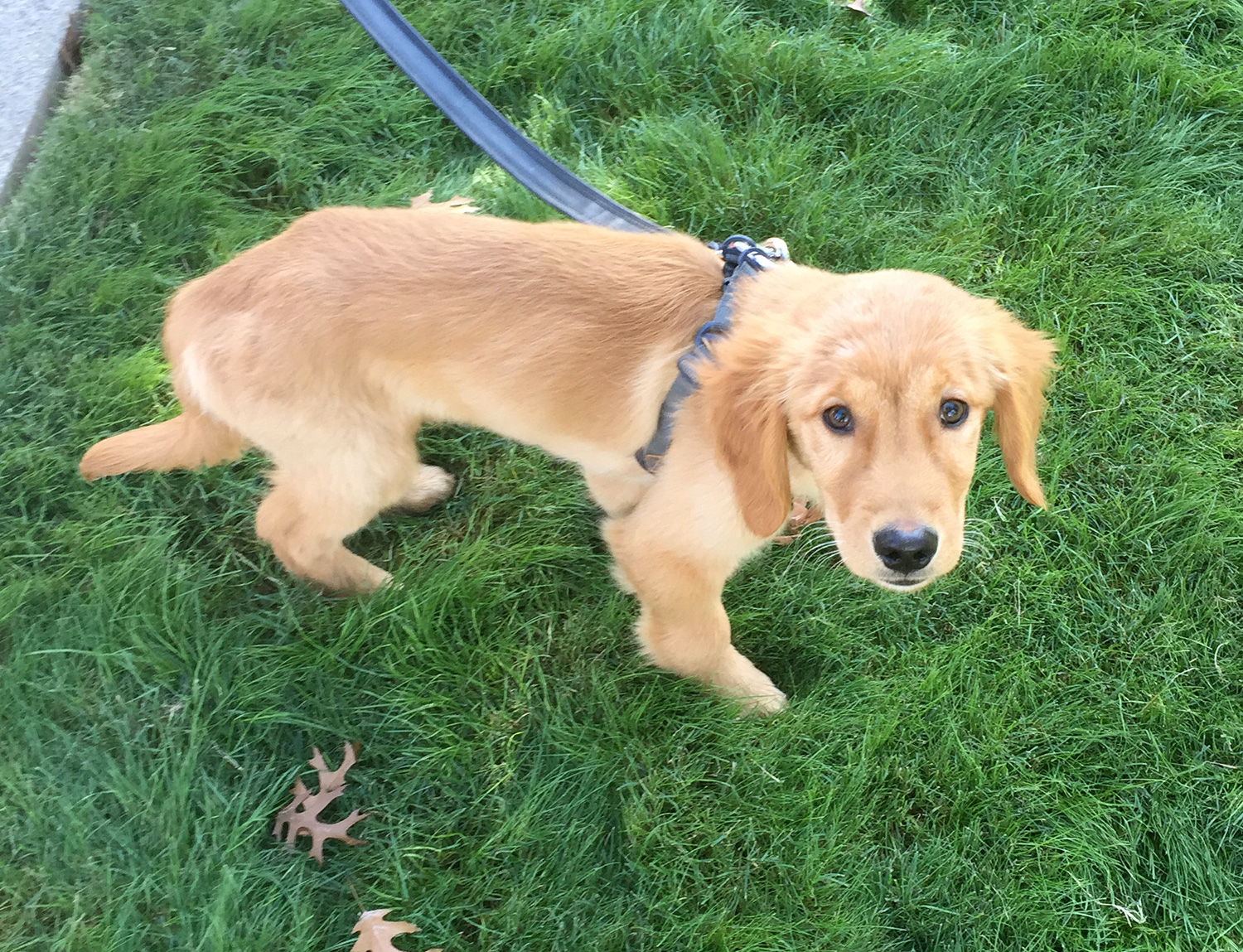 Okay, 80% of the reason why I stopped was due to that darling cutie, but the other 20% was because I really had to tinkle. After completing both of those objectives, I was on my merry way again. Some hill fatigue had started to catch up with my legs by that point, and I started to slow down. I guess the map wasn't kidding when it said we had to return to Up town Charlotte for the finish line.
The route continued on Mint St. for another extended stretch, but eventually the downtown skyscrapers were coming into view. We were close!
For a brief moment, there happened to not anyone else in my immediate vicinity. I had almost the whooole finishing stretch to myself, and that had me feeling like superstar Shalane Flanagan blazing towards her recent victory at the New York City Marathon. She and I are pretty much the same, except, you know, I'm about 100 minutes/mile slower. Anyway, off to my right beyond the barriers, I saw a spectator sprint towards the finish while carrying a puppy — it was the friend I'd made miles earlier! With each swift step his owner took, little puppy ears were flapping in sync, and it was an adorable sight.
I hit the finish and collected my large, sexy medal. There was time to kill before Laura and her friends would be completing their marathons, so I made my way to the finish line party to hang out for a bit. The festivities were in Romare Bearden Park, and I recognized that name from my many, many hours studying art history in college. I guess all that time spent staring at slides and memorizing titles, artists, and dates, had trained me for this very moment.
I ventured into the beer garden. NoDa Brewing Company had been hyping a special beer just for the runners, and that piqued my interest. I have no idea if the beer itself was unique or if the "special" designation corresponded only to the purple #RunCharlotte labels, but I enjoyed this drink nonetheless. Since I couldn't partake in the unnecessarily large bottle of chocolate milk handed out (for real, who gives out QUARTS?!), this CAVU blonde ale was the perfect recovery beverage.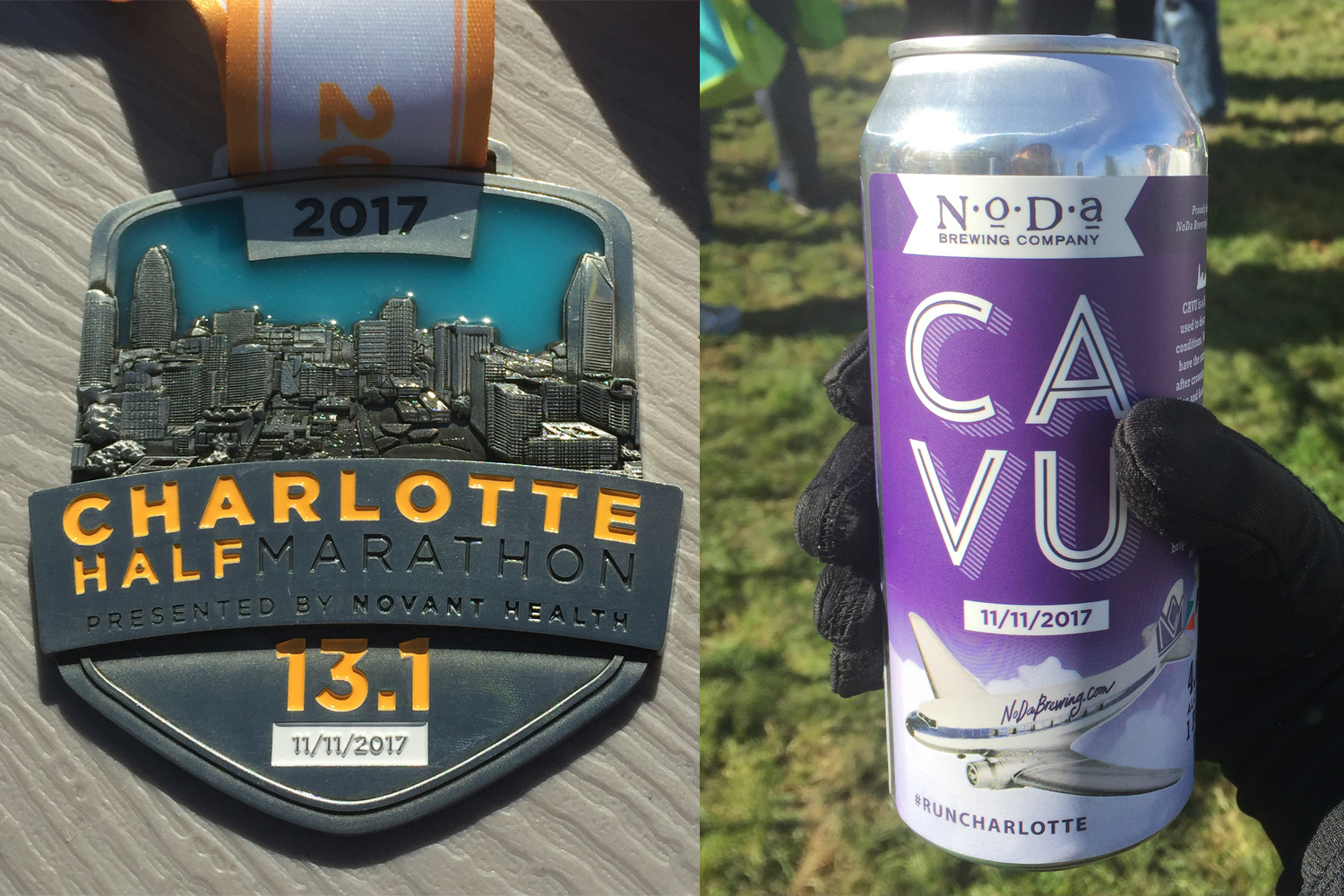 For the third time that day, I saw my puppy friend, so I decided it was time for a proper introduction. His name was Cooper, and he was a wee 4 months old. I got to chat a bit with Cooper's parents, and his runner mom also seemed stunned by my stopping to pet their dog mid-run. Hey, I race the same way I train — running mile after mile and petting dogs along the way.
After wandering off to find a breakfast sandwich and coffee (and some place to warm up a bit), I returned in time to see Master Laura cross the finish. I whooped and hooted supportively at her, but either she didn't hear me or chose to ignore my obnoxiousness. Laura collected her medal and special beer, and I purchased another CAVU to celebrate alongside her.
After getting ourselves cleaned up, it was time for the celebration. We filled up on tacos, visited an arcade for some fun and games, and then sought out more tasty beer. We met up with Laura's runner buddies at Unknown Brewing Co. to celebrate our collective accomplishments that day. We'd been so impressed with this place the previous day that we decided to return. We closed out the evening with more fun times and drinks at Sycamore Brewing.
We had a late afternoon flight out the next day. When we booked our travel, it had sounded like a great idea: have a chill morning, sleep in, enjoy brunch, and then head to the airport in the early afternoon. In reality, I was eager to be home, and I became somewhat impatient. After exploring the downtown a little bit in the cold, there wasn't much for us to do aside from…wait. Laura's friends were hanging out at a bar watching football, so we ended up joining them. For reasons I don't quite understand, there was a huge conglomerate of Pittsburgh Steelers fans in this particular Irish pub. I wasn't interested in either drinking more or watching the Steelers, so I bided my time and guarded my luggage. Don't get me wrong; I genuinely enjoyed my weekend fun in Charlotte (and, like the sign says, you do got a lot!), but home was calling.
Thanks for a great race, Queen City, and here's to another 200+ races and more fun travels!
North Carolinian Commentary:
Overheard: [Man dramatically leers at nearby woman] "Ohhh yeahhh I'd like to get some of that at home!" [Nearby woman laughs, and man feigns surprise] "Oh, it's my wife!"
Best sign: "Hills are such assholes"
Best perk: FREE race photos!
Cutest on-course sights: In addition to Cooper, there were so many cute puppies out for morning walkies! One adorable pup carried a tennis ball proudly in his mouth, aww.
Most DIY: There were official-looking finisher photo backdrops but no official photographers. Each person handed their phone to the person behind them in line for a photo, and it was a pretty effective system.
Most unexpected: Quite a few strangers asked us for directions to places around downtown. Us, the out-of-towners in Michigan gear. Laura said she even was asked on the course about the course itself. We must look like we know what we're doing or at least look friendly and approachable. And no, I still don't know where Ink N Ivy is.
---