O cactus tree, O cactus tree,
How stabby are thy bristles!
Enjoying festive Christmas music and decorations against a desert backdrop was a first for this Michigan native, but I was more than eager to escape the deep freeze back home. On deck for this Arizona weekend extravaganza was the Holualoa Tucson Marathon weekend. And, before you ask, I have no idea how to pronounce "Holualoa," either. I can only imagine it's a lot of oohs and ahhs in tongue-twisting combinations. Actually, I don't know that anyone knew for certain how to say it; no one, not even the race director, said it aloud during the entire weekend. (Sorry, title sponsor.)
I arrived in sunny Tucson on Friday morning, about 12 hours later than planned, thanks to a wintry weather delay back home. I met up with my buddy Master Laura at the luxurious Hilton El Conquistador Resort, which she'd booked with her baller Honors rewards points. I'm just gonna go ahead and say it now: this is likely the nicest place I'll ever stay in my life. We had a whole dang villa to ourselves, including a walk-out patio, spacious living room, and nearly a full kitchen — altogether way more space than we knew what to do with! To top it off, the majestic Santa Catalina mountains were our patio view. You're already spoiling us, Tucson.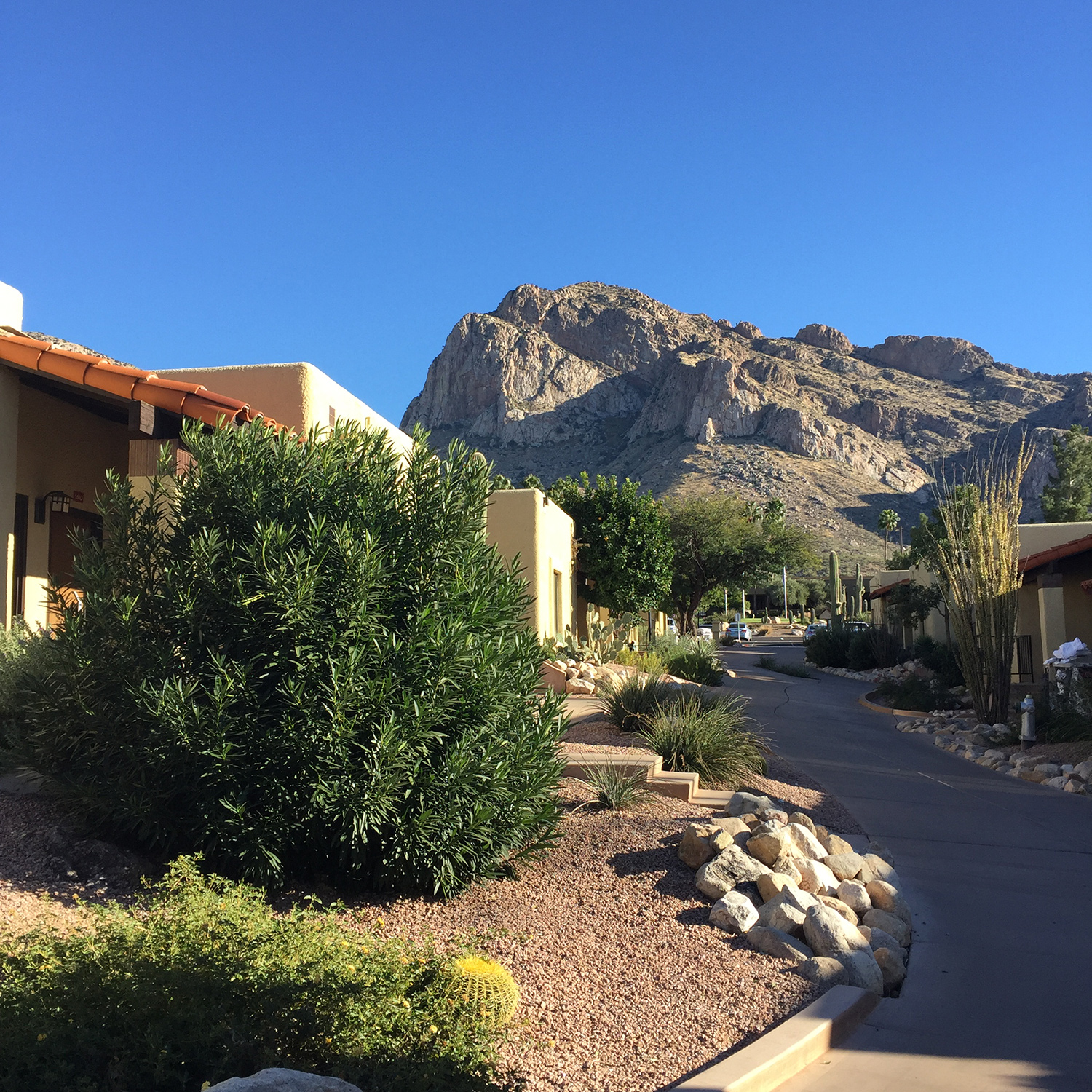 Hilton also played host to the race expo, so we were only a few steps away from packet pickup. We made a quick stop in the lobby to marvel at the live-size gingerbread house, made from all real gingerbread. Alas, if only this sugary suite had been a room option when we booked our stay. We had a little snack on the nourishing candy decor: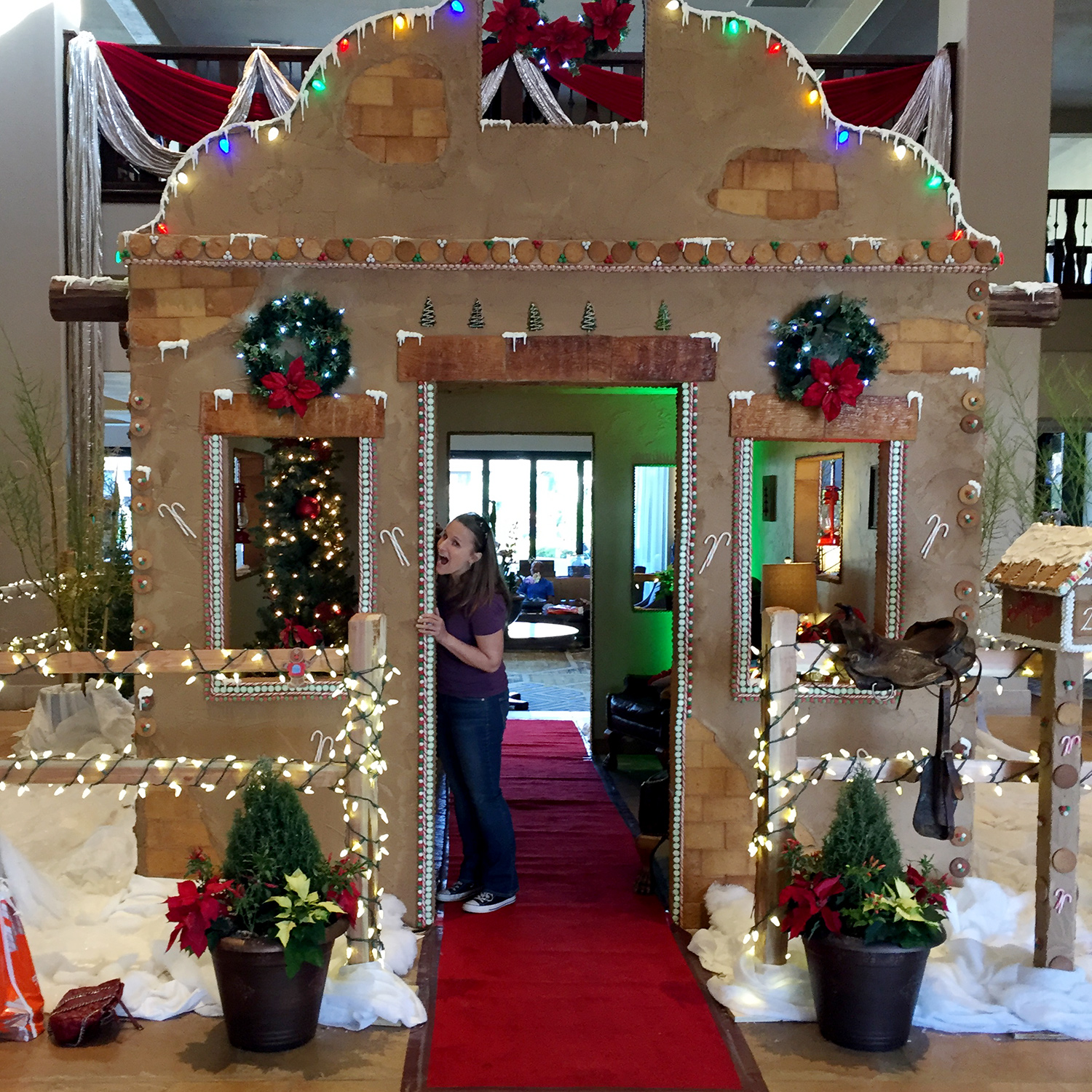 After some expo fun and a pasta dinner that evening, we nestled ourselves all snug in our beds… while visions of happy desert runnings danced in our heads.
Cotton candy skies and cacti
It was pitch black and 40 degrees the next morning. I bid adieu to Master Laura and boarded the half-marathon shuttle to the start line. Everyone on the bus looked mega fit and fast, so that was a little intimidating to this casual racer. One serious-looking runner snacked on a Twinkie, while another talked about her plan to run an "easy" 1:35. If all these super-fit and fast people are eating Twinkies and running easy 1:35s, then I am doing everything in life wrong.
The bus driver dumped us off on a highway in what seemed the middle of nowhere. The map showed that we were a short distance from Biosphere 2, a research facility that really sounds more like a video game title. There were no fancy-schmancy start area amenities or adornments to be found. It was all business here: just a lot of runners huddled together for warmth beside a row of port-a-potties and a couple generator-powered spotlights.
I fully expected that Sting would arrive to serenade us with "Desert Rose," but there would be none of that. Following the national anthem, an ear-piercing airhorn blared, and we were on our way!
Starting at 7 a.m. meant that we began our journey just as the sun emerged, and my first desert sunrise did not disappoint. Wide bands of pink, yellow, and orange filled the sky gradually, making the Santa Catalina Mountains appear blanketed in delicate layers of cotton candy. Cacti, wildflowers, and mountains views stretched on for miles and grew vibrant in the increasing daylight. Sure, the landscape got slightly monotonous after several miles, but I didn't mind nature's morning show. I simply admired the view as all the speedsters blazed past, possibly fueled by Twinkies.
Aside from the occasional vehicle across the highway, the only sounds were that of runner chatter and our steady footfalls. The miles ticked by on this blissfully downhill course of Sonoran Desert beauty.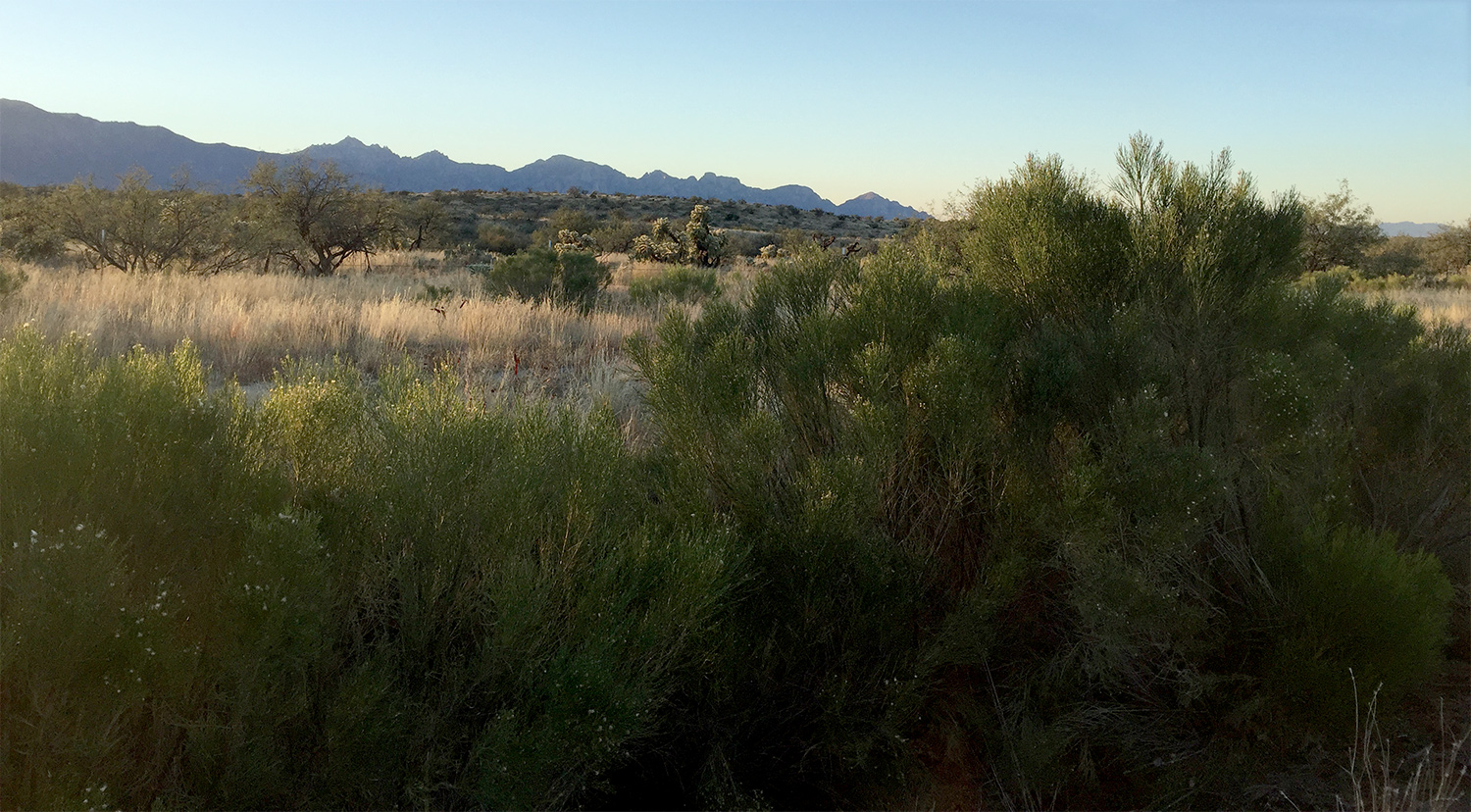 Understandably, there were very few spectators on the course — who really wants to stand on a lonely stretch of highway, anyway? Each aid station had very enthusiastic volunteers, so they were our de facto cheering crew. One particular station was fully pet-themed – signs with pupper puns, cardboard dog cut-outs, and team members decked out in kitty- and doggy-ear headbands. Obviously, this was my favorite aid station hands-down (paws-down?).

About 9 miles in, we began to see hints of civilization. And by that I mean a handful of stores, a credit union, and a lonely Arby's. Eventually we turned off the highway onto a side street and then cut through… the back of a strip mall parking lot. There was another aid station here, and thankfully it wasn't too close to the dumpster stench.
Not long after, we were closing in on the finish line at the Golder Ranch fire station. We could hear the announcer and post-race excitement clearly… but we were at only mile 11. Yep, there were still a couple miles to go, so this brush with the finish line was just a tease.
Next up, we hit something we hadn't experienced yet: an uphill portion! My legs protested this change after so many downhill miles. I overheard a guy next to me motivate himself by whispering "This is what you did squats for!" After that bit of uphill, the course flattened out, and we cut through a nice-looking subdivision with more sunny mountain views.
My legs got back into the groove, and I sped up a little for the last mile. I made the final turn into the mandarin orange trees-lined finish chute by the fire station. Hooray, I was done! I collected my medal and admited its stained glass design. It quickly became one of my favorites that I've earned.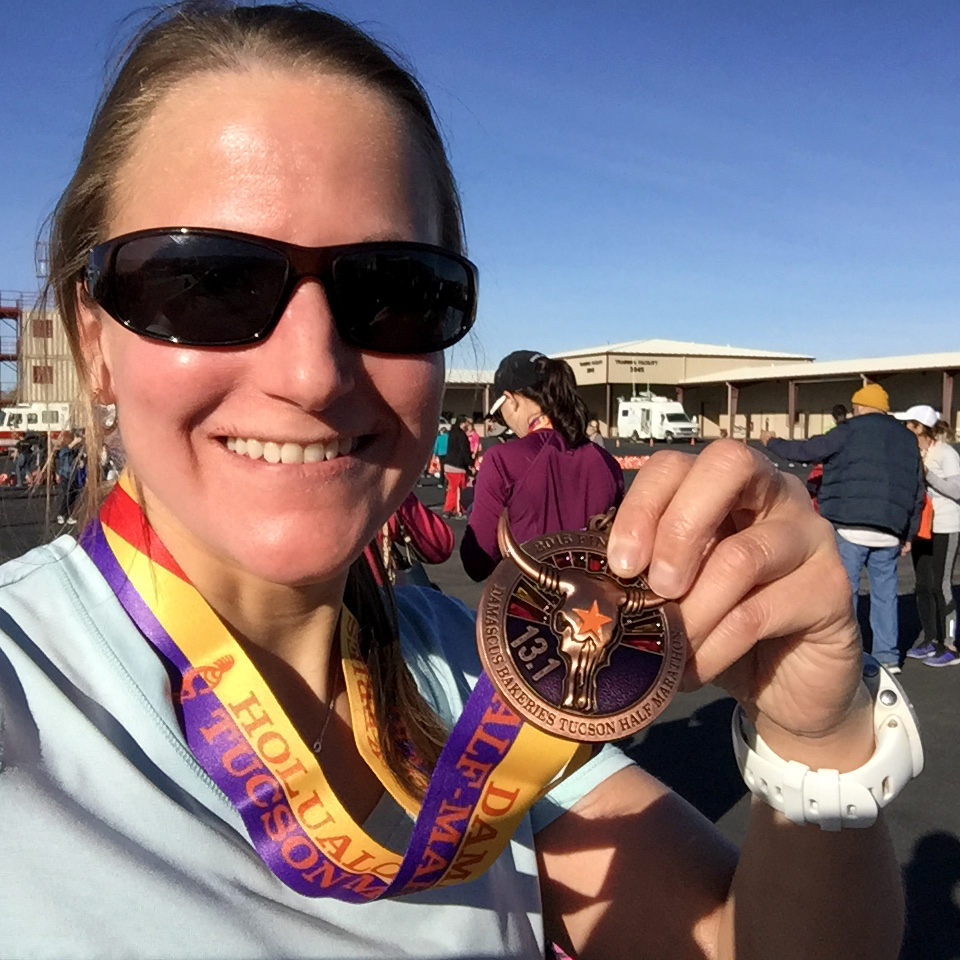 This event had a strong post-race snack game: loads of Clif and Lara bars, bananas, oranges, licorice, PBJ/Nutella sandwiches, and more awaited us hungry runners. Feeling the need for a little caffeine to go with my snacks, I bought a gingerbread latte – 'tis the season, after all – from the nearby Starbucks in the aforementioned strip mall. I returned to the finish area, relaxed a bit in the warm sunshine, and then cheered my friend as she finished her marathon. She seemed less impressed by the course than I was, but I suppose an additional 13.1 miles along a highway will do that to a person.
We got ourselves cleaned up and returned downtown. Per tradition, celebratory tacos and beer were in order. After browsing the 4th Ave Winter Street Fair and some local vendors, we hit up the historic El Charro Café. Okay, I know I said tacos but this time I opted for huevos rancheros; I regret nothing. Keeping the evening fun going, we played pinball at a nearby arcade and then enjoyed a couple local brews at Public Brewhouse. (Okay, maybe more than just a couple, but we're on vacation.)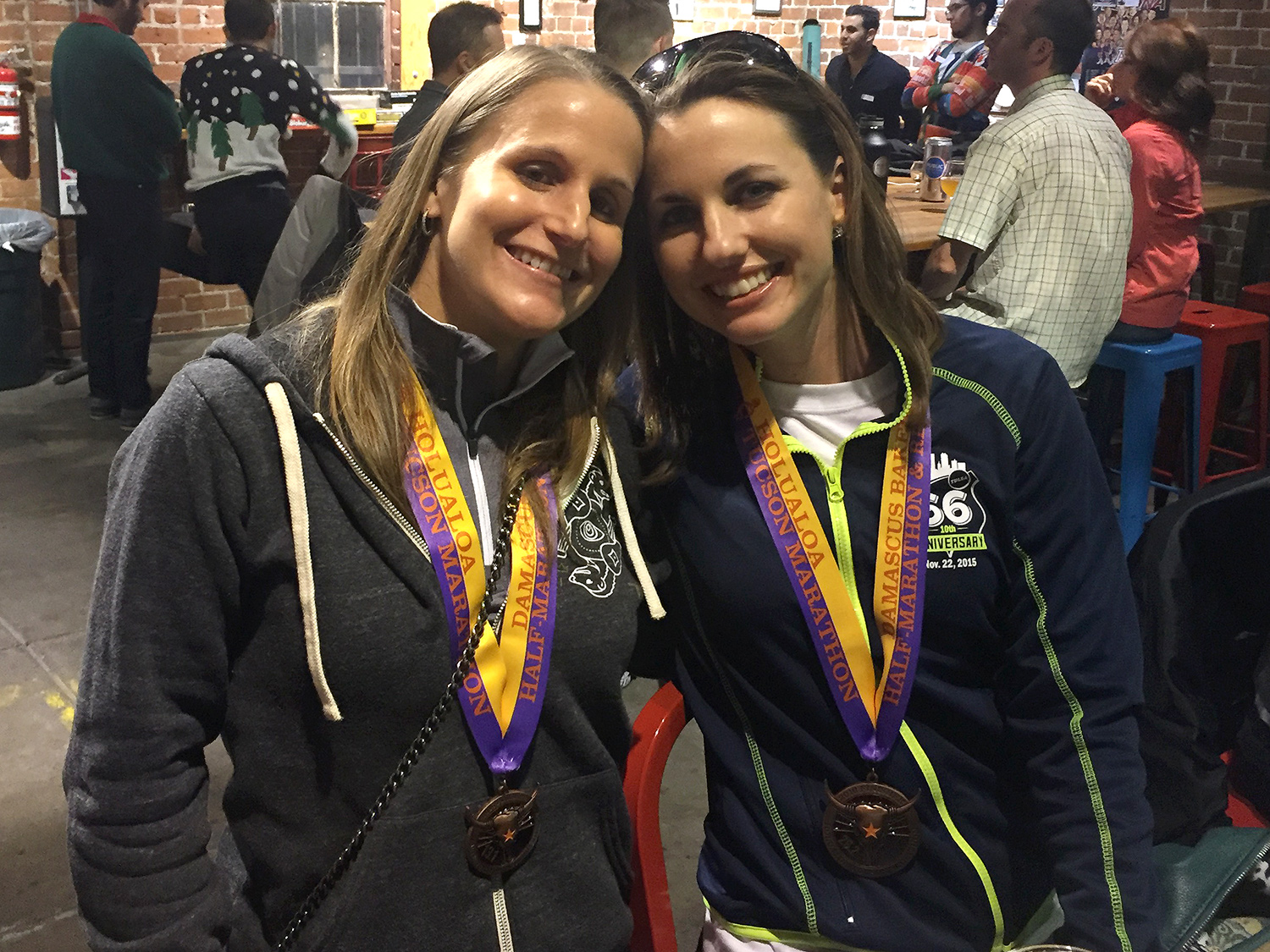 Upon our return to Michigan, there was a snowstorm to deal with. Blarg. I was already dreaming of desert warmth and not a white Christmas. Our race weekend getaway had been a blast, so I hope to visit more of the Southwest US one day, especially if it's during a Midwest winter. And perhaps by then, I'll have finally figured out how to say "Holualoa."
Desert ponderings:
Biggest unanswered question: Why is it the Tucson Half Marathon when it goes from Oracle to Catalina? This out-of-towner is mighty confused.
Number of miles where "Desert Rose" was stuck in my head: 4
Best unofficial aid station: A solitary tamale stand around mile 11. I've seen many curious things in my time as a runner, but an on-course tamale stand was a new one to me.
Most welcome treat: Thank you to the course volunteer who thrust a Red Vine into my hand – this surprise treat was just what I needed at that moment late in the race!
Best vendor booth: The one with little dogs in little hats. It must be tiring to be such adorable little models, because most of them were fast asleep.
---